Sometimes, the idea for a book starts with visiting a place, like what happened to me when I visited Boston back in 2016. That lead to the No Shame series.
Sometimes, it's a random thing that pops into my head, like the idea for Firm Hand that came to me while driving through Australia.
Sometimes it's a cover that inspires it. The Ignite series was born when I saw the premade cover for the first book and knew I had to have it and write that story.
And sometimes, it's all three of those.
The Foster Brothers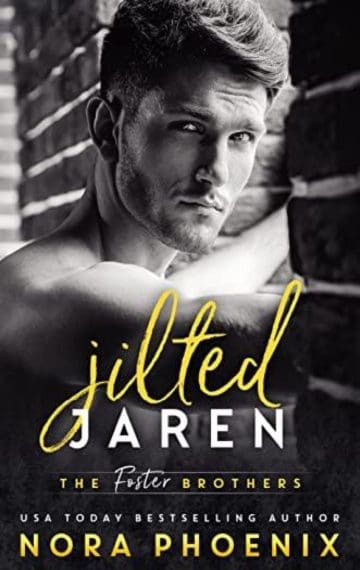 See The Book
I spotted a premade cover series with four covers, and I fell in love with them right away. So I bought them, and then they sat on my hard drive while I waited for inspiration to hit. I played around with some ideas and decided I wanted to do something with brothers, but I couldn't figure the whole picture out yet.
Then I visited Chicago and Seattle in August of 2021, and inspiration hit. I wanted to make the story about foster brothers, guys who met in a group home in a rough neighborhood in Chicago, then adopted each other as family and moved to Seattle. And the name was obvious too: the Foster Brothers.
Jaren, Hadley, Lagan, and Nordin grew up together in foster care in Chicago. They became brothers by choice, and now they share a bond nothing can break. But what happens when they fall in love?
Two books plus a free prequel are out so far, and readers are loving this new series! It's a little lighter and fluffier than my last few series, but I was in the mood for something a little less angsty.
Free Prequel: Marked – Myron
The series starts with a free prequel about Myron, a grumpy tattoo artist who has some trouble being taken seriously because he's a tiny twink in a world filled with manly men. Not that he cares. He's single, independent, and determined to keep it that way. But when he makes a bet with his rival, Abel, and their one-time hook up becomes more, Myron start to realize that maybe being alone isn't all it's cracked up to be…
Marked – Myron is a hot little shirt story with grumpy meets sunshiney, opposites attract, first time gay, size difference, and a happy ending to die for. It's loosely connected to the Foster Brothers, as Myron works in the tattoo shop of Reid, one of the main characters from Jilted – Jaren. You can grab it for free here.
---

---
Jilted – Jaren
The first book in the series is about Jaren, the only straight guy among his brothers. He's got it all: a great job, a beautiful life, and a gorgeous fiancée he's about to marry. Until it all comes crashing down and he's left at the altar. Jobless and heartbroken, he has no choice but to accept an offer from Reid, his ex-fiancée's brother, to stay with him temporarily. But when they grow closer, something unexpected happens. Maybe Jaren isn't so straight after all? And maybe, just maybe, getting jilted was the best thing that could've ever happened to him…
And Jilted is out on audio as well, narrated by the fabulous John Solo. Start listening today!
Hired – Hadley
And Hired – Hadley just released last week! Hadley doesn't want love or a relationship. He's more than happy with hooking up. Relationships always end up in disappointment, his brothers being the one exception. When Hadley agrees to fill in for a friend as the personal assistant to Sebastian LeClerc, he regrets it. Sebastian is a grumpy dick, though more to others than to Hadley. He's also hella hot and sexy, and the attraction between them is hard to resist. But Sebastian needs Hadley and Hadley yearns to be needed, and this thing between them seems inevitable. But it's just a fling, right?
Start reading Hired – Hadley today!
Loathed – Lagan
The third book in the series will be Loathed – Lagan, and it's up on preorder for release on September 16. Yes, I know, that's a ways off, but I do have the first dragon book planned in between, Dragon's Mate, as well as the second (as of yet untitled). And the last book in the Foster Brother series will be Nordin's, and boy, that one will be so much fun… I can't wait to write it.
Writing the first three books in the Foster Brother series was wonderful, and I couldn't be happier to see readers enjoy them as much as I do. These men are truly something special…