Yay, we did it! The whole Irresistible Omegas series is now out on audio, narrated by the amazing John Solo. The last book went live in under 24 hours, which is an absolute record both for John and for me, haha. I'm so excited that you can all now hear this epic saga come to life in audio…
If you haven't read the series yet, you're missing out. This is a high heat, slightly kinky, super sexy mpreg series with amazing characters, poly love stories (the first two book are MMMM, the others all MMM) found family, a touch of suspense, and all the feels. These men will become like friends to you, like family…and you'll miss them once you're done reading.
Narrating this series was a challenge, mainly because it has SO many characters who all need a distinctive voice to set them apart. And we have pack meetings where a lot of them are present and talk.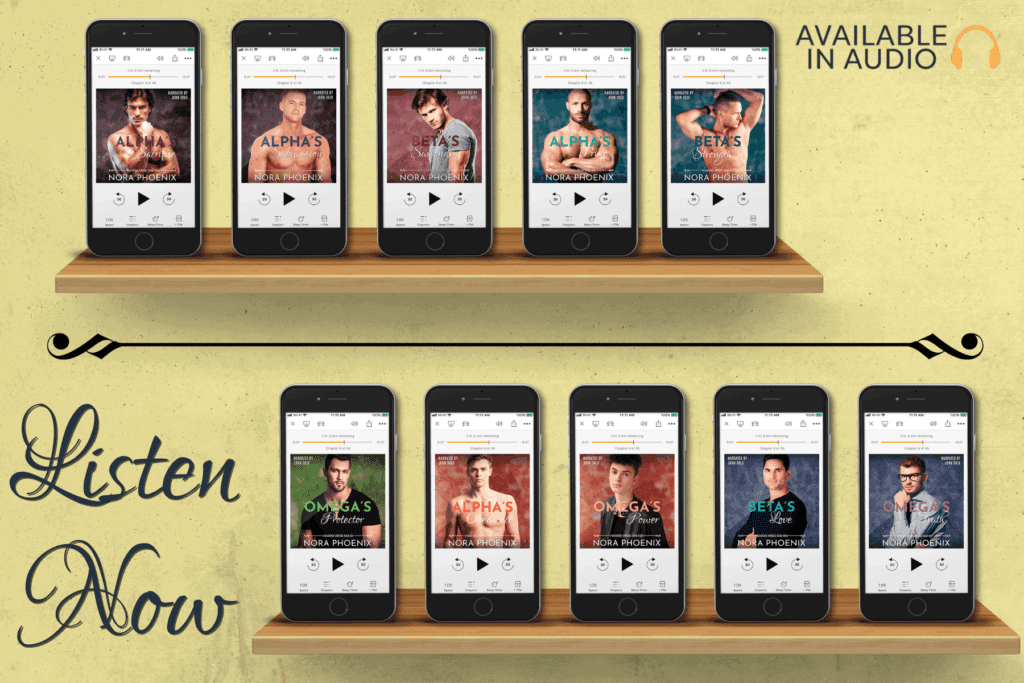 But John has done a remarkable job. It was my first time working with him, but it definitely won't be the last. We both feel we're a good fit. I love the way he brings my stories to life and he likes narrating my books. The flow and style of an author have to fit the narrator, and in our case, we're a good match. He "gets" my writing rhythm and cadence, and I love it. He'll be doing my White House Men series next. Press, the first book, was originally released in a narration by someone else, but I pulled it because I wasn't happy with the final result. I know Joh will kill it with that series as well. I don't know if you've listened to his narration of Tal Bauer's Executive series, but it's amazing.
But for now, make sure to dive into the Irresistible Omegas series. A few of the books have been whispersynched already, but not all of them. I know that's frustrating but it can take thirty days and we can only "complain" once that period has passed. It has for some of the books, but Audible is, as always, still taking its sweet time. Anyway, go listen on Audible (or in iTunes):
Happy listening! (and make sure to leave a review when you're done…)