What an amazing day yesterday was, Inauguration Day. I watched the whole swearing in ceremony, and oh my gosh, so many tears. Let's start with something that wasn't important but still stood out: the amazing colorful outfits of all the women. They were sparkling and brilliant, and I loved the whole visual.
Lady Gaga was amazing as she sang the National Anthem. And that woman knows how to make an entrance, haha.
The first female black fire captain who did the pledge of allegiance…how amazing that she signed it in ASL at the same time. Such a powerful example of inclusivity.
JLo singing… I'm not a fan of "This Land is My Land' because of the lyrics, but she did a great job. Very understated. And I loved that she added a few lines from the pledge of allegiance in Spanish. Again. inclusivity.
Kamala Harris taking the oath of office. The first female vice president and a woman of color at that. I cried so hard. And to see it being done by the first Latina Supreme Court Justice. Such a powerful statement.
And then Joe Biden being sworn in. I bawled, I totally did. His speech was good. He's not the best speaker, but it had so much heart and warmth. Hope.
Anyway, I thought it was all beautiful…a fresh start. And the perfect day for the release of Click.
Click is the story of White House Photographer, Rhett, who finds himself still a virgin at thirty-two. But after his best friend, Levar, has found a boyfriend, Rhett decides he's done waiting. He wants one too.
The first step is friendship and when his boss, Calix, befriends him, Rhett is all too happy. And when Calix offers more, he takes him up on it. The only problem? It's not quite as casual and fake as they both pretend it to be…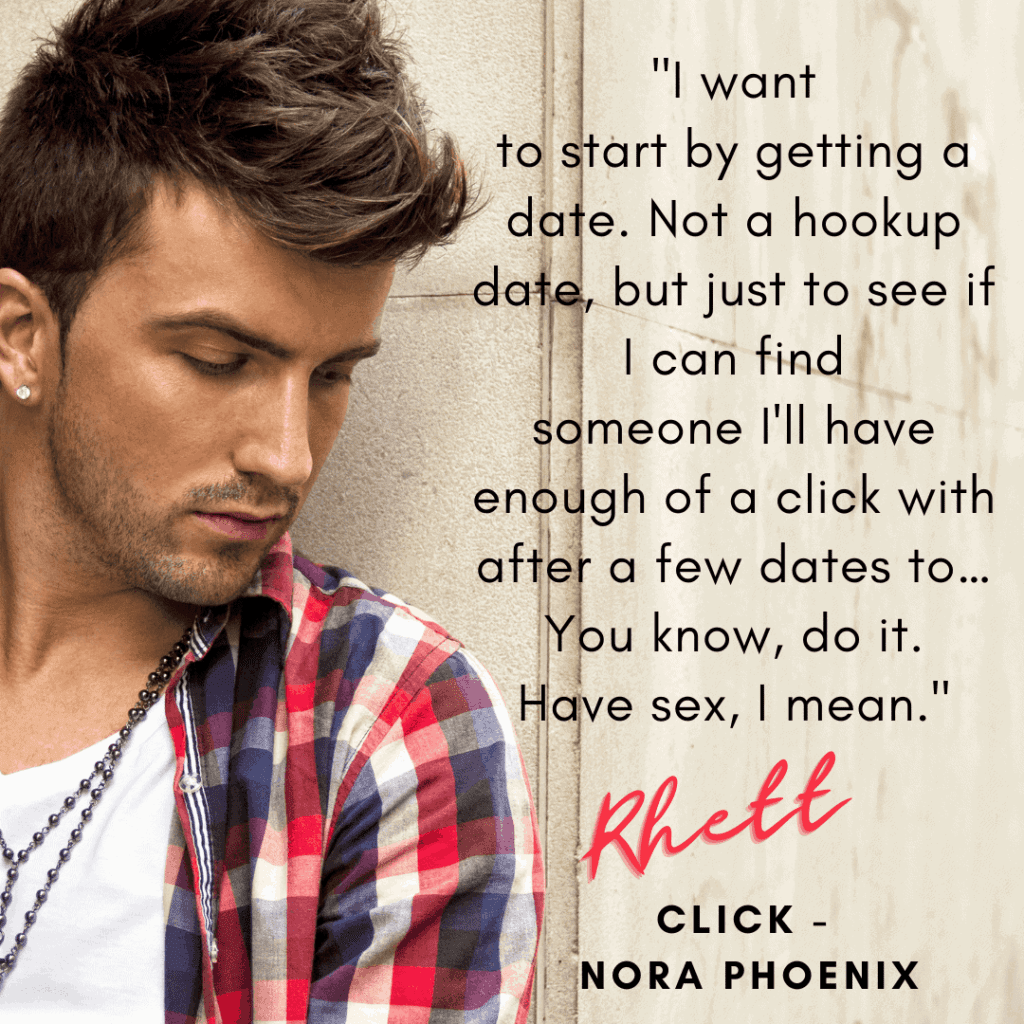 Of course, Click is also part of the White House Men, a series about the gayest White House ever, and I'm having so much fun with this. It has a bigger suspense plot line that will keep you guessing…and have you hooked from page one.
That means this series does need to be read in order, so if you haven't started yet, grab Press first. That's the story of two men who have amazing chemistry but can't be together because their jobs put them opposite each other: one is the White House press secretary and the other a reporter. It has some sexy lingerie as well…
And book two, Friends, is an amazing friends to lovers romance between an out and proud Secret Service agent and an FBI agent who thinks he's straight (hint: he's not…they never are, haha). And it turns out that one man has a size kink…and the other has just the tool to satisfy him.
Book four, Serve, will be an MMM romance with a little D/s play. It's already on preorder and will release February 28.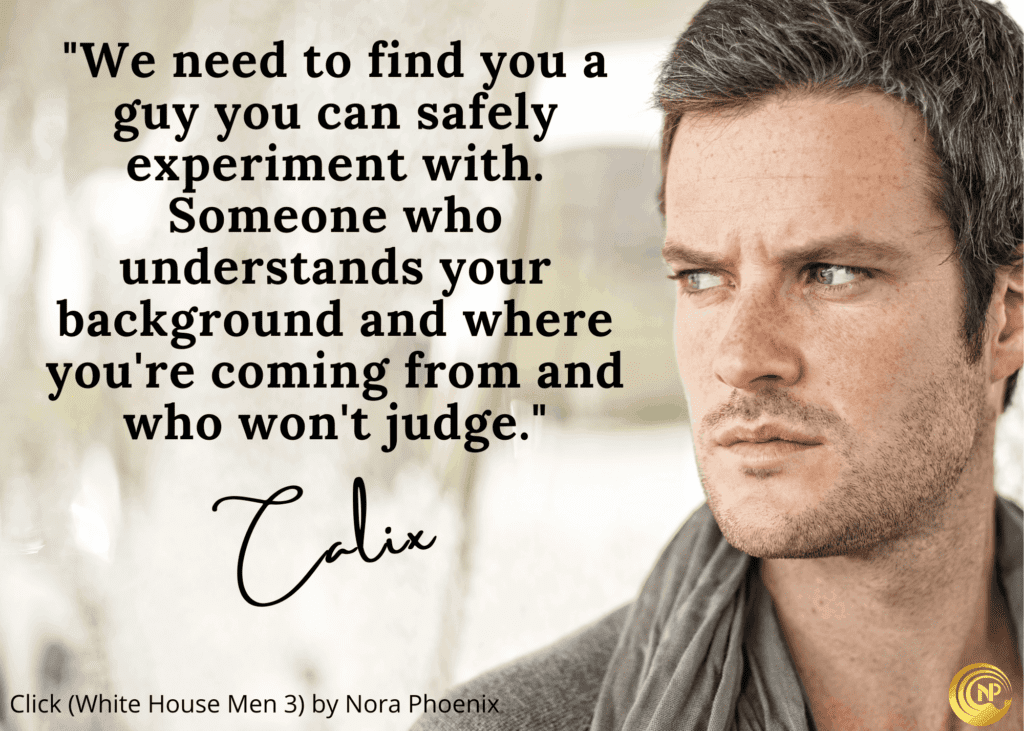 The whole series will have seven books and all will be released in 2021. No delays, I promise. And if you haven't been in the right mindset for this series, I hope that with the new administration, you'll feel more like it! And as of now, Click is sitting at #2 in the gay romance charts, and that makes me so, so happy.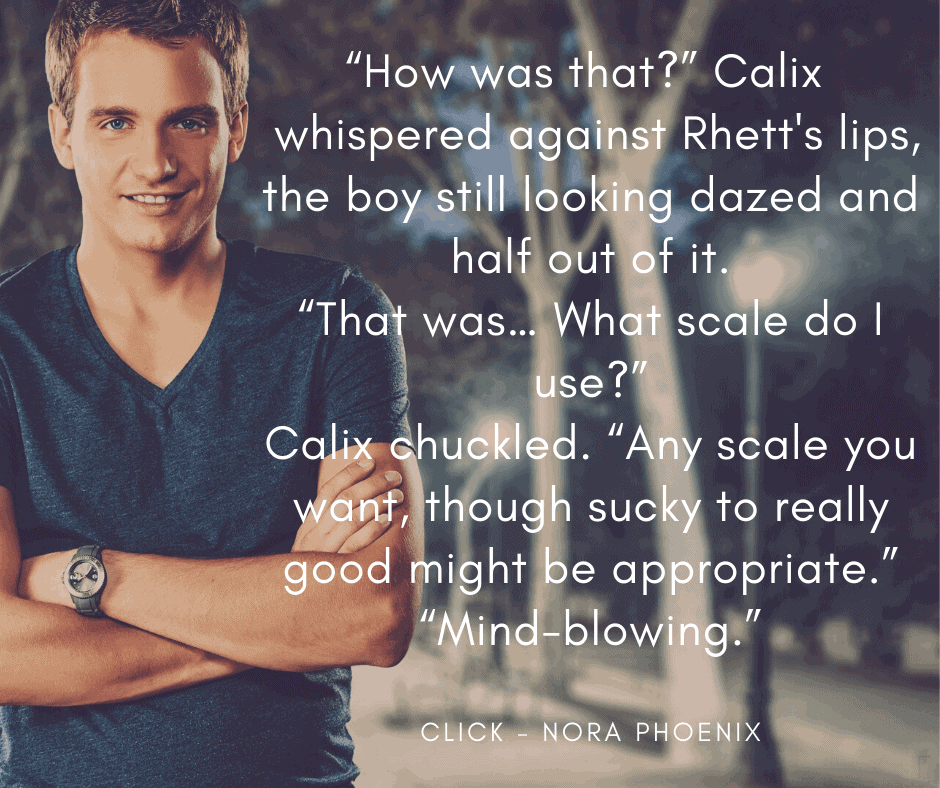 The first reviews for Click are up on Amazon…and they're all five-stars so far. Check out what these readers had to say:
"Hands down my favorite of the series so far! This book was just so good. Calix and Rhett…sigh…they just melted my heart. The tropes here were some of my favorites–virgin, age gap, first times–and they were handled so beautifully. The interactions between Calix and Rhett, both in and out of the bedroom (which were very steamy and filled with lots of fantastic dirty talk!), were so tender, so caring, so loving, and so touching." (Lisa, Amazon reviewer)
"Wow! I absolutely Could. Not. Put. This. Down! Sorry for the dramatics, but it was that good. You really have to read this whole series in order to follow everything, but that is totally not a hardship. The romance and the suspense/thriller storyline which ties all of the books in the series together are incredible." (Amazon reviewer)
"Overall, this is a fantastic, well written book with great world-building and an impressive level of detail that demonstrates the extent of the research that the author did in order to write this story. The character development is excellent and the result is two loveable, engaging MCs with a lot of complexity and dimension. Despite a plot line that continues beyond this book, there is a definite HEA for Rhett and Calix. This was my favorite of the series so far and can't wait for the next one!" (Larissa, Amazon reviewer)