It was awesome to see everyone get as excited about our new round of Valentine's Inc. books as we are. We can't wait to share these with you! All preorders for this series are now live.
No matter if you prefer sweet or spicy, kink or no kink, twinks or bears or anything in between, we've got you covered…with snow, LOL. We have:
Check out all the titles below and preorder your favorites now. Go spend those gift cards you (hopefully) got for Christmas!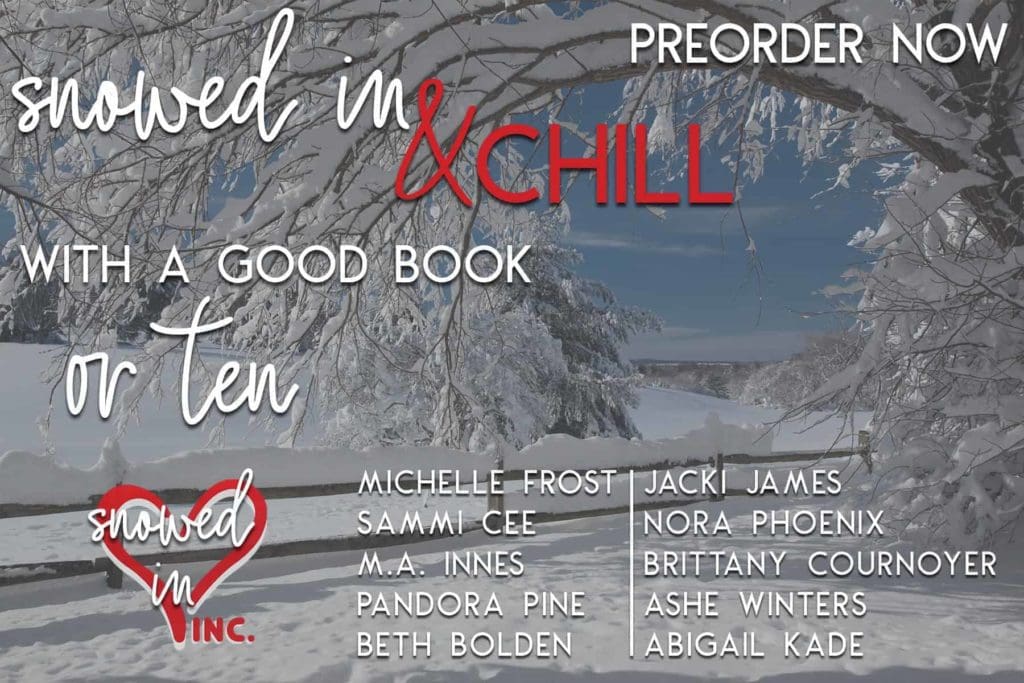 Make Snow Mistake – Michelle Frost
Unable to make people see past the scar on his face and the teenage mistake that put it there, Cody feels stifled in his small town. When his high school crush blows into his family diner in a swirl of biker leather with a white-out storm on his heels, they end up trapped alone. With Eben's dark eyes on him, can Cody be brave for the first time in years and take a chance at the life he wants?
Make Snow Mistake January 14
---
Paper Snowflakes – Sammi Cee
There's something about an older man that drives Cameron wild, but when he's an amazing father too… swoon-worthy. Teacher Cameron has avoided Ryan, his student's father, for months, but then Mother Nature steps in and gives him a nudge. The question is, is he brave enough to take his shot at happiness?
Paper Snowflakes January 16
---
Snow Regrets – M.A. Innes
When Joseph gets trapped with his father's former coworker in one of the worst snowstorms of the year, he starts to wonder what ancient god he must've pissed off. After being kicked out of the house at eighteen and having to make his way on his own, the last thing he wants is to be stuck with the sexy older man from his teenage fantasies.
Snow Regrets January 21
---
Snow Daze – Pandora Pine
When Hyde, a battle-scarred former marine, takes a job at a posh mountain resort he meets Greer, a geeky moose biologist. When the blizzard of the century strikes and the hotel is evacuated, a certain moose aficionado is left behind with Hyde. Will sparks fly between them or will Greer be left out in the cold?
Snow Daze – January 23
---
Snow Job – Beth Bolden
There's nobody Micah hates more than his ex-stepbrother, Jake. And nobody he wants quite as desperately. Can he put his resentment—and his longing—aside for long enough to survive the elements that keep forcing them together?
Snow Job January 28
---
Snowflake Kisses – Jacki James
Newly single father Cap Roberts can't afford to risk not only his heart but his daughter's as well by falling for a man who might not even stay in River Gorge. But with the help of a few meddling friends, one determined little girl, and a few snowflake kisses, love is bound to find a way.
Snowflake Kisses January 30
---
Snow Way Out – Nora Phoenix
Caught in a snow storm, Quentin has no choice but to find shelter with Mac, a man the whole town seems to hate. But nothing is what it seems, and it doesn't take long before Quentin falls hard for him. But does their connection even stand a chance when he's half Mac's size…and wants to come out on top?
Snow Way Out February 4
---
Ain't Snow Mountain High Enough – Brittany Cournoyer
When Adam's world was torn apart three years before, Rhys was the one who helped make him feel whole again. After Rhys broke his heart, Adam swore to never love again. Could a freak snow storm, a chance encounter, and a shared cabin finally make them come to terms with what had happened? Or will Adam's heart stay as cold as the ice outside?
Ain't Snow Mountain High Enough February 6
---
Snow One Like You – Ashe Winters
Coworkers. Enemies. Trapped by a whole lot of snow. Can hidden attractions keep them warm when the power goes out? Valentine's Inc. employees, Spencer and Angelo, are about to find out if their body heat is enough to survive both the storm raging outside, and the one burning inside their hearts.
Snow One Like You February 11
---
Snow Way in Hell – Abigail Kade
Ex-priest Sebastian is finally getting comfortable with his darker sexual urges when he meets Josiah, who's never been comfy with kink. It's dislike at first sight. When they're coerced into a road trip together, neither one is thrilled, but then things go from bad to worse when they wind up lost and stuck in a cabin during a monster snowstorm. Alone for days with only each other for company, the tension between them erupts and these two enemies take the opportunity to explore the dark lust that's been simmering between them.
Snow Way in Hell February 13