The waiting for book two in the emotional gay romance No Shame Series is over! No Limits, the story of shy Josh and bossy cop Connor, released on November 26th. I hope you'll fall in love with these two as much as I did…
No Limits is available on Amazon, including in Kindle Unlimited. You can find it here.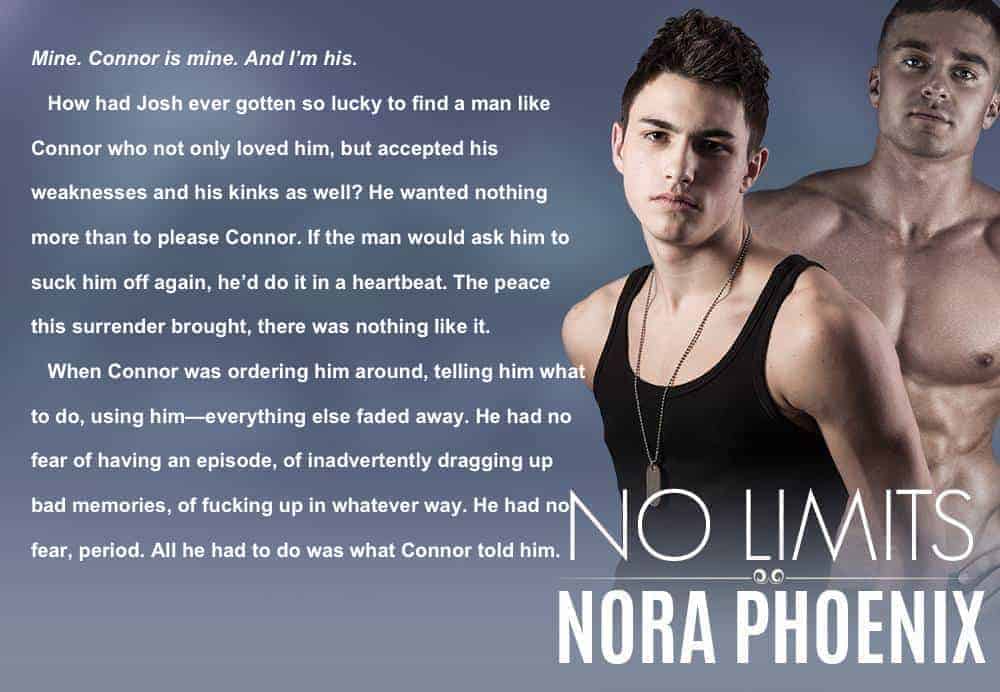 Blurb
Here's the official blurb for No Limits:
Josh is convinced he'll never find someone who'll love him the way he is. He's not exactly a catch with his PTSD, which has transformed him into a homebody most of the times. Sweet, maybe, but also boring as hell. Plus, there's that submissive tendency he recently discovered and is dying to explore. His complicated relationship with Noah and Indy doesn't make it easy, either. When Connor shows interest in him, he can't believe the sexy cop would look at him twice, let alone make an effort to get to know him. When he does, Josh discovers they have more in common than he'd ever thought possible.
Connor had survived the ordeal that left his best friend and fellow Marine dead, but that survival came at a price. He's a robot, going through the motions, but barely alive. Until fate intervenes when he meets Josh. The vulnerable man triggers all kinds of protective and dominant urges in Connor, but what would a cute guy like Josh want with an inexperienced, closed-off, bossy steamroller like him?
When Connor discovers his past endangers Indy, all hope for a future between him and Josh seems lost. After all, there's no way Josh will ever choose Connor over Indy's safety and Noah's lifelong friendship. When a crisis hits, can Connor prove he's strong enough to deal with everything that's thrown his way?
No Limits is a steamy M/M gay romance that ends with a HFN, but has a continuing storyline as well. It's the second book in the No Shame Series, and is NOT a stand alone novel, so make sure to read the first book (No Filter) first. It contains hot sex, a little BDSM kink for beginners, more hot sex, and a beautiful friendship-with-benefits that transcends labels. Also: trigger warning for mentions of sexual abuse and sexual violence, including rape.