I know, I know… It took me way too long to write No Rules, book two in the No Regrets series. After all, book one, No Surrender, has been out since April 2021. Let's just say that a lot happened since then and I got a little distracted… But now No Rules is here, and it's one hell of a sexy, kinky story.
First, there's Ryan. He's a grumpy former detective turned PI, and he now works for Wander, who you may remember from No Surrender. He runs a private security company. Wander accepts a case where they have to find out who killed a racehorse, and he asks Ryan to take the lead. Ryan used to be a Dom, but he's done with that part of himself. And done with love or any kind of commitment.
Enter Alex, the youngest member of Wander's team and a new submissive. He's a horny little slut and a happy one at that, and he has to assist Ryan in the investigation. Alex is all too happy to fulfill Ryan's needs…which also happen to match well with his own. Alex tells himself he's fine with just hooking up with Ryan. After all, one man could never be enough for him.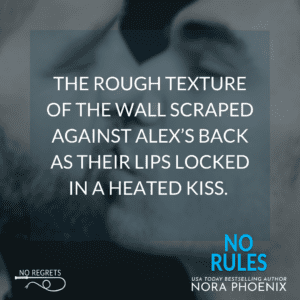 Until Alex needs a real Dom to train him.
Until Wander gives Ryan an ultimatum.
Until Ryan discovers that, somehow, Alex has gotten under his skin…
This is a super high heat kinky story that features lots of sex and some D/s scenes with impact play, sensory play, and more. There's also a hella hawt bonus scene you'll want to read. Trust me on this. So grab No Rules now from Amazon (also in KU) and start reading today!