[UPDATED] Now that The Foster Brothers series is done, it's time to announce the new series I'll be writing this year. I'm almost giddy with excitement, not kidding. I've been plotting this for a while, and now I can finally share. Please welcome…
Forestville Silver Foxes
Forestville is a small town in Washington, about an hour out of Seattle, and it's as idyllic as a small town can be. With endless trees, snowcapped mountains, and the Skykomish river, it's picture perfect.
To honor the retirement of Coach Keeler, Forestville High School is holding its first ever school-wide reunion. It's bringing back alumni who left town a long time ago, like the famous twins Tomás and Tiago Banner, the world's first super male models. They're reunited with their old friends, Auden (now the sheriff of Forestville) and Marnin, and the rest of the class of 1993. Forty-eight years old, these men are hot silver foxes…looking for love (even if they don't realize it yet!).
Forestville Silver Foxes will be a contemporary small-town MM romance series with the classic Nora-mix of heat, swoon, unique characters, and all the feels.
We're going to kick things off with Tiago. His return to Forestville stirs unexpected feelings in him, and those are only reinforced when he meets Cas, a contractor.
Check out the gorgeous cover of their book, Renovating the Model! That's Tiago on the cover, and my, my, isn't he hot? * fans herself *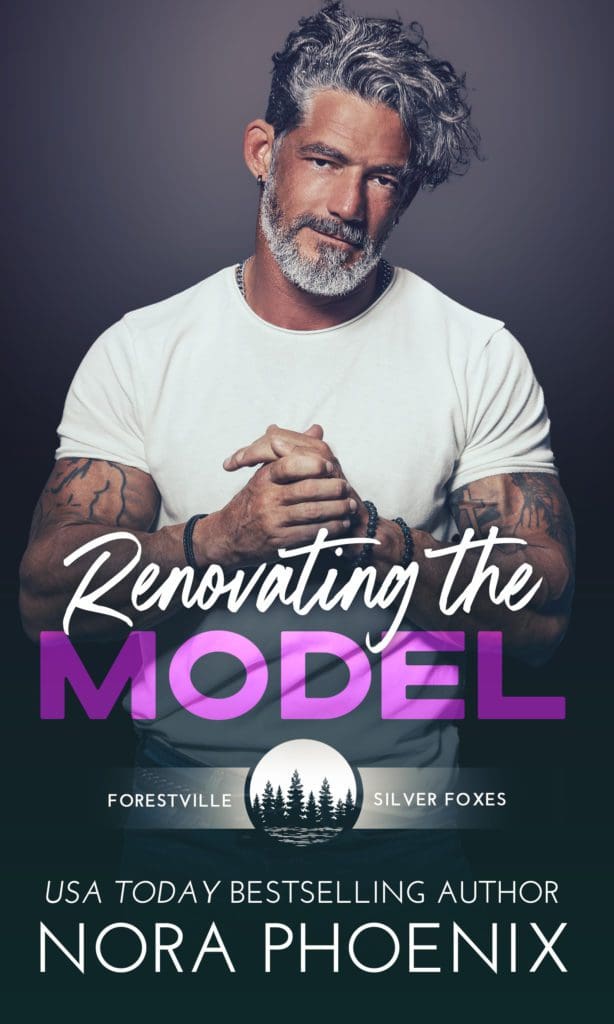 Here's the blurb for Renovating the Model (subject to change), which will release April 20.
Everyone knows my face. No one knows the real me.
All people see when they look at me is a beautiful man, a supermodel, half of the world's most famous twins. No one sees the man underneath.
When I return to Forestville, the small town I grew up in, for my high school reunion, I impulsively decide to stay.
I'm now the proud owner of a house, an absolute fixer-upper. Never mind that I have two left hands.
Thank god for Cas, the local contractor, who agrees to help me out. We come from completely different worlds and are almost twenty years apart, yet we somehow connect.
Cas sees me, the real me.
We hook up…
Then become friends…
With benefits (courtesy of a snow storm)
And a fake relationship (long story)
But when fake becomes real and pretending turns into feelings I can't deny, I'm left wondering if what we have stands a chance.
Renovating the Model is the first book in the new Forestville Silver Foxes series, a contemporary small-town MM romance series featuring hot silver foxes and the men who fall in love with them. Each book can be read as a standalone.
I hope you guys are as excited about this new series as I am! And no worries, I also have the next book in the No Regrets series planned for this year and hopefully more dragons as well.