If you were one of the 5715 readers who filled in the MM Romance Reader Survey 2022: thank you SO much. As MM authors, we're so freaking happy with this number of responses, and it's given us a lot of food for thought. In this post, I'll share some of the main takeaways with you. Please note that readers could skip any question they didn't want to fill in, so not all questions have been answered by all respondents.
We had 5715 responses, which was absolutely phenomenal (we had 2000 responses in 2020). A lot of MM authors shared the survey with their readers through social media and newsletters.
That being said, this is still a small number of the total number of MM romance readers, though definitely a sample large enough to draw conclusions. The results will be skewed toward our more active readers, as we only reached readers already connected to us on social media or through newsletters.
We had a few questions that gave trouble. The question on ranking social media didn't give the option to say readers didn't use a platform, so that's definitely something to change for next time. The question where readers had to indicate which percentage of authors were automatic buys (Which percentage of each type of author do you read?) confused some readers, as to them "favorite authors" and "one-click buy/read" were the same. We'll also word that differently a next time. And we had some small issues, like the tropes and subgenres not being exhaustive (though that's near impossible considering how many tropes there are…).
Demographics
The demographics of MM readers haven't changed much since 2020, which is when we did the previous survey.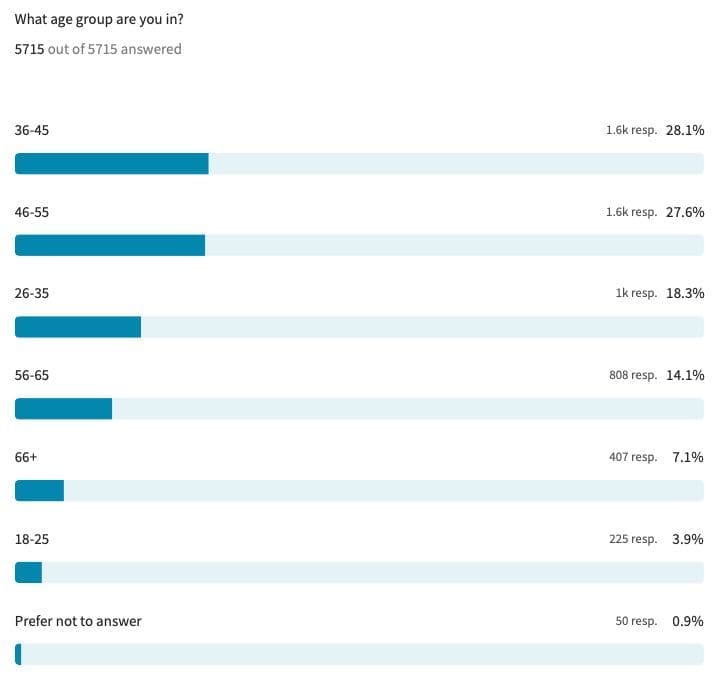 And this was the result in genders for those that chose to answer the question.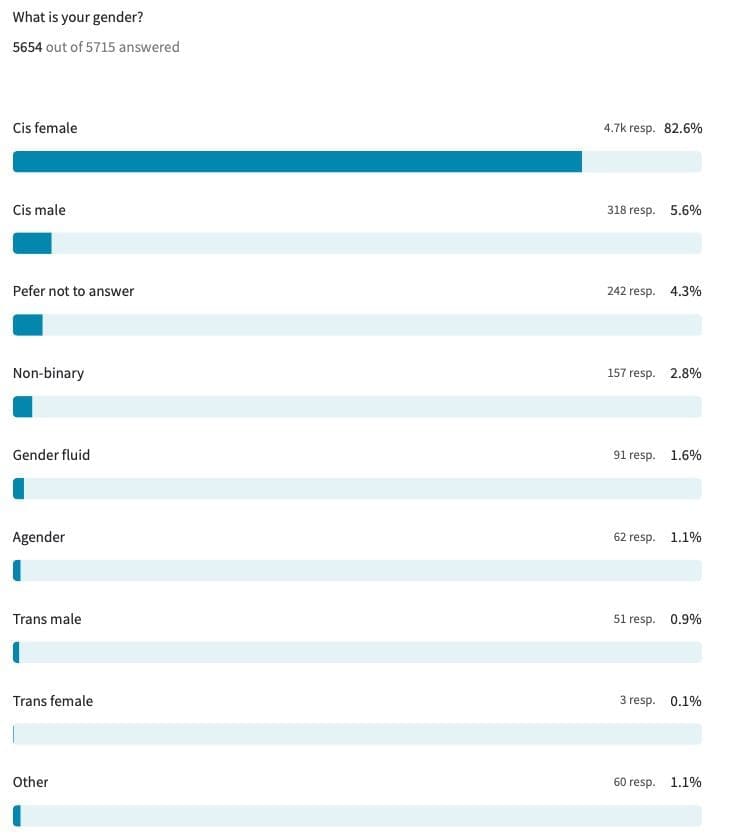 And for sexual orientation (respondents could pick more than one choice here since these are not mutually exclusive in all cases).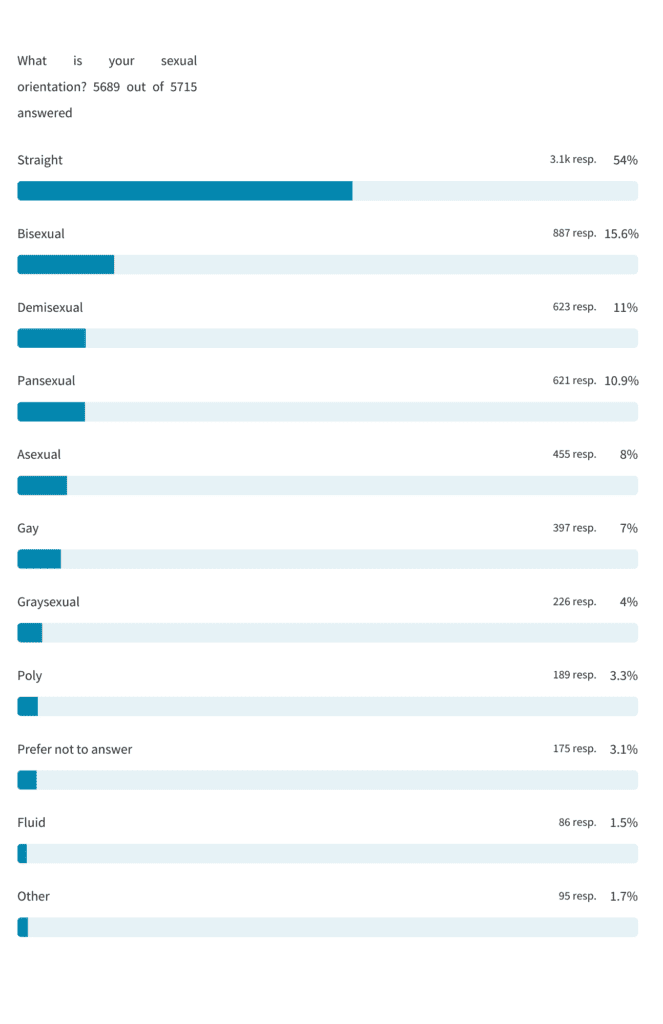 Reading Habits
We already knew that MM readers are prolific readers, and this survey confirmed that again. 38% reads 3-4 books a week, and 23% 5-6. Add to that the 19% that reads more than 7 books a week, and the picture is complete. Around 53% read mostly MM romances and 27% read only MM. Again, these numbers are not fundamentally different from 2020. 75% of respondents have a KU subscription and 64% have an Audible subscription.
A new question we asked was how long people have been reading MM, and this one was fascinating to me because it shows the growth of the genre. 28% has only been reading MM for 1-3 years and 27% for 3-5 years. That demonstrates how much the genre has grown in the last five years.
Another new question was which subgenres they read in MM, and this also offered some fascinating insights.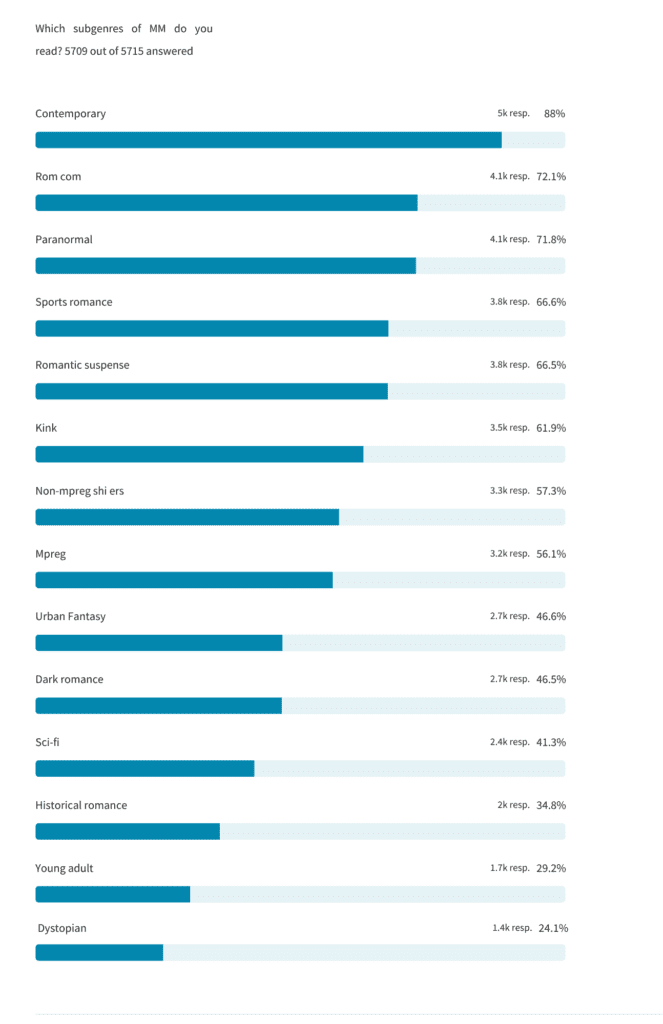 Readers were crystal clear that they don't have specific requirements for point of view and tense. 45% also didn't care what the heat level was as long as the book was good, but 38% preferred high heat. I think that confirms what we as authors have noticed as well. As for angst, 19% preferred high angst, including relationship angst, 16% were fine with high angst but only external, 47% preferred medium angst, and 18% wanted low angst.
Tropes
We asked for favorite tropes as well as tropes readers were getting a little tired of. Both lists are too long to show, but here's the top 5 of preferred tropes:
Friends to lovers
Grumpy and sunshiney
Enemies to lovers
Bisexual awakening
Fated mates
And the top 5 of tired tropes:
Mafia
Daddy kink
Billionaire
Professor – student
Instalove
Random Stuff
Lastly, some random interesting tidbits we learned:
• The blurb and a recommendation from another author were the two most important factors in a reader deciding to try a new author (75% and 57% respectively)
• Announcements about new releases and teasers from upcoming releases were the two most popular things in author newsletters (91% and 67%)
• Facebook remains the most used social medium, followed by Twitter, TikTok, and Instagram. A lot of readers also use YouTube and Snapchat.
• 33% of readers never leave a review, 22% do it most of the time, and 19% only if they loved the book.
I'd love to hear your thoughts. What do you think of the results? Do you recognize yourself in these?