I haven't done one of these in for-freaking-ever and not because I haven't read any good books lately, so it was about damn time I did another round of mini reviews. No theme here, just a completely random selection of five books that I've read relatively recently that I absolutely loved.
We Have Till Dawn – Cara Dee
A guy falls for the older client who has hired him for sex. Hot, sexy, but also super sweet and all the feels. I loved reading about a realistic autistic character. Great secondary characters, which is really one of Cara's strong points. Grab it here.
---
We Have Till Monday – Cara Dee
You may have guessed it, but it's the second book in the same series. An existing MM couple adds a third man into their relationship. Very complicated but beautiful dynamics, with an age gap and daddy kink with age play (minor). If you loved my No Shame series, this will appeal to you (no suspense plot, though). Loved the characters. Grab it here.
---
Origin – AJ Sherwood and Jocelynn Drake
Gah, this was so freaking good. Dragons, action, humor, great worldbuilding, grumpy dragons, slapstick-funny dragons, fantastic characters, and a feel good romance. Everything just meshed together into an amazing story. Grab it here.
---
Over and Over Again – Cole McCade
A super slow burn romance with an age gap, gorgeous writing, and a beautiful story with characters you'll remember. All the feels in this one. Grab it here.
---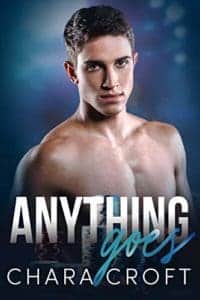 Anything Goes – Chara Croft
Super sexy smut like only Chara can write. Best friends to lovers, size difference, a jock and a nerdy boy, straight to gay, a little domination play, it's all there. It moves deliciously slow, so if you're more into fast-paced, this ain't it, but I love it. Grab it here.
---
That was it! What are your last five-star reads?
(All links are Amazon affiliate links and lead to the US store)