I'm so excited to have an actual celebrity to interview this week. Judah Simons made headlines when he became a contestant on The Right Note, the reality singing competition. With his gritty voice and his good looks, he became an overnight sensation. That only intensified once the news broke that he and fellow contestant Denver Emerson were an item. They both made it to the finals, and the duet they sang together in the finals made TV history. Judah, thanks so much for sitting down with me.
It's my pleasure, Nora. Denver and I are still grateful for the amazing way you wrote our story in Out to Win
It was a joy to write, let me assure you. So how have you guys been?
Good. Really, really good. Denver's career has taken off big time, and I couldn't be more proud of him. He's currently on tour, filling concert halls and stadiums all on his own. It's the most amazing experience to be there with him and watch all these people call out his name, cheer for him, love him. He's living his dream, and I'm so grateful I get to be a part of it.
I would say you're part of that dream as well.
[smiles] I know, and that's still the biggest miracle of all. Every time I wake up before him, and I see him in my arms, in our bed, it hits me all over again that I'm the luckiest man on the planet. Loving him, being allowed to be there for him and taking care of him is such a privilege.
Spoken like a man in love.
[laughs] What gave it away?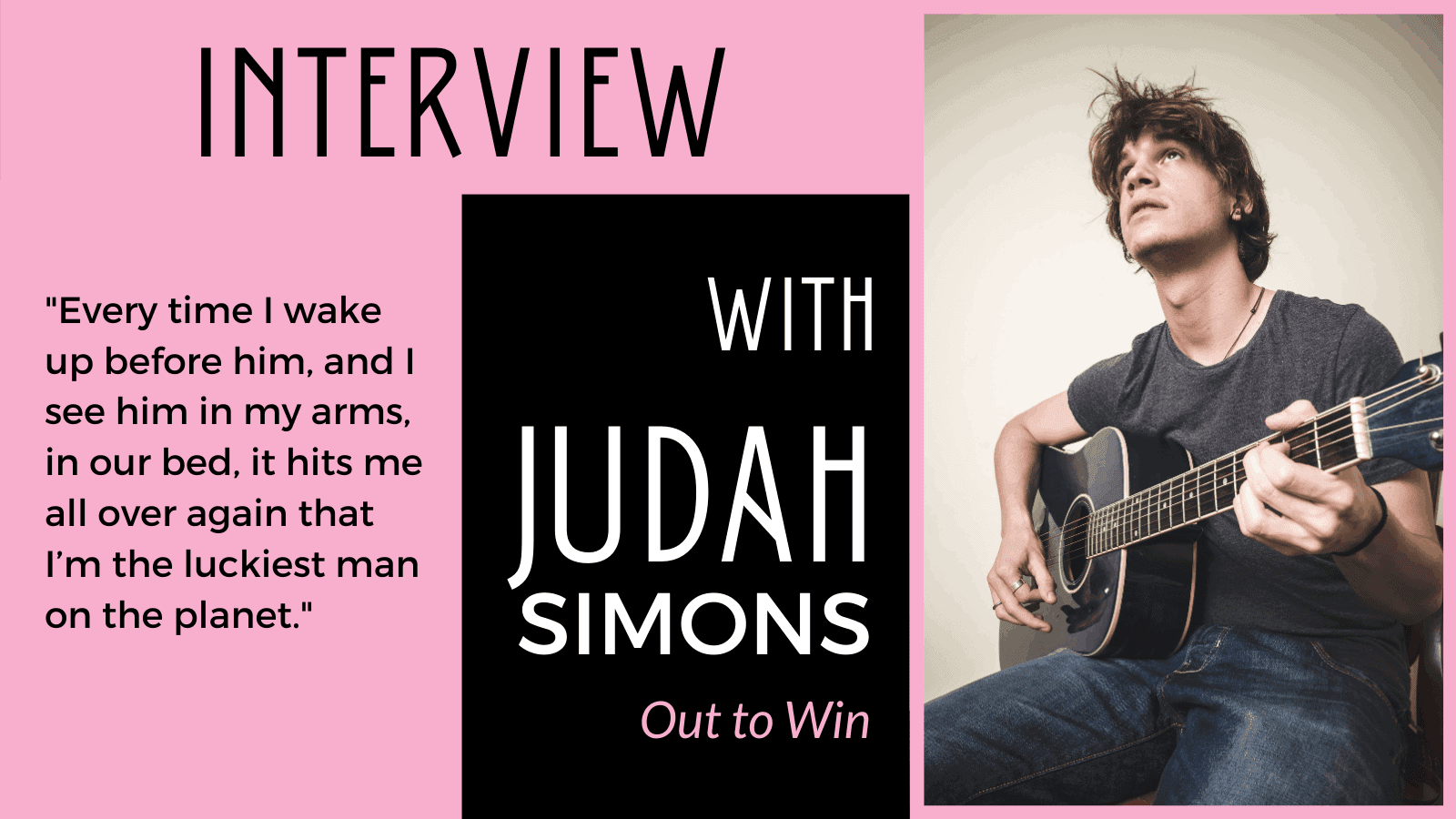 In other words, you two are still nauseatingly happy, as Tim would say.
We are…and he has no right to talk because he and Nathan were pretty lovey-dovey as well the last time we saw them. Mr. Tough Guy wasn't so tough anymore, let me tell you. Watching Tim smile that much was a little disconcerting.
Your career didn't take off the way Denver's did. Is that ever a source of conflict for you? Of jealousy?
Honestly? No. I know my voice is good, and I play guitar pretty well, but I'm not in Denver's league. His voice is so special and his range is just…phenomenal. Every time I think he couldn't possibly surprise me anymore with what he can do with his voice, he proves me wrong. Plus, he's a fantastic song writer, and by now, he writes most of his songs himself.
On his latest album, you guys cowrote multiple songs as well.
Yes, that's a new thing we started to do, and I love it. It happened spontaneously originally, me strumming my guitar, working on a melody, and Denver found these words that fit perfectly, and that's how Never Leave You was born. Ever since, we try to write together at least a few hours each week, but we keep it very relaxed and fun. Sometimes, we'll end up with a great song, other times with a meh one, and sometimes we get…distracted.
I bet you do.
[grins] It's all about priorities.
That last album of his also contained one song that you wrote on your own, called Papa. It became a huge hit for him. Why didn't you record that yourself?
[sighs] I couldn't sing it. I still can't. It's this desperate plea from a grown man for his father to accept him the way he is, and it hits way too close to home for me. I haven't spoken to my father since the day I left home, and it still hurts. I know he'll never change, that he'll never embrace me the way I am, but hope springs eternal. Writing that song broke me, though in hindsight, it was highly therapeutic, but I can't imagine singing it. Besides, I wrote it for Denver with some notes few other men could hit. His falsetto is so beautiful that I had to let it shine.
I'm sorry, Judah. I had hoped for you that your father would mellow and seek reconciliation.
[firmly shakes his head] He never will. It's not in his character, but it's also not in his interpretation of his religion. To him, G*d is a god who demands strict obedience. A judging god, a vengeful one who only accepts perfection. And in my father's eyes, being gay is about the biggest sin there is. Me, I see G*d much more as a loving god, one who understands that as humans we are fallible, that we make mistakes, but who loves us anyway. And I believe He made us the way we are…and that he made me gay. It's not a choice. It's who I am. And when I see how much Denver and I love each other, I find it impossible to accept G*d would have an issue with that.
Are you still religious?
I wasn't for a long time, but I recently found a liberal shul that I love attending. The rabbi is a woman, and she teaches a vision of G*d that I can believe in, a god who accepts and forgives, a god of unconditional love. That, I want to believe in. I'm very grateful to be a part of that community since being Jewish is such a big part of my identity. Multiple gay and lesbian couples attend, and it's the most wonderful, accepting community.
What does the future hold for you both?
In the short term, it will hold a wedding. Denver and I are getting married in a few weeks, and I can't wait. After that… We've talked about having kids, and I think a few years from now, we'll be ready for that. I'd love to foster down the line as well. So many LGBT+ kids are out on the streets because their parents kicked them out, and that's unacceptable. We'd love to offer a home to those we can take in and show them what love looks like.
From what I understand, you and Denver have quietly been supporting several LGBT+ organizations, like the Trevor Project and Human Rights Campaign.
[nods] We have. This is not something we usually talk about publicly because we both feel charity is best done behind the screens. We're in the privileged position that we can easily spare the money, and so we both feel we have a moral obligation to support where we can. But bragging about that is tacky. We want to donate because we feel we should, not because it gives us recognition or some crap.
I think that's admirable. One more thing I was wondering: how's Denver doing emotionally and in terms of mental health?
Much, much better. We're both in therapy, individual and together. Obviously, we both brought baggage and trauma into this relationship, and therapy has helped us find healthy ways to cope with that. Denver is benefitting from techniques he's learned to deal with his PTSD. The shibari we do together helps him as well, since it's such a moment of mental peace for him. And we're learning to communicate and talk, which is definitely my weak point. The culture I grew up in was not one where talking about your feelings was encouraged or valued, so I've had to learn to overcome that and tell Denver how I feel. It's a work in progress, but we're both reaping the benefits already. We've grown even closer and stronger, and it's only deepened our love.