So far, most of my characters needed a little conviction to be interviewed, but not Raf. Granted, he showed up a few minutes late, apologizing profusely, but happy and excited to do this. I had expected a fun conversation because this boy has no filter, but instead, we had an amazingly deep one. Adult Raf showed up, and boy, he's just as amazing as little Raf.
Raf, thanks so much for coming!
I'm so sorry I was late, Nora. Daddy was at work and I had set two alarms to make sure I was on time. But then I almost tripped over one of my cars and I remembered Daddy had asked me to tidy my room, so I did that, and then I was late. I'm sorry.
No worries, Raf. It's all good. Does Daddy usually get upset with you when you forget things?
It depends on what it is. If I forget to take my meds, he gets angry with me because they're important. I rarely forget them anymore. Only when something is different. Like the other week, I was sick and I forgot them, but then Daddy wasn't mad because he understood I hadn't done it on purpose. But if it's something else, he'll remind me and sometimes, he'll spank me because it helps me remember better, but he's never truly angry. Daddy is very patient with me. Unlike my own father.
Do you still talk to your father?
[shakes his head firmly] No. I talk to my mom, and for a while, she tried to pressure me into reaching out to my father, but I held firm. Daddy Brendan had to step in and tell her that she needed to stop. If my father was sorry, it would be something else maybe, but he's not. I don't need him. Seeing him only reminds me of how badly he hurt me over the years. It took me a long time and a lot of therapy to get to this point, but I've finally come to the conclusion that daddy Brendan was right. They were the disappointment. My parents, not me. I was me, just the way I am, and that they couldn't accept me was on them. I didn't ask to have ADHD, but it's a part of me. If you can't accept that, then you don't belong in my life.
That's a powerful statement.
It feels really good that I can see that now. But it took me a long time to get there. And I'm still in therapy. I go once a month now, but it really helps to talk about it. I'm a talker. I don't know if it's because of my ADHD or just because I'm wired that way, but I think better out loud. In my head, I always get sidetracked, but when I talk, it's a little easier to stay focused.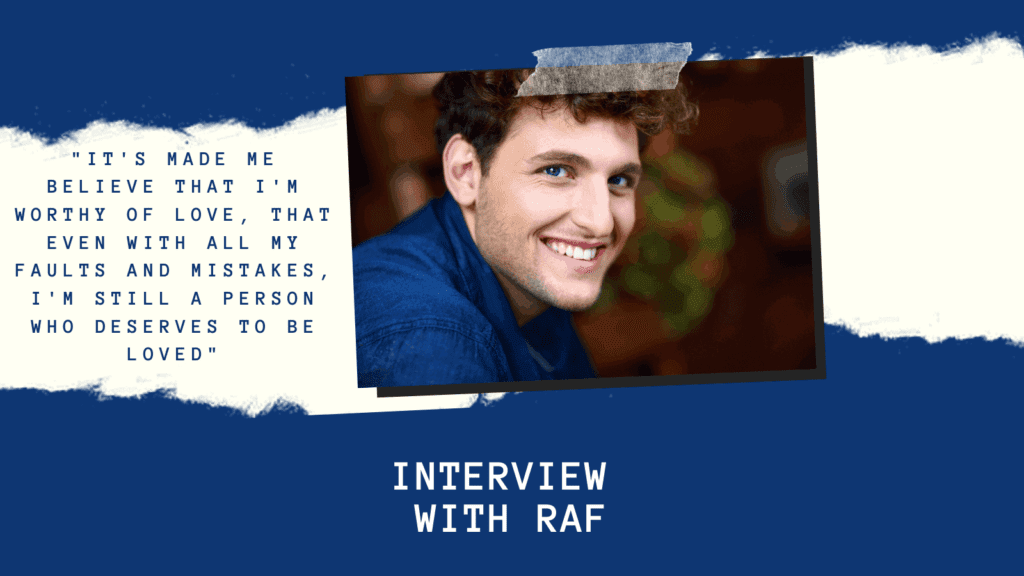 What fascinates me when talking to you is how you switch from being an adult to being a little. It's seamless.
[nods] It is. Everyone is different, but for me, doing specific scenes doesn't work. My brain doesn't work that way. I need something more fluid, and so I move from one headspace into another, and Daddy Brendan just follows my cues, as he says. He's really, really good at reading me and knowing what I need. I'm… I'm the luckiest boy on the planet to have him. Between him and Rhys, I'm so well taken care of. Daddy had to go away for work the other day and so I stayed with Rhys and Cornell, and it was epic. I had a sleepover with Thierry there, and we had so much fun. We built the biggest train track ever by combining his and my train set and it went through the whole living room. Even Jathan helped. He doesn't want to say it because he thinks playing with trains isn't for middles like him, but he secretly loves it, too. He pretends he just does it for Thierry, but I know better. I'm not stupid. [giggles]
I'm so happy for you that you and Thierry have become friends.
Me too. He's so nice. He still doesn't talk a lot and some days, he doesn't talk at all. Those are his bad days, Daddy Ford told me, and that means I have to be extra nice to him. He's… He's been through so much, him and Jathan. Well, you know, Nora. You wrote their story.
I do. It was a hard story to write because what they went through was so awful.
It was. It makes me realize how lucky I am to have had Rhys all that time. We never realized it but he already practiced being a Daddy with me. Even when things were bad at home, he offered me a safe spot at his place. Without him…. I don't know what would've happened to me. He's the best friend anyone could ever have, and Cornell is such a lucky boy to have him as a Daddy. And Thierry and Jathan are lucky with Daddy Ford. Now, that was a surprise to me. I didn't think he was a Daddy because boy, Master Ford was strict. Not with me. I did a shibari session with him before I met Daddy Brendan, and Master Ford was so nice to me. But seeing him as a Daddy now… It just makes me happy. He's so much softer now. Love will do that. It changes you.
How has it changed you?
[his eyes fill with tears] I never felt good enough. Ever. I always felt like a disappointment, and for the longest time, I didn't think anyone would ever love me because I was such a hot mess. But now… For the first time in my life, I feel like I'm worthy of being loved, like I deserve it. It's the strangest feeling. But when I look at Daddy Brendan and everything he does for me, I know he loves me. I can tell by everything he says and does, even by how he looks at me. It's made me believe that I'm worthy of love, that even with all my faults and mistakes, I'm still a person who deserves to be loved. We all are.
Wow, that's amazing. I have to admit that it took me a long time to get to that point as well. Even longer than you. But I feel it now.
Isn't it amazing when you can finally love yourself? It's helped me make better decisions. Like, deciding to no let my father back into my life, that comes from loving myself enough to not let him hurt me again. I deserve better…and before Daddy Brendan, I would've never truly felt that. It's the biggest gift he's given me. And not just him. Everyone around me, including Mama Laura and Daddy Daniel, Daddy Brendan's parents. They're so amazing, and they love me like one of their own. I spend a lot of time with Mama Laura, and she always makes me feel better. She's just…. She's such a mom in everything she does. Fiercely protective, unwavering loyal, and her love is unconditional. It's no wonder daddy Brendan is the amazing man he is, because with parents like that, he's had a fantastic foundation. For a while, I was jealous of that and wishing I'd had parents like that, but now I've made my peace with it. This was my journey and I wouldn't be who I am now without the things I went through. That doesn't make them right in any way, but it does help me accept the things I cannot change…and focus on the here and now.
You keep surprising me, Raf. 
[laughs] I guess big Raf showed up today, huh? It's just… Thank you for telling my story. I hope that it will help others understand and see and feel that they, too, are worthy of being loved. I know that sharing all of it with you helped me see how blessed I am now.
Thank you. You really touched me with this.
[beams] I'm glad. Just make sure to tell Daddy I was really super good with this interview because he promised me a reward!