I'm super happy to report that Serve has been sent off to my beta readers. It ended up just shy of 100k words, so another big ass book, haha. But boy, I had fun with these three. Expect lots of banter, a bit of alpha rivalry, plenty of steam, a dash of kink, a super sweet boy, and two very, very stubborn men. Serve will release February 28 and is up for preorder now!
About Serve
Serve is the fourth book in the White House Men series, and it's a high-heat MMM romance with an age gap, two alpha-type guys, a sweet boy, D/s play, a Dom, a sub, and a switch. Plus, suspense, romance, and all the feels.
First, there's Milan, the first lady's brother. He's a hard ass NYPD detective who's taken a temporary leave of absence to support his sister and nephew. Milan doesn't like labels, and he's a Dom—not that he's had the chance to play recently since he's a little too much in the spotlights. He fucks 'em and leaves 'em, and that's exactly how he likes it.
Then there's Secret Service Agent Asher. He and Milan have a past. One that involved Milan domming Asher, who is a switch. But after years of denying his sexual identity, Asher has come out, and now he's ready for a more serious relationship as well. Clearly, that's not gonna be with Milan, so he's not interested in continuing what they had. But for him, too, playing has become complicated, so he agrees to a mutually beneficially fuck buddies only thing with Milan.
Until Denali. Denali loves his job in the White House, working in the residence, but what he really craves is to serve. A Dom. Or maybe…two? His connection with Milan and Asher is instant, but Asher warns him not to get his heart involved. Too late. Denali knows no other way than to give himself entirely. But will his heart get broken or is there hope for the three of them?
Of course, the suspense plot has some new developments as well, and the picture that's emerging is a bleak one. How far will these terrorists go to achieve their goal? Serve will be deliciously hot and steamy right from the start, but it will be an emotional rollercoaster, so buckle up for a ride…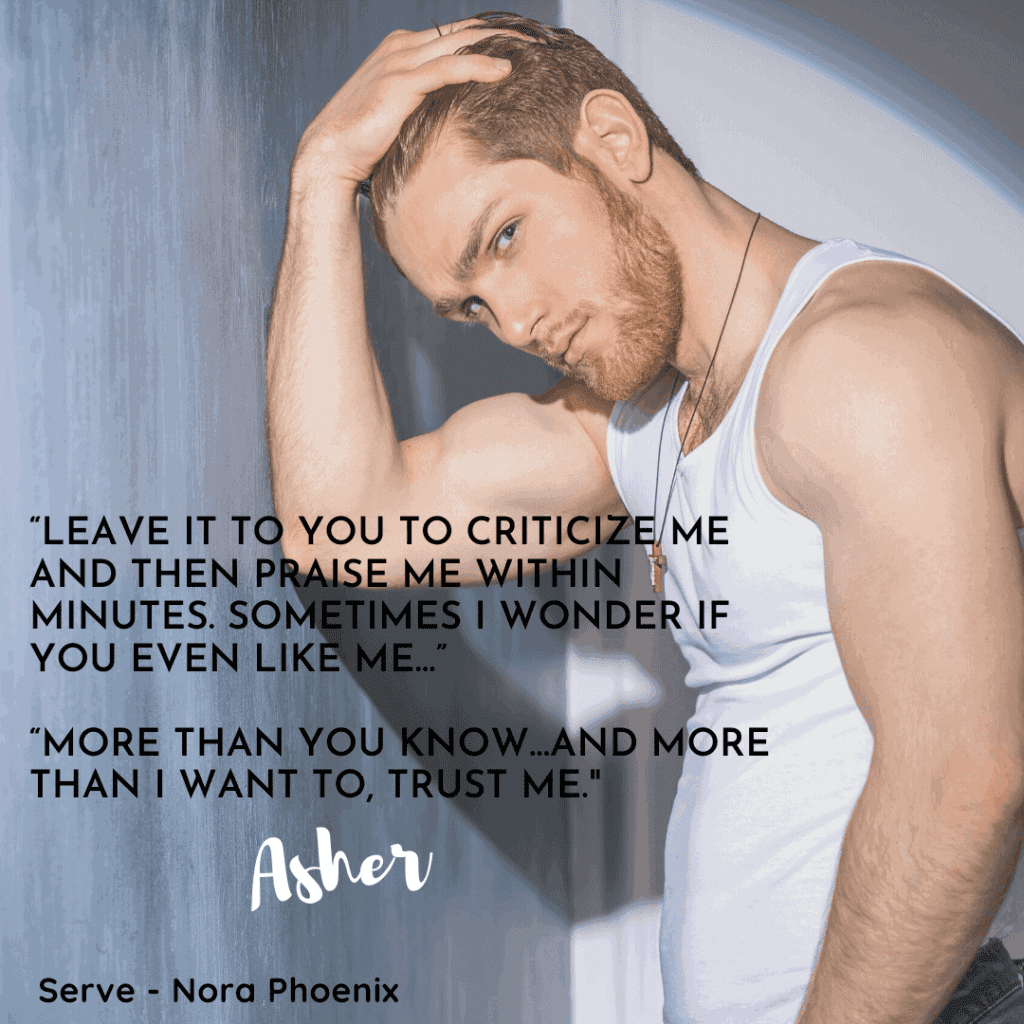 Teaser
Here's a little teaser:
Milan took his appearance in as he stepped inside. "Aw, you didn't need to dress up for me, darling."
Asher rolled his eyes and closed the door behind him. "I didn't think you were coming."
Milan raised an eyebrow. "Didn't I answer your booty text?"
"Somehow, the word 'OK' didn't inspire a lot of confidence in you taking me up on my offer."
"I said OK, didn't I? As in, I am okay with this invite?"
"I texted you I was off at six. That wasn't an invite."
"The invite was implied. It was a booty text."
"Of course it was implied, but usually, there's a conversation to be had, no matter how short."
"Wanna fuck?" Milan asked, and despite himself, Asher laughed.
"Yes, asshole, I want to fuck. You, to be clear. I want to fuck you."
"Trust me, that was implied as well."
"You attach a lot of implications to a four-word text and a two-letter answer."
"You know me. I'm nothing if not efficient…and economical with words."
"True. If you don't mind, I am going to finish dinner first. I'm famished and not just for your ass."
"Damn," Milan said as he followed Asher into the living room. "I was just about to suggest you could eat my ass."
"Maybe for dessert?" Asher shoved a forkful of sesame chicken into his mouth. "Want some?" He gestured at the cartons.
"Nah. My standards have been raised considerably since moving into the White House. Eating from cartons is a little below my social standing now."
Preorder now so you can start reading right away! And if you haven't started this amazing series yet, what are you waiting for? It has romance, sexy times, a suspense plot that will have you hooked, and alllll the feels… Start with Press!