Finishing a series is always a bittersweet moment, both for readers and for authors. We've invested not only a lot of time in that world, but also emotional energy, and it's hard to let that go…especially when that world has come to mean so much to us. At first the No Shame series had four books, for example, but I wrote the fifth one because I missed them too much and wanted to go back to that world.
And now the time has come to wrap up the Irresistible Omegas series. Wow, what a ride this had been. When I wrote the first book, I had no idea of the scope this series would take. Hell, I hadn't even realized it would be a series. But once I had created that world and started introducing characters, I fell in love with them. Leaving them behind is gonna be hard…but it's time. And in this post, I wanted to share some of my thoughts on this series. This post does contain some minor spoilers, so if you don't like those, stay away, haha (nothing from the last book yet).
This series started with kind of a challenge from readers. We were complaining about the lack of MMM+ books, and readers challenged me to write my own. That's how I came up with the idea for the original four: Lidon, Palani, Enar, and Vieno. When I started writing, I discovered it would never fit into one book, so I had the idea for two books with an added book for Grayson's story, and that was it. Clearly, that worked out differently, haha.
Non-Gender Conforming Characters
This series is special for various reasons, but one is that I got to play around with a lot of themes that would have been much harder to do in contemporary romance. Because mpreg takes place in a fictional world with its own rules (that I made), I could introduce dynamics that otherwise would have been much harder and too obvious. Take the alpha – beta – omega dynamics, for example. The parallel with role patterns and expectations between men and women is easily made, only I got to be much more playful about it and have it show up in various ways: non-traditional alphas (Enar, Lev), non-traditional betas (Palani, Kean), and non-conforming omegas (Sivney comes to mind).
I also created what would be the equivalent of a trans character (Enar) and a non-binary one (Lev). I loved doing this in a way that wasn't traditional and still reinforced the ideas that gender (like the alpha, beta, omega status) isn't dictated by birth. It made for exceptionally three-dimensional and strong characters, which I loved. And it clearly resonated with readers. I received this email from a reader recently, and it made my day:
"I know that Palani is many people's favorite character (and with good reason) but mine has always been, and always will be, Enar. I love, love, love, love Enar. He is one of your best creations and that's saying something considering everything you've accomplished with this series. My absolute favorite passage, out of all the books so far, is a quiet moment between Lidon and Enar at the clinic. Lidon calls Enar "my love" for the first time and acknowledges that in their foursome, Enar often gets overlooked. Enar asks for some 1on1 with Lidon, to which the pack  alpha readily agrees. This was a small, seemingly unremarkable moment between two lovers and mates but it stayed with me. Long after I finished reading that particular book, I'd think about that moment. Still do. It was simple but so beautiful and it speaks to your talent as a writer."
Other Themes
Another aspect that fascinated me was the concept of consent. It's been a hot topic in the #MeToo movement, and it kept popping up in storylines here as well. If an omega is in heat, can he really give consent? No, he can't, and of course with the Melloni gene, I made things even more complex. That's why they kept trying to set up safeguards, but those led to other issues, like role patterns and the question of bodily autonomy. For example, Palani deciding that omegas needed to ask for permission to ask an alpha to help them through their heat was well intended…but still wrong, as Sivney rightfully pointed out. No one should have to ask permission from someone else to have sex (except from their sexual partner, obviously).
And big theme was the question if the ultimate goal and results justify the means. Those who created the Melloni gene, for example, did so to bring the wolf shifters back. One could argue that in itself, that's a good goal. But did that make it okay what they did? We see characters wrestle with that question more than once. I loved it when even Lidon, arguably the most powerful of them all, made crystal clear that he'd give up the ability to shift in a heartbeat if that would prevent omegas from suffering.
Suspense Plot
I'll admit that the suspense plot also became way bigger than I had anticipated, haha. Yes, I deliberately created the storyline about the Melloni gene and how that tied into police corruption and more. I needed it because it would bring Lidon (a cop), Enar (a doctor), and Palani (reporter) together, and with Palani, Vieno, because he had that gene. But once I started writing, man, it grew bigger and bigger, and I love it. I had major fun coming up with plot lines for that…though it also required some serious planning and plotting, haha. Keeping those storylines straight and consistent wasn't always easy, but I think I pulled it off.
Of course, now I have to tie it all up and since we ended the timeline with pretty much a civil war, where do we go from there? What are General Armitage's plans? You'll have to wait for book ten, Omega's Truth, to find out, but I have some last surprises for you guys in mind, haha.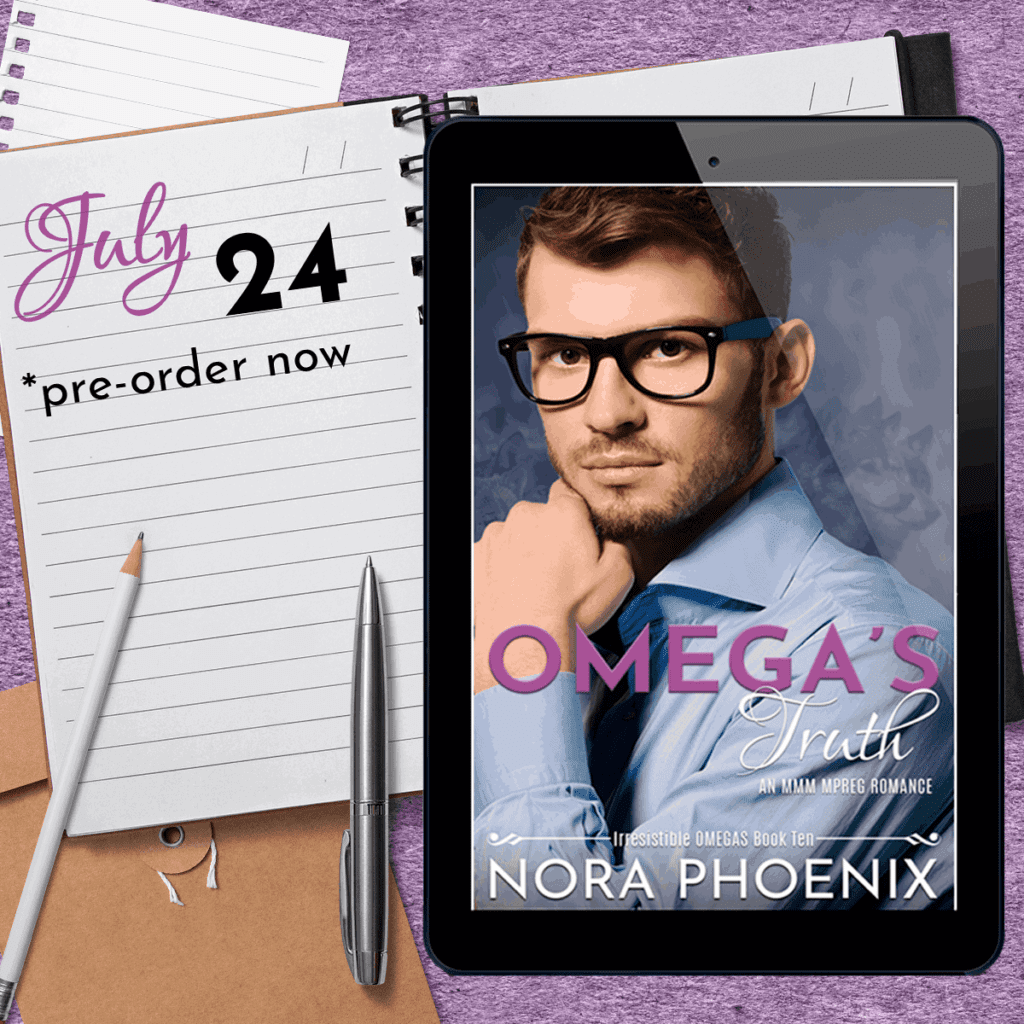 Romance
But at the end of the day, it's the love stories I loved writing the most. Making Enar feel loved and accepted, for example, was beautiful to write. Making Bray change from an alpha-asshole into a loving father and mate was nothing short of a challenge…but damn, he changed, didn't he? And there's Lev and his unique needs, our bratty Lars who so needed a Daddy, dirty Felix (who really needs a bonus story with his men, by the way), and so many more. I loved making them fall in love, adored watching them change and grow. And have sex, haha. All the sex.
And if there's anything I hope you've taken away from these books (or any of my books, really), it's this: love has no shame. Love allows you to be yourself in whatever shape or form that is, with all your quirks and needs…and loves you for it.