The one good thing I'll say about this year is that I've been reading more. Not so much because I've been stuck at home since I work from home anyway, but I did become way more intentional in taking time to rest ands recover. And read.
My goal for this year was to read 100 books, and I'm already at 84, so yay me. Most of them are MM romances, but I've also been reading lots of non fiction and some MF romances and thrillers. I'm keeping track of what I read (also something new) in a reading log, and I really like that. It has helped to make me more aware of what I've read and process my thoughts on a book. It's also a big help when leaving reviews because I tend to do those in bursts.
Anyway, I thought it would be fun to do some new mini reviews, and this round, I'm picking four light and fluffy MM romances I read this year. Trust me, the pickings were slim since I tend to gravitate toward heavier, angstier books and I already did three low angst reviews earlier this year, but I found four. Here we go!
Project Hero – Briar Prescott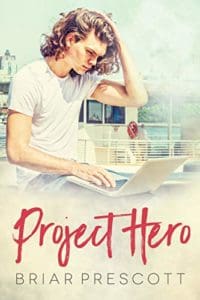 Project Hero is a funny, light-hearted new adult MM romance about a nerdy guy who wants to become a different version of himself to attract the attention of his best friend. He gets help from a jock, and what ensues is lots of funny banter and sweet, fluffy feelings. A truly feel good book.
---
Throwing Hearts – N.R. Walker
A sugary sweet feel-good romance with little conflict, Throwing Hearts is the perfect fluffy read. Two guys meet at a pottery class and connect instantly. Classic N.R. Walker style with some beautiful secondary characters as well.
---
Liam Davis & The Raven
A touch of angst but nothing too much and a classic Anyta Sunday slow burn make Liam Davis & the Raven a sweet new adult read. I swear, she's the queen of slow burn and she does it so well. A nerdy guys with some compulsive tendencies makes a friend, then more, while working for the college newspaper.
---
Caulky – K.M. Neuhold
Caulky is a light-hearted rom com featuring a guy who wants a rebound fling and the hot contractor he's hired. Super hot chemistry, witty banter, and hilarious scenes make for an entertaining, fluffy read.
That was my list for this theme. Share your favorite fluffy reads from this year in the comments!