When I started writing book nine in the Irresistible Omegas series, I had already announced it: I'm not entirely sure if this will be the last book. Well, it turns out I was right because it won't be. There will also be a book ten. In fact, the title and cover reveal I had done for book nine, Omega's Truth, will be for book ten. I had a reason for that title, but it's not gonna happen in the first book about the love story of Maz, Lucan, and Sando…
You see, if you've read the whole series so far, you'll know that Lucan already popped up in book one. In fact, he's one of the first characters we meet during a bust Lidon does as a cop. Sando enters the picture during book three, Beta's Surrender, when he shows up unexpectedly after his father has disappeared. And the last member of our trio, Maz, joins the pack once the clinic gets going, which is in book four, Alpha's Pride. Their story started way before the ending of book eight, so when I started writing it, I had to go back in time.
Well, guess what: these three don't have an easy journey. I've now written 80k words, which is already a good-sized book, and we're nowhere near done yet. I was debating whether to make one super long book or to split it into two, and in the end, I decided on the latter. My reasons were that first of all, making it one book would limit me in how I told the story. I mean, a 120k book is still okay, but once you go past that, it gets hard. A paperback of that size is really expensive, for example. So I would have felt like I had to maybe rush it to keep it manageable. This way, you guys will get two full sized books since we all know I don't do short books. That will give me the time to come to a satisfying end for all storylines…
Another reason was that it fits what I've done in the series so far. Each triad has gotten two books, except for Grayson. Lars, and Sven and I still somewhat regret that decision. And last but not least: making it one book would mean a July release rather than in June, and I didn't want that either. So, two books it is.
Book Nine
Book Nine, which I thought would be Omega's Truth, will now be called Beta's Love and will start this amazing love story. Since we'll be going back in time, you'll see some familiar events happen again, but now through the eyes of these three. I'm gonna be honest: the book ends on a cliffhanger in the sense that they're not happy together yet. There was no way around that, and once you'll read the book, you'll understand. But it does end on a positive note, so not with a character in mortal danger or something. And I promise I will write my ass off to release book ten as soon as possible afterward…
If you haven't read this amazing mpreg series yet that combines solid world building with hot sex, swoony romance, pack dynamics, and a suspense plot, now is the perfect time to start reading! Start with Alpha's Sacrifice…
Are you guys ready to see the cover for Beta's Love? Here we go… And that's Lucan on the cover, by the way…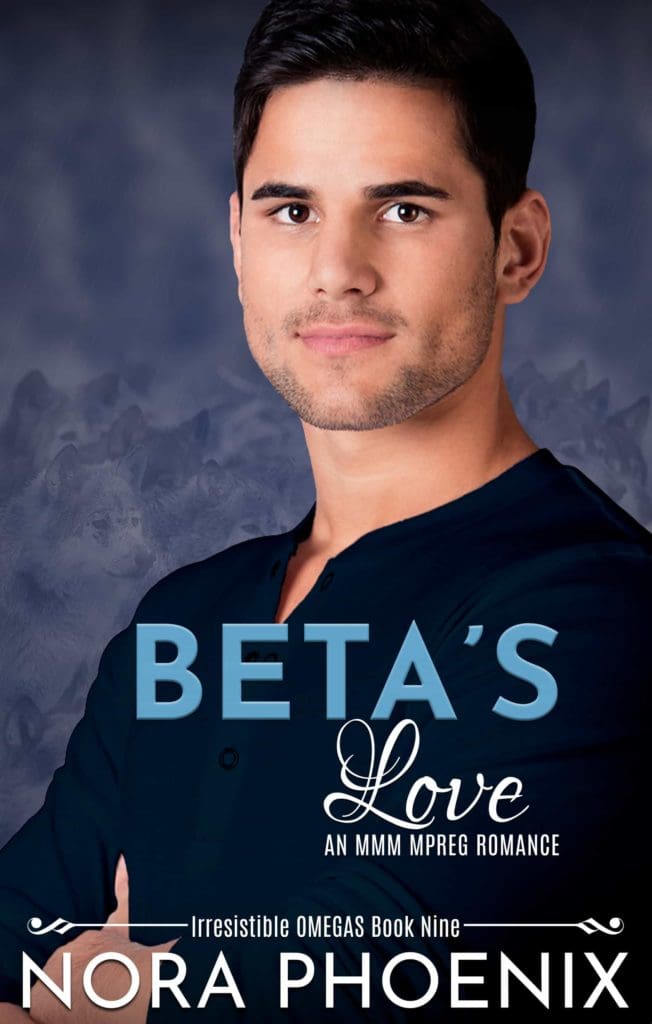 I hope you guys all understand why I had to make these changes…and that you're still super excited to read this story!
Snippet from Beta's Love
To make you want this book even more, here's a little snippet for you…
Sando raised his head, blinking a few times as if he had to connect with reality. "Where are you guys going? Is it lunch time?"
Lucan smiled at Maz, still holding his eyes. "They're about to shift, remember? Maz and I are going to his room so we can have some privacy."
"You mean so you can have sex," Sando said, shoving his glasses up his nose with his index finger.
"Seeking privacy is indeed a commonly accepted euphemism for sex," Maz said, smiling.
"So what am I supposed to do?" Sando said, sounding a little whiny.
"I don't know, work? Got to your room and jack off?" Lucan's voice was sharp, much snappier than Maz had ever heard from him.
"By myself?" Sando asked, frowning.
"Well yeah, since you refused our offer you're on your own now." Lucan crossed his arms.
Sando's frown deepened. "I didn't refuse it. I said I needed time to think about it."
"It's been three days, Sando. Time's up."
"You never said there was a deadline!"
I'll be uploading the preorder soon, so stay tuned for that!