Only NINE more days until the next book in the Perfect Hands series releases: Healing Hand. You can already preorder it! The book is all done and is now with my editor for a last proofread. My beta readers absolutely loved it, so that's always a wonderful thing to hear.
Healing Hand is about Saxton, who is on his way home from a visit to his kink club when he gets into a car accident. He's terrified because he's still dressed as a little…but luckily, there's ER nurse Gale who immediately takes care of him. They connect, and when Saxton is released from the hospital, Gale offers to come home with him since Saxton has no Daddy to make sure he's okay.
Their connection deepens, but both of them are hiding secrets. When those come out, will what they have built be strong enough?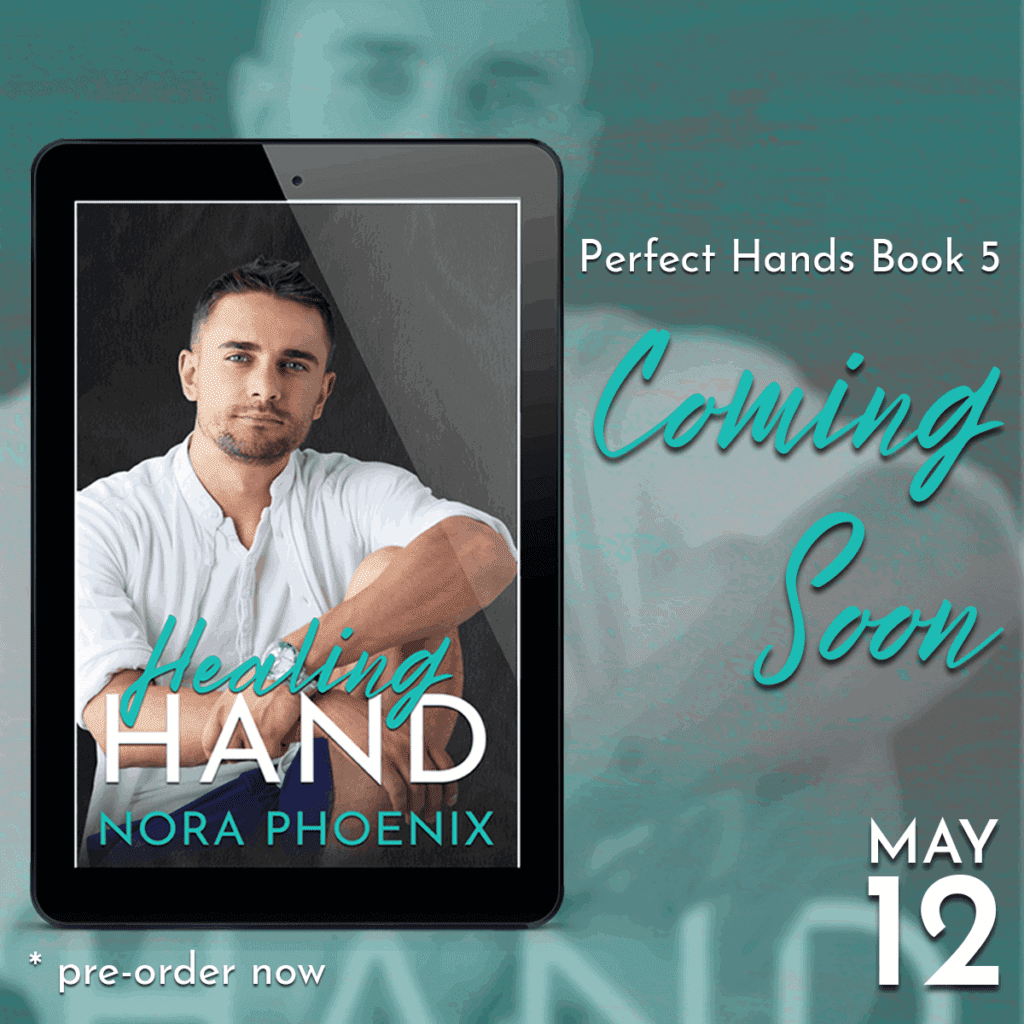 Healing Hand is an emotional, sweet MM romance with massive amounts of hurt/comfort, age play, and ABDL. It's a soft burn between two men with a past that find healing with each other. Expect all the feels in this one.
It was fun revisiting characters from the previous books (and you'll see all of them again…) and also see characters from No Shame pop up. I loved "hanging out" with Noah and Indy again, with Josh and Connor. I miss those guys! But if you haven't read the No Shame series, yet, no worries. You don't have to to enjoy this book…though it is an amazing read that's hot, emotional, and will keep you glued to the pages. Or your Kindle, in this case.
Teaser
Ready for a teaser? Here we go:
When Gale walked into room 12, Saxton lay with his head turned toward the door, as if expecting him. His face broke open in a smile when Gale entered.
"Hi," he said, his voice a little croaky.
"Hey," Gale said. Saxton still looked pale, the freckles more pronounced, his eyes a tad glassy. His hair was a glorious red mess that couldn't even charitably be described as bedroom hair. More like what-the-fuck-happened hair. He lay on his back, his ankle elevated and propped up in a suspension system.
"How are you feeling?" Gale asked.
"Prrrretty good. Not that I'm pretty, but I'm good. You are pretty… I love looking at you."
Gale grinned. Apparently, Saxton was still flying high. God, he was cute. Even more when he was high.
The older woman in the bed next to Saxton laughed. "He's been waxing poetic about someone since he woke up. Someone tall, tanned, and with gorgeous brown eyes. I'm assuming that's you."
"I'm hoping it's me," Gale said, not wanting to make Saxton even more embarrassed. "If not, he and I need to have a conversation."
"I would never cheat on you," Saxton said with adorable indignation.
"I know, sweetie," Gale hushed him. "You're a good boy, aren't you?"
Saxton's eyes lit up at the praise. If Mrs. Newman—Gale had quickly checked her name on the name tag on her bed—noticed the somewhat unusual phrasing, she didn't react.