Ziggy, the second book in the Kinky Boys series I cowrite with K.M. Neuhold, went live two days ago. If you haven't grabbed this sweet, sexy, low angst MM romance yet, you totally should. It'll be the perfect escape for a few hours…
Download it now from Amazon (also available in KU)!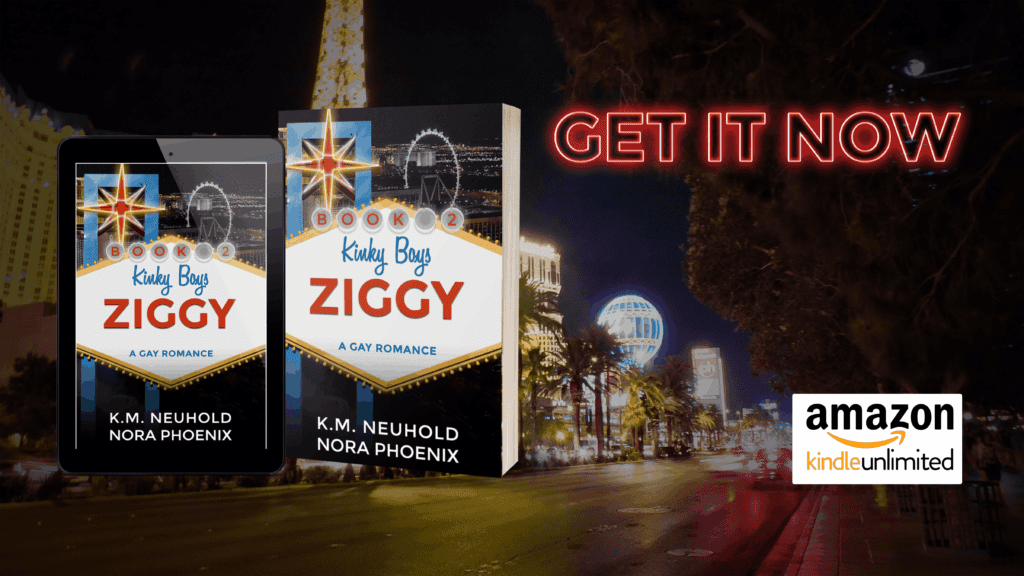 As far as I can tell I don't have a submissive bone in my body. So why do I like it so much when Marshall calls me his good puppy?
I've made some impulsive decisions in my life, but signing a contract with the K Boys to shoot an Introduction to Kink series may have been the biggest impulse ever. Sure, the intimate part of it doesn't faze me, but the rest is way more intense than I had expected.
Luckily, there's Marshall, the consultant who oversees all the shoots. He's so calm and steady, and he's there for me when I panic. That doesn't mean I suddenly like being tied up or something…until Marshall introduces me to puppy play. I want to be his good puppy…and much more because it's hard not to fall for him.
But I still have a contract. I don't want to disappoint my boss, and I need the money.
This isn't a long-term career plan, Marshall is only temporarily in Vegas, and I may have made the biggest mistake of my life… Or have I?
Ziggy is a low-angst MM romance that shows a variety of mild kink, including puppy play. It's the second book in the K Boys series and can be read as a standalone, though it's more fun to read the books in order.
Reviews
The first reviews are in as well, and readers are loving sexy Marshall and sweet puppy Ziggy…even readers who never read puppy play before!
"I love Byron, aka Ziggy, and have since he was brought up in Rebel and Troy's story. So glad he got his HEA and that it was with a sweet, caring Dom like Marshall. They had chemistry from the start and the way Marshall helped him figure out what kink made him feel safe was super sweet. The scenes were all HOT and well done!!"
"I love Ziggy so much! Marshall is the perfect Dom for sweet Ziggy. I love the evolution of Ziggy's world of kink and that he takes to being a pup immediately. Their love story gives all the feels as well as being super freaking hot! Definitely recommend this book and can't wait for the next in the K boys series!"
"What I will say is that my favorite thing about their books and this one is particular is that not only do the develop their MC's, but they give us these amazing and adorable side characters too. It's funny when you finish a book and are like, but will this person get a book and what about this person? I love it, especially because I never know what is coming next!"