Kyleen Neuhold and I have worked hard on Ziggy, the second book in the Kinky Boys series (which is called K Boys on Amazon because they got their panties in a twist over the word kinky…sigh). We're super excited to show you guys the cover, share a little more about the book…and when to expect it!
Cover Reveal
Let's start with the cover. We're going for a uniform look on these covers, just like we did with the Ballsy Boys, so they're easy to recognize. The cover was made by Vicki Brostenianc, and it shows the Las Vegas setting of the series.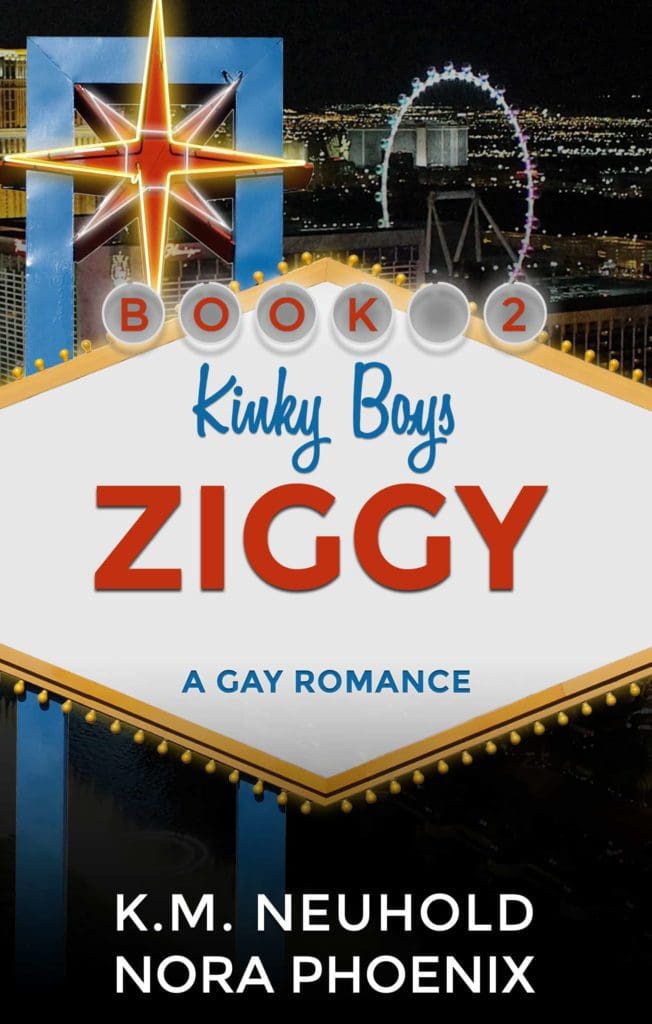 About Ziggy
Here's a first peek at what you can expect in Ziggy:
As far as I can tell I don't have a submissive bone in my body. So why do I like it so much when Marshall calls me his good puppy?
I've made some impulsive decisions in my life, but signing a contract with Kinky Boys to shoot an Introduction to Kink series may have been the biggest impulse ever. Sure, the intimate part of it doesn't faze me, but the kink is way scarier than I had expected.
Luckily, there's Marshall, the consultant who oversees all shoots. He's so calm and steady, and he's there for me when I panic. That doesn't mean I suddenly like the kink…until Marshall introduces me to puppy play. I want to be his good puppy…and more because it's hard not to fall for him.
But I still have a contract. I don't want to disappoint my boss, I need the money, and what the hell was I thinking signing up for this?
This isn't a long-term career plan, Marshall is only temporary in Vegas, and I may have made the biggest mistake of my life… Or have I?
Ziggy is a sweet and sexy MM romance that shows a variety of mild kink, including puppy play. It's the second book in the K Boys series and can be read as a standalone, though it's more fun to read the books in order.
Teaser
We've already shared the first teasers in our FB groups, but here's another one from Ziggy's point of view:
"I see you're limiting the carbs as well," Harley says, gesturing at my club soda with lemon. 
"A couple of days from now, I'm shooting a video that could potentially be watched by millions of people. I have zero desire to show up with love handles."
Harley shrugs. "I wouldn't mind seeing more variety in body types. Besides, a little extra to hold on to can be super sexy."
"As long as they kneel for you, huh?"
"I can't deny I love seeing a sub on his knees for me. Speaking of which, Marshall told me he did a little experiment with you."
My cheeks flush. "Yeah. Not my proudest moment."
Harley leans forward. "He had the impression you weren't completely clear on what you have agreed to."
"I'll admit I had some issues following his orders."
"That's okay. You're new to all of this, so that was to be expected. But you can't do this if you're not sure if you want this or not."
"I do," I hurry to assure him. I do not need him reporting back to Daddy that I'm not motivated. I need this money. My first paycheck from Daddy is the only thing that will prevent me from having to terminate my lease. 
He leans back again, then sips his beer. "You said you were pondering the difference between me and Marshall. Why?"
"I would've expected you to be more alike considering you're both Doms."
"So is Hunter, and you didn't list him."
I frown. "Yeah, but he's different. He has Joey."
"He's still a Dom, and he has been for many years. He used to own a club in New York City called Balls to the Walls. One of the best clubs I've ever been in. It's where Marshall used to play."
That's news to me. I never knew that's where Daddy and Marshall knew each other from. "Yeah, but he still feels different. He's…softer."
Harley smiles. "Rank us from hardest to softest."
That's an easy one. "You're the hardest. Maybe that's what I was trying to put my finger on. Marshall is softer than you."
Harley nods. "He is. I'm far more hardcore than he is, both in my preferences and my approach. He's a very caring Dom."
Caring. That's not the first word I would've picked to describe Marshall, but it is fitting. He's strict, but there's a softness and concern underneath. "You're colder," I say, then clamp my hand over my mouth because holy shit, that did not come out right.
But Harley chuckles. "Well spotted, boy. I am. I'm not offended by you labeling me as such, because it's the truth. I'm a demanding Dom, one who can push my subs hard and derive great pleasure from their suffering. Marshall is much warmer. I suspect he likes the aftercare sometimes more than the scene itself."
Aftercare. Right. That was in the homework Marshall gave all of us subs to read up on. It's the care a Dom provides to his sub after a scene. The more intense the scene, the more important aftercare is. I have to admit that when I read through all the definitions and explanations, aftercare sounded pretty nice. I mean, being held for minutes and simply cuddling? Sign me up. 
"Does that mean you're not gonna go easy on me?" I ask.
He's not smiling, like I expected him to at that question. "These are the kind of things you should've asked before signing that damn contract, boy."
He sounds stern now, and I don't like it at all. "I didn't know," I say weakly. 
He sighs. "So Marshall was right. You did sign a contract you didn't understand."
Release Date
ZIGGY will release April 28th, and you can preorder now! 
Who's excited?