I had a fabulous idea earlier this week, and judging by the reactions so far, both readers and authors are on board! How does free books sound? Not just from me but from other authors as well?
I'm gonna call it Nora's Book Club, and here's the plan. As you hopefully know, I have a Patreon. That's a platform where creators like me can match with patrons (readers) who support them. My tiers start at $1 a month but for $5 and more, you already get each of my solo releases for free in ebook. That's the same as you would pay if you bought them on Amazon, so win-win, right?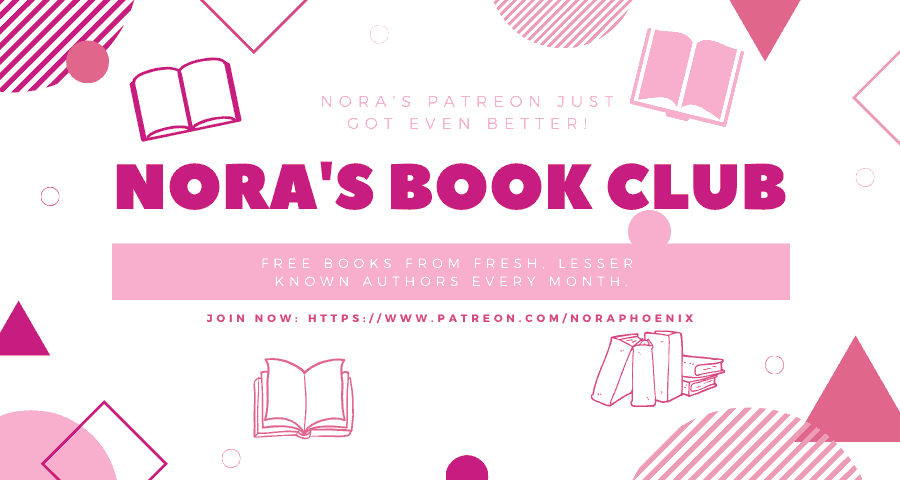 Because you don't just get my solo books, you get more… Like chapters of upcoming solo releases of mine. My $10 and up patrons get three chapters a week, and they've gotten as far as chapter 12 of Snow Way Out before anyone else could read it. Sounds cool, right? Patrons in the $5 tier get one chapter per week.
FREE Books
But now, you get even more. At least every month, I will send out a free book from another author. This could be a book that's already out or an ARC of an upcoming release, which is even cooler 'cause then you guys get to read the book first! Some authors may choose to send it to all of you, others to a specific tier. The $25 and up will get each book, then I'll consider the $10 and up, and then the $5 and $1 patrons. That seems fair to me.
I'll do this through Bookfunnel myself, so no one will get your email addresses or personal information. Whether or not you choose to download the book, that's up to you. No obligation whatsoever… If you liked the book, leaving a review would be amazing, but again, there's no obligation. It's just more books for you, all as a part of the perks of being my patron
Some of these will be lesser known authors, so it's a great way for them to find new readers and a perfect opportunity for you to find new authors. But I've already got some better known authors interested as well. The authors will be picked by me, and they don't pay for this privilege. It's just my way of boosting our genre because I believe a rising tide lifts all boats…and of showing some extra love to my patrons!
This means that for just $5 a month, you get at least a free book from me (because I release almost every month) and one of more books from other authors. What do you guys think: does this sound good? Sign up for my Patreon here!