I'm excited to officially announce I'm back at work on Smolder, the second book in the Ignite series. It took way longer than I had hoped or planned before picking this series back up. It started out with the characters not cooperating, and after that, I kind of got busy with other projects (Firm Hand, Gentle Hand, the IO series…). But it's time to continue this story…
Because I will say this: as much as I love all my books, this series is special to me. First of all, it was inspired by a stunning cover that I bought as a premade. Then I brainstormed about this with my son during a massive road trip we took last year (obviously, not the gay romance part), and he gave me some epic ideas. This story became near and dear to my heart, and the series has a powerful message in it…and because I'm a hopeless romantic at heart, it will have a happy end. I can promise that.

Ignite is set in a dystopian world, the Conservative United States, where being gay will get you sent to a reintegration camp…until you've become straight.
Austin is the tough guy, the quarterback who never thought he'd be in trouble until his boyfriend reported him to the authorities and he was sent to camp.
Tan is the ultimate survivor. After running away from home at sixteen, he's learned how to survive…even in camp.
Mac is the newbie, a guy so innocent Austin and Tan can hardly believe it.
When a meteor shower throws the camp into chaos, these three escape. But when they discover those meteors were part of an alien landing on Earth, they're in much more danger than they had counted on. How will they stay alive when not only their own government is after them, but aliens as well? They have to lean on each other, and from trust grows something beautiful, something precious…and fragile.
Ignite is a slow burn series, but in Smolder, book two, we'll see the three guys growing closer as they try to figure out the best strategy to stay alive…and together. The first book is also available as audiobook, and personally, I think this is some of Kenneth Obi's best work.
Cover Smolder
Anyway, I'm proud to show off the cover for Smolder, made by the crazy talented Jay Aheer from Simply Defined Art. Isn't is gorgeous?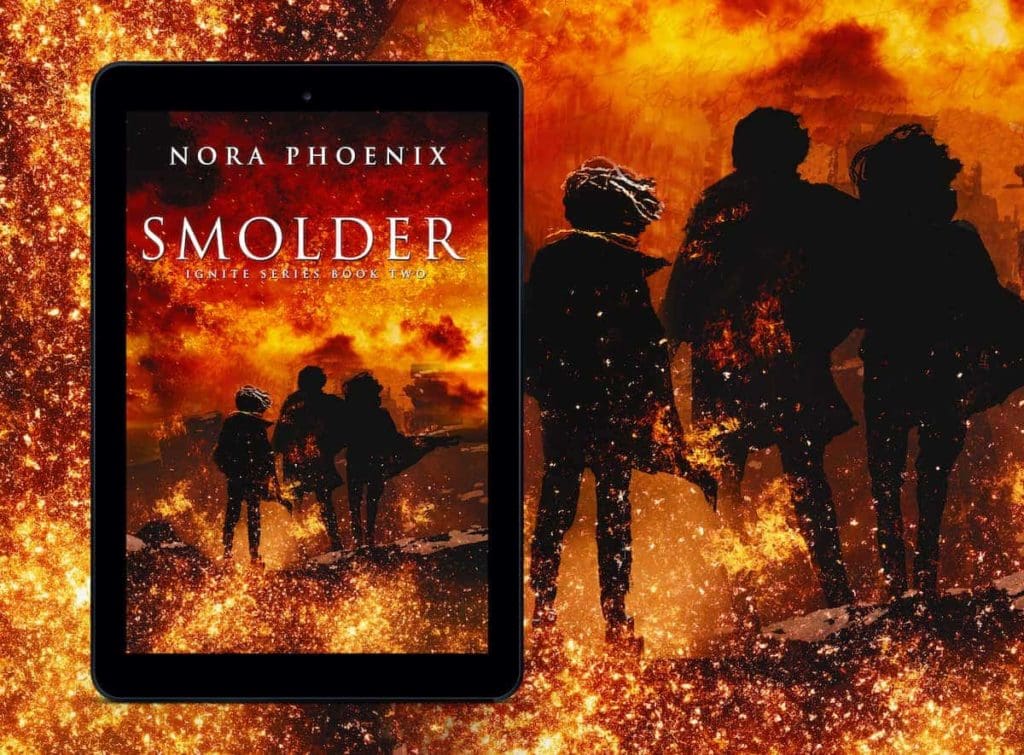 Release Date
I don't have an official release date yet, but I'm hoping for Late December/early January. If you're impatient, come join my Patreon where I'm already sharing the first chapters!