Welcome to this week's hot new releases, 99c deals, and freebies in gay romance!  We have a pretty good haul of 99c and freebies this week…so get ready to grow those TBR lists!
Last week, I asked if you guys preferred a blurb or my personal recs, and the preference was for a combo, so that's what we're trying out this week. I have recommendations for some books that I've read or are enthusiastic about, and others that are lesser or unknown to me, we'll list with just the blurb. Hope this makes everyone happy!
All deals are valid today, Saturday, July 13, in the US and most of the time the UK, but they may not be valid tomorrow or in all Amazon stores. Please check the price before buying!
This is not a paid list or ads, but simply deals I've found and books I'm excited about reading, so all personal recommendations from me. If you have a book you'd like to see listed, you can submit it, but that's not a guarantee I'll list it.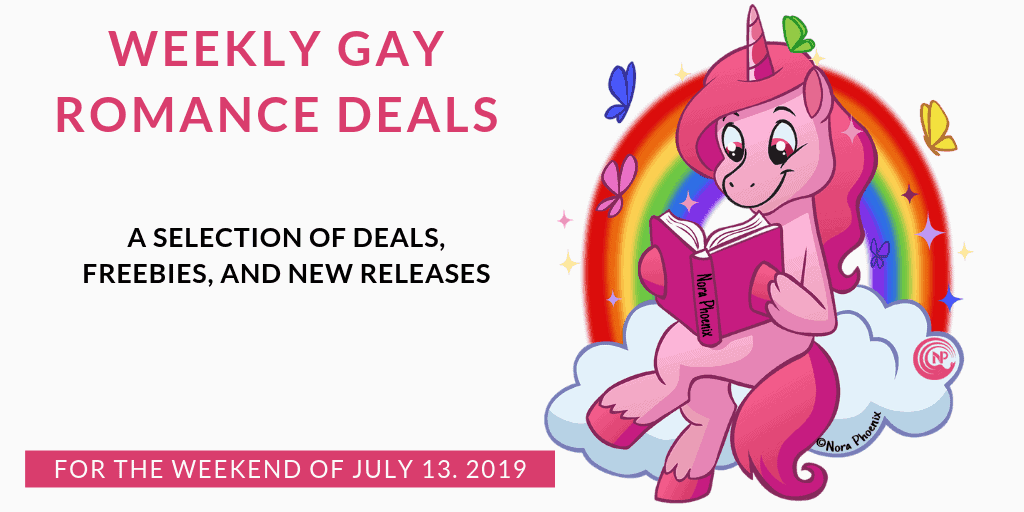 ---
NEW RELEASES
---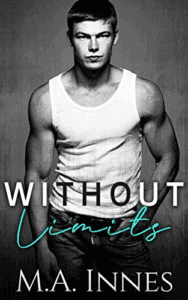 Without Limits – M.A. Innes
Nora's Recommendation:

I've never read an M.A. Innes story I didn't like, so if you're in the mood for sweet and sexy with a little kink mixed in, this author is always a great choice.
Trent and Hayden have been together for as long as they can remember.
Best friends. Boyfriends. Now lovers looking to discover a new side of their relationship, all they want is to be together and to get out of the poverty that surrounds them at every turn. Unfortunately, Trent knows that with family stacked against them and the secrets Hayden must hide, it won't be easy. But he'll protect Hayden with everything he has.
No matter what he has to hide from everyone else, all Hayden has ever needed was Trent's love and acceptance—and he's always had it. No matter how different he felt or what he confessed to Trent, Hayden has always known Trent would be right there beside him. But with wolves closing in at the door and desperation rising, he knows finishing high school and getting away might be harder than they'd ever expected.
Surrounded by anger and people who would never understand their relationship, they know college will be their safe haven, but only if they can fight the deck that seems to be stacked against them.
43k words
Without Limits Contains: MM sexual content, BDSM elements, spankings, age play, and gender-fluid dressing.
---
Rich Kids 2 – Quin & Perin
Please check the warning section inside the book.
I am Semuel Preston, eldest son of the Preston estate.
I have cut all cords to my family except for him: Nate. He is the only good thing to come from the Preston name. He's the sun to my sky, the apple of my eye. And a thousand miles away. Still, I bring him to his knees. I am his King. His God. Forever?
RICH KIDS is a forbidden love romance, featuring enemies to lovers as well as detailed adult m/m content
---
Holding On – A.T. Brennan
Nora's Recommendation:

I love this series, and I was really happy to see the author released a new book. If you love found family-type series, try this one. Highly recommended.
"Keeping my bisexuality a secret hasn't been easy, but after years of hiding who I am, the thought of coming out terrifies me." – Noah
Being the shy, introverted twin hasn't always been easy. I don't make friends easily, or deal with crowds well. I'd come to terms with being alone, until Jesse was hired on at The Den.
I wanted him. He was the most beautiful person I'd ever seen, but as the token "straight" guy at the bar, there was no way that could happen without me having to disclose the fact that I was bisexual.
The more I get to know Jesse, the more I realize that I can't keep living a lie. I want to be with Jesse, but in order to do that I not only had to come out, but also tell him that I'd never been in a relationship, and I was still a virgin.
"I was tired of running, but it had been my life for so long I wasn't sure how to stop." – Jesse
For years all I wanted was a normal life, but even after being banished from the polygamist cult I'd grown up in, it wasn't meant to be.
Since escaping an abusive situation I'd been on the run, desperately trying to stay ahead of my past. Then I found myself working at a bar and suddenly things didn't seem so bad. I loved the little family my coworkers had created. And then there was Noah.
There was something about him that drew me in, and it wasn't his rock-hard body or intense brown eyes. He was sweet and kind, and very shy. He made me feel safe, and that was dangerous when this was supposed to be a temporary stop before I moved on—Holding On
---
Unspoken Vow – Eden Finley
Nora's Recommendation:

If you've only read this author's sports romances, be warned that this series is a little different and this book is high angst and deals with some heavy topics. But man, I've been looking forward to this one and I can't wait to read it.
He's everything I want but run away from.
There's a long list of things I don't handle well:
Change.
Relationships.
Breakups.
But there's one person above everything else I can't seem to get a handle on.
Brody Wallace.
In short, he's perfect. The reality, he scares me.He's the opposite of what I usually go for. He's bigger. Intimidating. He reminds me of someone I'd rather forget.
When I need to find a new place to live, Brody offers me his spare room, but I have no plans on taking him up on the offer. He doesn't know what happened to me five years ago, and I want to keep it that way.But with limited options, I find myself outside his apartment holding a full moving box and wondering: How can I do this without exposing the darkest part of my past?
**Unspoken Vow is a full-length MM romance with a HFN/HEA. It deals with mental illness. Please check trigger warnings in the front matter.**
---
99C DEALS
---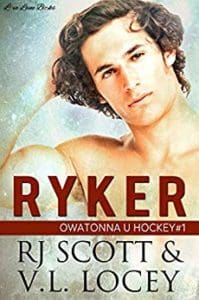 Ryker – RJ Scott and V.L. Locey
This New Adult book is the first in the Owatonna U Series, a spin off from the best selling Harrisburg Railers Hockey Series.
Ryker is hockey royalty, Jacob is a poor country boy. Can two vastly different people find common ground and become the men they want to be?
Ryker comes from a long line of championship-winning hockey players. Playing college hockey to develop his game is his only focus, and nothing will stand in the way of him working to become the best player. He has no room for relationships, people who point out his flaws, or anyone who calls him on his dreams. He certainly has no place for love, and meeting Jacob is nothing but a useful distraction on the side. After all trying to get his Owatonna Eagles teammate into bed is less work and more play. When tragedy rocks his family, his charmed life crumbles, and the only person he can turn to is the same one who claims to hate him.
Jacob Benson has only known hard work and stifling conservative values his whole life. Born and raised in the small rural community of Eden Crossing, Minnesota, he's the only son of a hard-working but struggling dairy farming family. Jacob is using his skills in hockey to finance his way to an agricultural science degree. These four years at Owatonna U. will probably be the only time he has to enjoy life, gain acceptance about his sexuality, and live openly before his inevitable return to the farm. Running into a pretty rich boy like Ryker Madsen is putting a damper on his enjoyment of life away from home. Ryker's flip, conceited, carefree attitude grates on Jacob's every nerve. So why, if Ryker is everything he dislikes, does he want nothing more than to explore the sinful dreams that his annoying teammate stars in every night?
---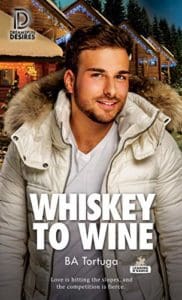 Whiskey to Wine – B.A. Tortuga
Love is hitting the slopes, and the competition is fierce.
It's Gay Ski Week in Aspen, and blind sculptor Bleu Bridey and his ex-fiancé, Dan, are at the Leaning N Ranch to unveil Bleu's latest commission.
Former Olympic snowboarder Ryan Shields is there too… and he's Bleu's true love who got away. Seeing Bleu again, Ryan remembers how they couldn't get enough of each other in college.
Too bad it looks like Bleu is with Dan now, because Ryan would love to remind Bleu how good they were together, in and out of the sheets.
Between Ski Week parties, a bunch of exes, a private ski lesson, and one terrible accident that leaves Bleu stranded and Ryan in rescue mode, it'll be a wonder if these two manage to survive, much less find a few seconds alone to remember how much love they have to keep them warm even in the worst of storms in Whiskey to Wine.
---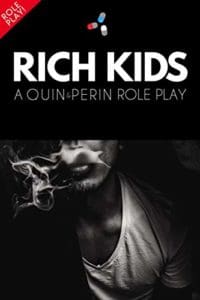 Rich Kids 1 – Quin & Perin
Nora's Recommendation:

If you like taboo, this may be right up your alley. I haven't read it yet, but this highly erotic brocest tale is getting great reviews…and the sequel just released!
Please check the warning section inside the book.
What if someday you wake up and the one person you can't have is the one you want the most?
My name is Nathaniel Preston. Second son of the Preston estate.
I've been raised to be perfect, to be ahead of every game, to do no wrong. Sem, my crass and vain older half-brother, is the complete opposite of me. All he seeks is his next high. To get there, he cheats, blackmails, and seduces.
Which wouldn't be a problem, if one day he didn't decide to tape me in a very compromising position…
***RICH KIDS is a forbidden love romance, featuring enemies to lovers as well as detailed adult m/m content.
---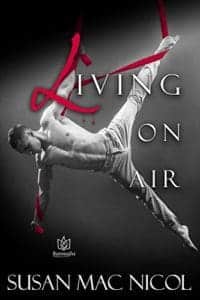 Living On Air – Susan Mac Nicol
PIERCING THE NIGHT
Cary Stilwell has been existing since he was ten years old, and each year it gets harder to find meaning in his bleak life. The only exception – his work. As a top-billed aerialist in a popular travelling circus, he enjoys accolades and applause, but little else. When notable photographer, Rhys McIntyre, joins the circus to catalogue its inner workings, Cary fights the attraction that hits him from the moment they meet. But a kind soul wrapped in a beautiful body has a way of battering all the walls Cary has built around his cold, dark heart.
WITH LIGHT
Rhys McIntyre is on his third iteration of reinventing himself. Once a hotdog financier, he embraced his passion for photography and became an eminent war photo journalist. Until one too many bullets lodged in his body, and he gave up the front lines for the softer side of chronicling life. When he accepts the assignment to record life in a circus, the last thing he expects is to find the man crush of his dreams. Except Cary Stilwell is a cold, tortured man who seems incapable of any warm emotion, never mind love. But Rhys is known for his persistence, and this time the pay-off might be more than he could have ever imagined in Living On Air.
---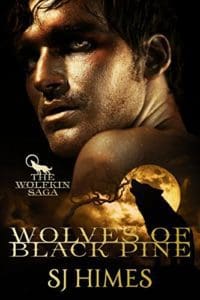 Wolves of Black Pine – SJ Himes
The Wolfkin Saga begins…
An ancient civilization long hidden from humanity is on the brink of chaos and war. Peaceful for thousands of years, the wolfkin clans are mysteriously losing packmates, kidnapped and killed by unknown foes.
The nightmare begins with an ambush by humans at a gathering of their kind, and lives are lost. Among them is Luca, youngest grandson of the two most powerful wolves in the Northern Clans. Thought long dead and gone, he is forced into a half-life, hidden in the far northern wilds of Canada and cut off from his kind. Those who raised him have no idea the creature they harbor in their midst, and name him Ghost. He begins to lose himself over the long years, and though he barely recalls his true name, the one wolf he never forgets is Kane.
Kane, Heir to the wolfkin clan Black Pine, is charged with hunting down the traitors who betrayed their kind to the humans. Years fly by, and more wolves are dying. He refuses to give up, and he vows to never again fail another of their kind, as he failed young Luca years before. His heart tells him Luca lives, but his mind tells him that it's foolish hope, his guilt eating him alive.
Fate and magic change the course of their lives, and the two wolves long separated by the years find their paths intertwining. Though the gift of their reunion doesn't come without price. Faced by the consequences of their growing love, and the goddess-forged bond between them, Kane and Ghost are besieged on all sides. Enemies are coming for their blood, and without the steadfast loyalty and love of family and friends, they may not be safe from the very people they fight to protect.
154,000 words
Wolves of Black Pine is an M/M Shifter Paranormal Romance
See the content advisory on the Copyright page by using the Look Inside Feature or by downloading a sample of this book.
---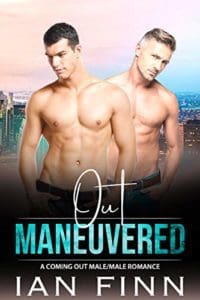 Out Maneuvered – Ian Finn
Nora's Recommendation:

This is a new release at 99c, about an actor whose agents wants him to stay in the closet, which seems impossible when he falls for a nerdy law school student.
I'm used to acting, but can falling in love with the man of my dreams help me take off my mask and face reality?
Wherever I go, it seems I never fit in. I'm a Broadway actor, but I was just offered what most people would think is the opportunity of a lifetime: the starring role of detective on a new TV drama series. At first, I'm not sure if I should take it, because I know it involves not only acting on set, but also playing a role in real life that doesn't let me be true to myself.
Nigel, the nerdy-but-hot law school student who frequents the coffee shop I work at when I'm not acting, is the only guy who seems to truly get me. He understands that more than money or fame, I just want the chance to pursue my passion for acting.
A romance soon heats up between us, and I have finally found the place where I belong: with him, and his friends at the law firm he works at part-time while going to school. This handsome, smart, funny man knows not only how to turn me on in the bedroom but also how to strut his stuff in polyester skin-tight disco pants and four-inch platform shoes on Christopher Street when we go out with the tribe that has accepted me as one of their own now.
But will Nigel and I be pulled apart by my agent Ethan's desire to keep me closeted so that the show's mostly female audience will still have a reason to swoon over me?
Or, when I realize that Ethan has evil intentions, will Nigel and his lawyer friends help me not only come out of the closet professionally but also to out-maneuver Ethan and the studio in the courtroom?
Out Maneuvered is an opposites-attract, coming out/ out for you steamy male/male romance with a bit of legal drama and a hefty dose of comedy thrown in. A full-length standalone novel of approximately 70,000 words with no cliffhanger, it combines humor, heat, heart, and a very happy ever after.
---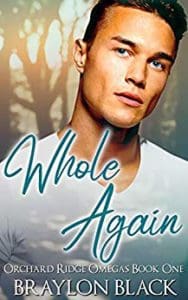 Whole Again – Braylon Black
A reluctant omega running from his past…
Houston Emery swore he would never return to Orchard Ridge, until news of his father's impending death drags him back. Returning to his hometown revives all of the painful memories that come with it. This includes Emmett, his old neighbor and secret childhood crush, who returned from military service harboring his own set of demons.
No matter how much he tries to deny it, their reunion proves that Houston's feelings for the rugged alpha vet haven't faded. Now he has to rebuild his connection to Emmett in a completely new way while salvaging his relationship with his father–and hope his heart comes out in one piece on the other side.
A battle-weary alpha searching for peace…
Emmett Brown has come home after a devastating loss during his service that dashed his dreams of a family and children. Now he's content to live a solitary life on his sprawling ranch with his faithful dog Jupiter as his only company. Or so he tells himself.
His lifestyle is put to the test when he encounters Houston again. Emmett's feelings towards the omega he silently loved a decade ago grow stronger each day, along with the complications. Somehow, he has to overcome the deep-seated fear that he's cursed to hurt everyone around him in order to start over.
Will a second chance at love–and a baby–be enough to break down the walls around their hearts?
Whole Again is a stand-alone, friends to lovers, 62k non-shifter gay mpreg romance. It contains high heat, plenty of angst, a lovely HEA, and lots of heartwarming pregnancy and baby scenes. You'll fall in love with Houston and Emmett and the rest of the characters in the charming small town of Orchard Ridge, Oregon.
---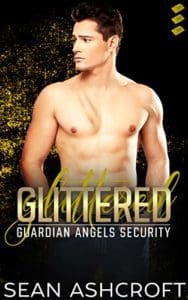 Glittered – Sean Ashcroft
Nora's Recommendation:

New release at 99c.
Logan's boss warned him this job was unusual, but he wasn't expecting the client to be an upbeat drag queen with a strip of pink lace showing above the waistband of his jeans. Logan's straight, but he's left trying not to think about how nice Ashley's butt is while he pretends he's got this bodyguarding thing all figured out—despite having no experience with this kind of situation.
Ashley has a stalker, and he's run out of options for escape. The only thing he can do is pack up his life in San Francisco and move back to his Arizona hometown. At his grandma's insistence, Logan's there to protect him until he can make it to safety. A strictly professional relationship.
But one drunken kiss leads to a sober one, and the more time Ashley spends with Logan the harder he is to resist.
To Logan's surprise, he's starting to feel the same way.
With the threat of the stalker hanging over them and Ashley's moving date approaching, can they figure out their feelings for each other in time?
Glittered is the third book in the Guardian Angels Security series, but it can be read alone. It features a HEA, as well as: pink lacy underwear, a heart-shaped waxing job, multiple drag queens, drunken kissing, sober kissing, a dwarf lop rabbit, steamy sex scenes, a latent bisexual awakening, and true love conquering all.
---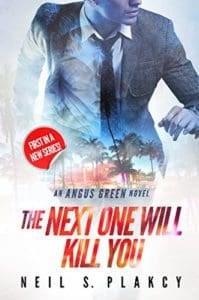 The Next One Will Kill You – Neil S. Plakcy
If newly-minted special agent Angus Green is going to make it to a second case, he's going to need to survive the first one.
Angus wants a job with adventure, so after graduating with his master's degree in accounting he completes the FBI's academy at Quantico and is assigned to the Miami field office, where the caseload includes smugglers, drug runners, and gangs, but he starts out stuck behind a desk, an accountant with a badge and gun.
Eager to raise some extra money for his college student brother, he enters a strip trivia contest at a gay bar in Fort Lauderdale. But when he's caught with his pants down by a couple of fellow agents, he worries that his career is about to crash. Instead, as the office's only openly gay agent, he's recruited to find a missing informant with a reputation as "gay for pay."
It's his first real case, and it takes him from the glitter of South Beach to the morgue on a desperate chase to catch a gang of criminals with their tentacles in everything from medical fraud to pill mills to jewel theft. As every twist in the case leads to more mayhem, the street quickly teaches him that the only way to face a challenge is to assume that he'll survive this one– The Next One Will Kill You.
---
FREEBIES
---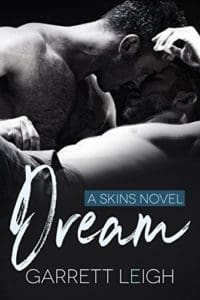 Dream – Garrett Leigh
Nora's Recommendation:

Garrett Leigh is known for high angst books that often tackle difficult topics. This one looks to be no different. I always have to be in the mood for something like this, but if I am, I know it will satisfy because this is a terrific author.
I can't sleep…
When unrequited love leaves Dylan Hart sleepless and nursing his wounds, instinct draws him to the one place he's found mindless respite in the past—Lovato's. It's a place for every fantasy — for crazy-hot encounters — where a night of insane NSA sex brings relief to Dylan's fragile feelings.
It should be a perfect escape, and for one magical night it seems that way, but then worlds collide, and reality bites when his hookup desperately needs a friend. Surely Dylan can't trust his instincts when friendship has bruised his heart so badly before?
It's burying me alive…
The deck is stacked against former ballet dancer Angelo Giordano ever finding real love. At least visiting Lovato's offers respite from a life defined by illness; a glimmer of light in the dull grey of his so-called life without dance. But then he encounters Dylan — a glorious ray of the brightest sunshine — who makes his heart pound once more with purpose.
Angelo's mind is blown by this man, but the disease that ended his career won't let him bask in new love. He's drowning, and Dylan can't save him while insecurities swamp them both. The only way to make it means confronting their demons.
If Dylan can turn his back on the past, and Angelo can face his uncertain future, maybe they can chase their dreams together.
Dream is a standalone . 60000 words. First in the electric new series from bestselling author Garrett Leigh.
---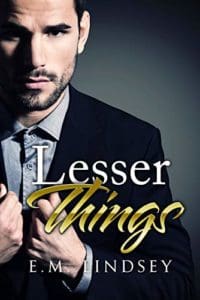 Lesser Things – E.M. Lindsey
Nora's Recommendation:
I've been reading a number of books by this author lately, and they've all been great. This one features a hot sugar Daddy and a sub, so that would be a hell yes for me.
"I'm going to spoil someone who wants to give me everything I desire."
Hugh Bennett spent most of his life working as a secret agent for OMNI Corp, choosing power, money, and loyalty over love. Work like that changes a man, and Hugh was well aware he existed only in shades of grey. Like most agents, Hugh planned to retire quietly, alone, and unloved. Unfortunately for him, fate seems to have other plans when a brash, mouthy little sub swaggers into his life and forces Hugh to take another look and decide what's most important to him.
Liam Foster's life isn't fancy, but it is simple. Working two jobs to make ends meet, he's resigned himself to barely treading water just to please his slumlord and keep a roof over his head. Liam wants more, but he knew he made his bed, and now he has to sleep in it. That is, until a former co-worker shows up with a new Rolex, designer jeans, and a proposition Liam can't turn down. A natural sub, Liam has no problem with the idea of kneeling for a hot, older Sugar Daddy who promises nothing more than giving pleasure and showering Liam with cash. The only caveat—no catching feelings.
Liam's fine with that, until he isn't. Until it becomes clear Hugh's life is far more complicated than a University Professor with mysterious millions, and ties to a secret organization. When danger makes its way into Liam's life, will he want to stick around and stand by Hugh? Or will he run just when the going gets tough?
Lesser Things contains adult themes and content intended for an audience of 18 years and older.