Welcome to this week's hot new releases, 99c deals, and freebies in gay romance (and some new releases from last week as there wasn't a post)!
Because I'm traveling this week for Euro Pride Con, we're doing things a little differently. Instead of writing a short recommendation for each book, we're just listing the blurb, so you can see for yourself if the book appeals to you or not. As you can understand, this saves me some time. So I hope you guys will find some awesome reads this week. Hopefully, next week we'll be back to our usual style.
All deals are valid today, Saturday, June 29, in the US and most of the time the UK, but they may not be valid tomorrow or in all Amazon stores. Please check the price before buying!
This is not a paid list or ads, but simply deals I've found and books I'm excited about reading, so all personal recommendations from me. If you have a book you'd like to see listed, you can submit it, but that's not a guarantee I'll list it.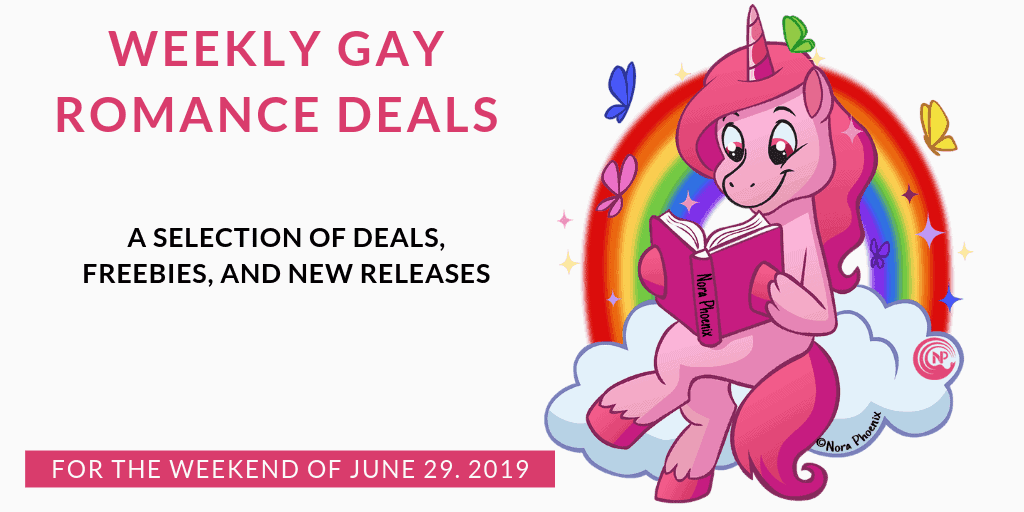 ---
New Releases
---
Obvious – R.G. Alexander
Could he be more Obvious?
Matthew Finn is about to find out. He's got a crush and a prickly pickle of a problem, but with a little help from his newfound family, he'll convince Oliver "Legs" Garcia that he's the real thing.
*The first half of this novella was originally posted as a free read, but has since been revised and doubled in length with a Bonus section aptly titled, More Obvious.
---
Always Mine – Sloane Kennedy
Always Mine: I had one reason for never going back to the small town I once called home, but I never guessed it would be the same one that made me want to stay…
Brooks
I grew up in the small town of Eden, Wyoming, but never really felt like I fit in.Until I met the one boy who changed all that.When we were kids, Xavier Price understood horses, but somehow, he got me too. He'd made me feel like I wasn't just the overdressed, too sensitive fifteen-year-old geek who loved math and didn't always say the right thing. But all that changed the night he threw my trust back in my face and betrayed my family in the worst kind of way.And while I'm back in Eden to make sure my uncle's horse ranch is operating in the black, the one thing I know I won't have to deal with is the man who'd been on the verge of stealing my heart ten years ago.Because Xavier Price is still in prison for what he did and even if he weren't, he wouldn't be foolish enough to show his face in Eden ever again.Right?
Xavier
Wrong.That's what returning to Eden after ten years behind bars feels like. But it wasn't like I had a whole lot of choices. And it wasn't like I was going to be handed any decent job offers, let alone my dream one of working with horses.But that's exactly what happened and now that I'm foreman of Black Hills Ranch, I'm not letting this job go for anything.Not even the spoiled little rich kid I'd thought was different when he'd glommed onto me ten years ago.I have no doubt Brooks Cunningham didn't wait long to move on to bigger and better things the second my jail cell was locked behind me, and that's just fine by me. I'd been wrong about the sweet, emotional boy who'd had a habit of wearing his heart on his sleeve anyway.Except fate has decided to have another go at me by tossing Brooks right back into my sometimes too small world. Gone is the scrawny, stars-in-his-eyes nerd who used to do math problems just for fun. In his place is a gorgeous specimen of a man who thinks he can go toe to toe with me and once again destroy everything I've worked for.Not happening.
---
Change of Heart – K.M. Neuhold
Does my husband's heart still miss me now that it beats in the chest of another man?
Lub-dub
A heartbeat more familiar than Easton's own
Lub-dub
He vowed to love his husband until death do they part. And then the worst happened.
Lub-dub
His heart kept another man alive. River. A stranger in the world with Easton's husband's heart pumping the blood that warms his skin. Does his heart ever miss Easton without knowing why?
Lub-dub
Sweet, kind, beautiful, River. Easton never meant to meet him…never meant to know him…never meant to fall for him.
Lub-dub
Easton loved River's heart long before he ever met him, but is it possible he's falling in love with his mind and soul too?
***Change of Heart is a stand alone story with strong hurt/comfort themes, mild bisexual awakening themes, and a HEA.
---
The Answer – Piper Scott
When does a Single Dad not have any kids? When he's a single Daddy.
What eternal bachelor and Wall Street mogul Damien wants more than anything is a boy of his own to cherish, but after years of heartbreak, he's given up hope. No boy will ever love him as much as they love his wallet.
Until he meets his best friend's son—a young man almost twenty years his junior.
A boy Damien hopes might one day call him Daddy.
Since ending an abusive relationship, single dad Matthew isn't looking to fall in love… but he can't deny the way he feels after meeting his dad's best friend.
Teen dad Matthew is determined to make a life for himself and his daughter, Emily. But when he meets his father's friend Damien, he can't help but wonder if he's not missing the bigger picture.
Where Matthew is timid, Damien is brave.
Where Matthew is shy, Damien's confidently cocky.
And where Matthew falters, Damien is there to show him the way.
Falling head over heels with so much at stake is a terrible idea, but how can either of them help it when the answer they've both been looking for is each other?
The Answer is the 105,000 word conclusion to the Single Dad Support Group series. It features blazing hot chemistry shared between a Daddy and his boy, the galaxy's best d*ck pics, obscene confetti, and a friendship seven years in the making that will forever withstand the test of time.
---
Lesser Things – E.M. Lindsey
"I'm going to spoil someone who wants to give me everything I desire."
Hugh Bennett spent most of his life working as a secret agent for OMNI Corp, choosing power, money, and loyalty over love. Work like that changes a man, and Hugh was well aware he existed only in shades of grey. Like most agents, Hugh planned to retire quietly, alone, and unloved. Unfortunately for him, fate seems to have other plans when a brash, mouthy little sub swaggers into his life and forces Hugh to take another look and decide what's most important to him.
Liam Foster's life isn't fancy, but it is simple. Working two jobs to make ends meet, he's resigned himself to barely treading water just to please his slumlord and keep a roof over his head. Liam wants more, but he knew he made his bed, and now he has to sleep in it. That is, until a former co-worker shows up with a new Rolex, designer jeans, and a proposition Liam can't turn down. A natural sub, Liam has no problem with the idea of kneeling for a hot, older Sugar Daddy who promises nothing more than giving pleasure and showering Liam with cash. The only caveat—no catching feelings.
Liam's fine with that, until he isn't. Until it becomes clear Hugh's life is far more complicated than a University Professor with mysterious millions, and ties to a secret organization. When danger makes its way into Liam's life, will he want to stick around and stand by Hugh? Or will he run just when the going gets tough?
Lesser Things and The OMNI Corp series contains adult themes and content intended for an audience of 18 years and older.
---
Anticipating Rejection – Silvia Violet
Del longs to submit to a man, but he's anticipating rejection.
Years ago, Noah accepted Del's surrender and brought him to heights of pleasure. The strength of Del's feelings for Noah terrified him, and he ran. Now Del's a single dad, and he's back in his hometown where he will inevitably see Noah again, but he's not sure Noah will even speak to him, much less give him a second chance.
The moment Noah sees Del, heat flares between them, and all the dominant urges Noah has suppressed come to life again. He wants Del as badly as he always has. Can he trust Del to stay around long enough for their relationship to develop? Find out in Anticipating Rejection.
---
99c Deals
---
Terms of Service – Marie Sexton
Dr. River McKay moved to Denver with his husband, Terrence, hoping to give their failing marriage a new start. A year later, Terrence is gone and River's left brokenhearted. Now, he's decided it's time to get back in the game. A chance encounter at the hospital introduces him to Phil, a strong-willed pharmacist who isn't impressed by River's degree.
Phil can't deny his attraction to River, but dating is out of the question. Phil only does one kind of relationship — domestic servitude, where he gives the orders and his partner obeys. To his surprise, River agrees — not because he likes the idea, but because anything's better than being alone.
They know the arrangement won't last. Phil's set in his ways and incapable of showing affection outside the bedroom. River's unused to obedience and still in love with his ex. But their time together will change them, making them question everything they thought they knew about love, control, and relationships. When the unexpected threatens to tear them apart, they'll have to choose between the comforts of the past and a future they can only find together in Terms of Service.
---
The Problem – Piper Scott
Laurence's new lover is half his age. The problem? His relationship is about to make his life a lot more complicated…
Successful, sensible, and settled in his ways, single dad Laurence isn't looking for love when he runs into the young man who sweeps him off his feet… and onto his knees. With an upcoming raise on the line and a son to care for, he can't let an unconventional relationship jeopardize the future of his family. He's a parent first and a lover second, and that's the way it has to be.
Right?
The only thing Alex loves more than older men is being filthy with them. The problem? Sometimes, it backfires in the worst ways.
Up-and-coming painter Alex is broken in ways others can't see, and he copes with the pain by drowning himself in experience—especially experienced men. But when he crosses paths with Laurence, he finds himself drawn down an avenue of life he's sworn he'll never visit again.
Men are meant to be disposable, and Laurence is only supposed to be a hookup… so why does Alex feel so safe whenever he's around?
When a matter of concealed identity threatens Laurence and Alex's bond, they have a choice—rise above the forces that seek to divide them and find happiness with each other, or let their problems grow too great to conquer.
The Problem is an 81,000 word contemporary omegaverse mpreg novel featuring a quirky group of single dads, the naughtiest lace panties you'll ever read about, and the gradual development of a relationship between a Daddy and his boy.
---
Garret's Game – Daryl Banner
"It is an important game. And my final one. Because I'll get what I want at last."
GARRET
My dominant, powerful, handsome boss Mr. Kevin Kingston
is about to take me on a business trip
where I will be waiting on him hand and foot,
and catering to his every need.
It's a lot of work to please my boss.
But if there's anything I know,
it's that I'm a very hard worker
and I don't quit until the job is done.
No matter what it takes.
This is the stuff of my fantasies.
But the reality, I've learned,
can be a whole different game.
And it's a game I have to win.
"BOYS & TOYS" is a serial series of hot and fun male/male novellas that follow the lives of four gay best friends. The suggested reading order is:
Caysen's Catch
Wade's Workout
Dean's Dare
Garret's Game
---
Broken Play – Baylin Crow
We're friends, teammates–and we hook up. Often.
Shaw: He's intense and the heat of his stare is hot enough to set fires.
The first time we got together, it was a spontaneous earth-shattering moment. I wanted more. So, of course I popped the question.
"Yours or mine for round two?" That's where the trouble began. We agreed on an exclusive, no strings arrangement. When one of us is ready to walk away, we'll still be friends. Perfect, right?
He's not exactly a people person–understatement of the year–but I've seen the real him and he's so much more than the broody loner others see him as.
But the brilliant plan backfired. I accidentally caught feelings.
Bishop: He could be my game-changer but there's a problem.
He put a dent in my armor when he decided I needed a friend. Then he managed to crawl under my skin–and between my sheets.
He's the one person in the world I trust, and he's mine, for as long as this lasts. But I think I messed up and likely lost him for good.
The role in my family's company I've been groomed for my entire life competes with my growing feelings for him. Turns out I can't have them both.
What a terrible time to realize he means more to me than just a friend and convenient hookup.
Being friends with benefits is the perfect arrangement until someone falls in love.
Broken Play is a story about finding that one person that gets you, choosing your own future and the love of football.
---
The Runaway Omega – Apollo Surge
The omega's role is defined and Wes is supposed to fulfill it. Except he hates the idea of bringing another baby, one who will have the same role that he has, into his pack. That's why he decides to run away. The perfect place is the cabin at the edge of the woods, but when he realizes that it belongs to a different alpha, Wes knows that his escape is going to be even harder than he thought. Complicating things is the fact that it's almost mating season, and if the alpha who owns the house catches him by then, all his escape plans will have been for nothing.
Joseph likes the idea of moving into his summer cabin, but when he walks inside his house to find it inhabited by a squatting omega, everything changes for him. Wes is attractive and smart, and he smells incredible, but Joseph has worked very hard to be able to control himself and to run away from the biological imperatives that being an alpha wolf carries with it. Helping Wes might be the one thing that puts him back on track to that life—one that he was absolutely convinced that he didn't want.
Please Note: The Runaway Omega contains adult language and steamy adult activities, it is intended for 18+ Adults Only. Novel, approximately 30,000 words in length. HEA (happy ever after ending). Does not end with a "cliffhanger." Themes include: alphas and omegas, slow burn, mpreg, runaway, damsel in distress.
---
Pride of Place – Helena Stone
Six months after meeting Cian, the start of the rest of Mitch's life is so close he can almost taste it. With his high school exams behind him, he can look forward to a long summer, his first Pride festival in Dublin, and, best of all, moving in with Cian when Mitch starts college in September.
Cian can't wait to accompany Mitch to his first Pride, or for the moment they'll start sharing a home and their lives. But while the festival is everything they could have hoped for, unexpected news that Cian is about to lose his room in Dublin puts their life together under threat.
Objections to their plans from the home front and a shocking lack of affordable housing in Dublin could shatter Mitch and Cian's dreams, but perhaps a second miracle is exactly what they need to find their Pride of Place.
---
Rescued From Paradise – HJ Perry
Two hot men. One deserted tropical island.
Mr. Don't-Touch-Me Wade O'Rourke has never allowed anyone to get close to his heart, or into his bed. Perhaps he's not wired that way. He's not gay. He was brought up to know it's not possible in his family. But he's not attracted to women either. He keeps up appearances for the sake of his family because it's the thing to do— never mind his family traumas or that he hates his life. And he has reasons to hate his homophobic uncle, too.
Outgoing, optimistic, and carefree Adam Bennet comes from a long line of earthy people— gardeners and farmers. After his parents died, he was raised by his wise grandmother. He helps her run her shop.
When Wade and Adam meet on an airplane, they don't quite hit it off. They survive a crash landing on an island paradise where they have to join forces to survive. Will Adam take a chance on love with the seemingly straight man? When love blossoms, can it survive the rescue and return to their American small town?
Rescued From Paradise is a full-length, standalone novel and contains: Two hot guys and a deserted island. A man damaged by his homophobic upbringing. A virgin who never thought he'd want to be touched that way. Coming out in a small town. Steamy man on man love action and a happy ending. ***58,000 words.
---
Leather and Chrome – Sky McCoy
The smell of leather and the flash of Chrome is enough to drive Ethan Rae out of his mind with desire when he meets the dangerous, hot, exciting Lou Summer in a biker bar in the middle of a desert.
Is Lou all that he appears to be, risky and daring, ready to ride Ethan to hell and back just by one heated look in his eyes? Is the tall, handsome, mysterious biker with the leather vest, inked arms, and tight leather pants too dangerous for a one night stand for the young lawyer slumming?
Are they both too hot and too dangerous when they get together?
Will their fantasies be fulfilled in the dark, in the back of a bar, where no one but these two men will know the result of their meeting? Find out in Leather and Chrome.
---
Freebies
---
Machine Metal Magic – Hanna Dare
The galaxy's a dangerous place. Best not to travel it alone.
It's been over a century since the AIs rose up and attacked, driving humans from Earth and leaving them scattered across the galaxy. Humanity survives, but always fearful of the technology that allows them travel among the stars, never knowing when it may turn against them once more.
An interstellar fugitive.
For Jaime Bashir, born with the ability to communicate telepathically with computers, his gifts are more of a curse. They also make him a target. On the run, he finds himself among a starship crew, one transporting a mysterious cargo. Even more intriguing is Rylan, the muscled guard watching his every move. Jaime has no reason to trust him, but nowhere else to turn.
A disgraced ex-soldier.
Rylan Slate is looking to leave his past behind. Joining a crew of smugglers is one way to do it. But capturing Jaime is both an opportunity and a danger. He starts out as a prisoner, but then becomes something more, testing loyalties in ways Rylan never expected. Will regaining his honor mean betraying Jaime? Find out in Machine Metal Magic.
---
Hush – Tal Bauer
A federal judge running from the truth.
A U.S. marshal running from his past.
A trial that can plunge the world into war.
Federal Judge Tom Brewer is finally putting the pieces of his life back together. In the closet for twenty-five long years, he's climbing out slowly, and, with the hope of finding a special relationship with the stunning Mike Lucciano, U.S. Marshal assigned to his D.C. courthouse. He wants to be out and proud, but he can't erase his own past, and the lessons he learned long ago.
A devastating terrorist attack in the heart of Washington,D.C., and the capture and arrest of the terrorist leads to a trial that threatens to expose the dark underbelly of America's national security. The Russian president is gravely injured and fixated on revenge, while a gay Russian dissident is arrested and put on trial in Judge Tom Brewer's courtroom.
As Russia beats the drums of war and the United States struggles to contain the trial before it races out of control, secrets and lies, past and present, collide in his courtroom, before his bench. With the world's attention fixed on Tom, secrets from his past explode during the course of the trial, which place him at the very center of the case and make him the only man who can try to stop the world's slide into war in Hush.
---
Gold Digger – Tatum West
Grayson
You'd think being a billionaire would make me happy, but money can't buy me the one thing my life is missing: the one that got away. Liam Gold was my first love, and I've spent years searching for him.
Liam is back in Abingdon now, searching for a job, and he's just as beautiful as he ever was. He's also covered in tattoos and living out of his truck. Definitely not an appropriate match for a man of my stature.
But when have I ever been appropriate?
I'm going to take Liam in, heal his wounds, and give him a life he's never imagined. When I look at all of my money and all the stuff it's gotten me, nothing compares to Liam. I'll fight like hell to keep him, no matter what the haters say.
Liam
Everyone deserves a second chance. Even a loser like me.
I was on my way to the NFL when I got a career-crushing injury. I've been floating from job to job since then, trying to make ends meet. I thought I'd never sleep in a bed again—or even afford kibble for my dog.
It turns out that my first love is back in town, looking for me. And he's wildly, insanely rich. Who am I to say no to nights spent in his bed and a job restoring his lakeside home in Abingdon?
The gossip-mongers say I'm a swindler. A con artist. A gold digger. Thirsty for Grayson Ellis, and hungry for his money. So, what if I am?
I never got a real chance to be with Grayson. We were too young and too scared to make it work. I'll accept whatever Grayson Ellis has to give.
Let people say what they want. I may be running a long con, but it's not what they think. If I can get that man stay with me forever, I'll move heaven and earth to make him happy. And I'll sacrifice everything to make him mine.
Gold Digger is the sixth book in the Bridge to Abingdon series. Each book focuses on one steamy couple, and each can be read as a standalone novel. Liam and Gray are finally getting their second chance, even if the whole world is against them. There's plenty to love in Gold Digger—island paradises, meddling gossip-mongers, hot lovin', and a sweet pup who finds his forever home. Liam and Gray are coming home to Abingdon… and they won't let anyone get in the way of their second chance.