Welcome to this week's hot new releases, 99c deals, and freebies in gay romance! It's an epic list this week! We have a massive load of 99c deals and freebies, as well as some new releases I'm super excited about.
All deals are valid today, Saturday, June 8, in the US and most of the time the UK, but they may not be valid tomorrow or in all Amazon stores. Please check the price before buying!
This is not a paid list or ads, but simply deals I've found and books I'm excited about reading, so all personal recommendations from me. If you have a book you'd like to see listed, you can submit it, but that's not a guarantee I'll list it.
---
New Releases
---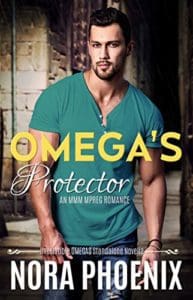 Omega's Protector – Nora Phoenix
A sexy alpha cop, an independent beta, and a sweet omega meet under less than ideal circumstances. After helping the omega through their heat, they not only experience a deep connection with each other, but also with the ranch they're staying at. Omega's Protector is a stand alone novella in the Irresistible Omegas series with a happy ever after!
---
The Alpha's Mentor Manny – Lorelei M. Hart
A single dad omega takes a job as a manny for an alpha single dad who has very specific ideas about parenting. Uh oh. The Alpha's Mentor Manny is a sweet, classic mpreg story that will hit all your buttons.
---
Twisted – Susi Hawke and Crista Crown
Twisted is the fifth book in the Alphabits series, and if you've read the previous ones, you know what to expect. A hot alpha with strong protective instincts comes to the rescue of a former thief, and they discover they're true mates. If only things were that easy, haha. Mpreg with romance, sexy times, humor, and some action.
---
To Have and To Hold – Abigail Kade
If you like your romances a little dark, To Have and To Hold may be right up your alley. A hit man who kills people who deserve it is sent to kill an innocent man who's been set up by his husband. But once he has him, he wants to hold on to him… Deliciously dark and sexy.
---
American Traditional – E.M. Lindsey
I'm really loving this series so far, featuring tattoo artists and a wonderfully diverse cast of characters. American Traditional is the story of a man who wants to make his own way instead of following the path his parents set out for him, and ends up becoming the guardian to his baby sister. Can the gorgeous but traumatized tattoo artist next door be more than a good friend under these circumstances?
---
99c Deals
---
Dead Speak – Pandora Pine
A detective enlists the help of a psychic to solve a case, and the two end up developing feelings for each other. Dead Speak is the first book in the popular Cold Case Psychic series, so a wonderful way to see if you love this combination of a whodunnit with gay romance and a touch of humor.
---
Heavens Aground – G.R. Lyons
The blurb of Heavens Aground reads a little complicated, with a man doubting he's got magical powers like his ex-boyfriend says, until he meets someone new and strange things start to happen that may indicate his ex was right. Alright then. This is the second book in a series and book three is also on sale (see below).
---
Illumined Shadows – G.R. Lyons
A missing persons expert rescues a young man who'd been held prisoner all his life in Illumined Shadows. But of course, there's attraction, which isn't exactly easy in this case… Third book in a series.
---
Terrible Things – Beth Bolden
A second chance romance between a rock star who walked out on his band only to return years later, clean and sober and eager to take his spot again, and the lover he walked away from. Terrible Things looks to be an angsty, hella long read (yay!), and has a ton of reviews. I'm going in.
---
Within the Mind – Alice Winters
Two detectives go on the hunt for a serial killer while fighting a mutual attraction in Within the Mind. This blurb sounds super intriguing, since one of the detectives has a gift to read people's memories and uses that on victims to get clues about their killer. This one is on my TBR.
---
Dean's Dare – Daryl Banner
Dean's Dare is the third installment in a series of sexy, fun stories about four gay best friends. Dean is married but on a dare, decides to spice up his relationship with his husband. Perfect summer read.
---
Of Sunlight and Stardust – Christina Lee and Riley Hart
The first thing I noticed about Of Sunlight and Stardust was the gorgeous cover. Any book by these two authors is a one-click from me, but this second chance romance with a slow friends to lovers trope and a story from the past mixed in sounds good!
---
First Season – RJ Scott and V.L. Locey
A successful hockey player who's never known love meets a man who has it all and thinks he doesn't need love. Both have something to learn when sparks fly in First Season. Classic hockey romance from two well-known sports romance authors.
---
Cost of Repairs – A.M. Arthur
The Cost of Repairs is a wonderful series that I absolutely loved. Grab this whole series now in this amazing deal, because the first book is free and the other books in the series are all on sale for 99c. That's FIVE books for less than four bucks!
---
Haven City Series Complete – Zoe Perdita
This is a new to me author and series, and the blurb doesn't offer much else than promising us "the seductive world of Haven—a city full of shifters, magic and dangerously sexy men". But it's a set of TEN books for 99c, so I'll take the plunge and try The Haven City Series.
---
Embracing His Syn – A.E. Via
Embracing His Syn is the second book in the popular Nothing Special series. When seeing the close relationship between his two superiors, a detective wants that for himself as well. His wish comes true when he meets a bartender. But before they have a chance at love, he needs to prove the bartender is innocent of murder.
---
When Love Takes Over – Jacob Z. Flores
An inexperienced man nursing a broken heart meets a porn star in When Love Takes Over. Are the differences between them too vast to make a summer fling into more or does their love stand a chance?
---
Taylor Maid – Tara Lain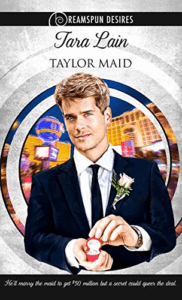 A gay man discovers he needs to marry a woman or lose his inheritance (I love plots like this, haha). So he heads to Vegas where he meets a beautiful maid…who turns out to be a guy. Taylor Maid sounds like a fun execution of the fake marriage plot!
---
Some Kind of Magic – R. Cooper
A werewolf cop needs the help of a half-fairy he's been crushing on for a long time in Some Kind of Magic. But where werewolves mate for life, fairies don't, so does their connection stand a chance?
---
Devotion – Grace R. Duncan
A young wolf gets desperate when he's still not claimed by his true mate, but it turns out his mate is an older guy who's scared his young mate will change his mind. Looks like they have some stuff to work out before their happy end in Devotion. Age gap shifters, yes please.
---
Freebies
---
Noble and Strong – Tatum West
What happens when the very gay but very closeted son of a TV evangelist falls in love with another man? Expect lots of angst but a very happy end in Noble and Strong. This is the fifth book in a series but it can be read as a stand alone.
---
Dance With Me – Ann Grech
Dance With Me is the story of a cruise ship captain who falls in love with a dancer on board. Looks to be a mix of May/December and a little falling for the boss, and I have to admit, I'm in.
---
Wed to the Omega – Ashe Moon
An omega is forced to wed his rival alpha classmate so their families can align in Wed to the Omega. Of course, they're gonna fall in love. Duh. I love me some arranged marriages, so yes please.
---
Between Sinners and Saints – Marie Sexton
Lonely hearts and damaged souls. The slow burn and heartwarming friendship, family, and love that develops in Between Sinners and Saints will have you reaching for the nearest tissue box. I really liked this one.
---
Storm Season – Elle Keaton
Two damaged and hurting men meet in a small town in Storm Season, the first book in the Accidental Roots series which combines romance with a suspense plot. This series kept getting better with each book, so make sure to grab this first one.
---
Into the Fire (Vol 1-3) – Mia West
Into the Fire is a romance set in the Roman Empire. These are the first three installments, but the series continues. This free start is a great way to discover if you like this author's writing, though. Despite being labeled as an erotic romance, the series is rather sweet and has more depth than I expected. I liked it.
---