Welcome to this week's hot new releases, 99c deals, and freebies in gay romance! It's an epic list this week! We have a massive load of 99c deals and freebies, as well as some new releases I'm super excited about.
All deals are valid today, Saturday, May 25, in the US and most of the time the UK, but they may not be valid tomorrow or in all Amazon stores. Please check the price before buying!
This is not a paid list or ads, but simply deals I've found and books I'm excited about reading, so all personal recommendations from me. If you have a book you'd like to see listed, you can submit it, but that's not a guarantee I'll list it.
---
New Releases
---
Embracing Faith – M.A. Innes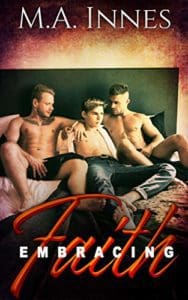 A young guy is convinced that his former professor is perfect for him, but that they need a third to make it work: an asexual Dom/Daddy. Oh yeah, bring it on, because this sounds awesome. Embracing Faith ends with a HFN, but will get a sequel. Yay.
---
The Hate You Drink – NR Walker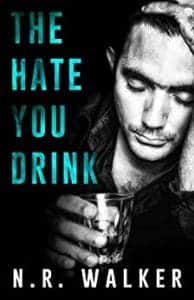 Look, an N.R. Walker book is a one-click for me anyway, but man, The Hate You Drink looks good. It's the story of a man who hits rock bottom and finds out that his best friend is there for him, like he was all along. I can't wait to dig into this, because no one does friends to lovers like this author.
---
Their Bounty – K.A. Merikan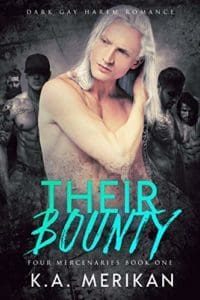 I was lucky enough to read an ARC of Their Bounty and oh boy, it's quite the ride. It's filthy, dark, brutal at times, and with a ton of triggers, but I couldn't stop reading. An albino boy, Clover, is rescued from slavery by a group of gay mercenaries who take a liking to him. But Clover lies to them and lies have punishment and then feelings happen, and so much more. This one is harem style, and I loved it. The best news? It's book one in a series. Yay.
---
Saving Choice – Susi Hawke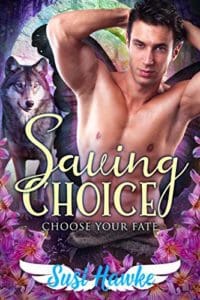 I haven't read the first book in this new series yet, but boy, this looks like fun. Saving Choice has fae, magic, wolf shifters, and a man who can choose his own spirit animal. This sounds like a classic Susi Hawke book, haha
---
The 5th Gender – G.L. Carriger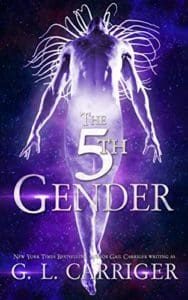 I love this author (who is NYT bestselling author Gail Carriger, by the way, a steampunk author) so that's how I spotted The 5th Gender, but the blurb looks amazing. An alien and a human detective work together on a murder case and fall for each other. They had me at emotively sexy tentacle hair, LOL.
---
Azaran – Jacki James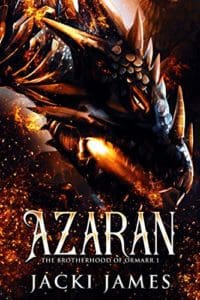 Dragons! Do I need to say more? Azaran is the first book in a series of four dragon romances, and it's the story of the oldest of four brothers who encounters his fated mate in a human doctor. Can't wait to read this.
---
99c Deals
---
A Dance too Far – H.L. Day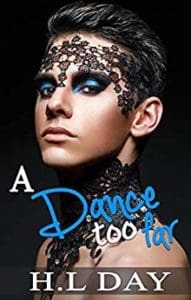 A Russian ballet dancer hooks up with a man in London and they share a connection. But both have a past, which in this case is connected to the Russian mob, and that brings danger to their door in A Dance too Far.
---
Loving Him – Drea Roman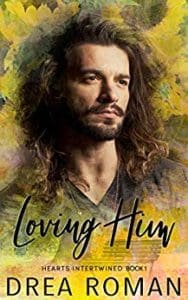 An artist who's determined to be alone because he got hurt in the past meets (of course) a man who makes him reconsider. But can he hide the past from him? Or will he have to face it, hoping their connection will be strong enough to survive? Find out in Loving Him.
---
Second Chances – G.R. Lyons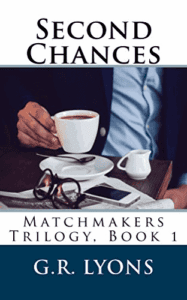 A young porn star meets an older man (well, in his thirties anyway, haha), who's sworn off dating younger men. But of course, sparks fly, but things fall apart just as quickly. Will they manage they work things out in Second Chances?
---
Lightning Strikes – C.J. Vincent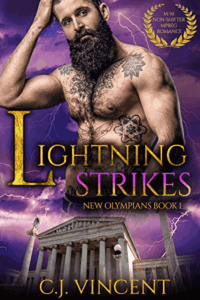 Lightning Strikes is the first book in the New Olympians series, which combines mpreg with romance and Greek mythology from what I see in the blurb. This is a novella, but it looks like a lighthearted fun read about an independent omega and an alpha-god.
---
Frottage – Aly Hayden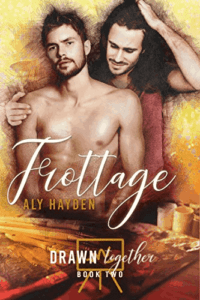 An artist reunites with his former high school crush, who's now a journalist in Frottage. But the guy is leaving after his assignment, so do they even have a chance at something more?
---
Better Together – B.L. Maxwell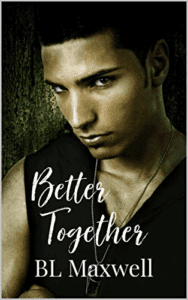 Better Together is a sweet, feel-good romance between two young men who are both struggling in life and who find love with each other. I loved this coming of age romance that had me feel all the feels.
---
Dangerous Lessons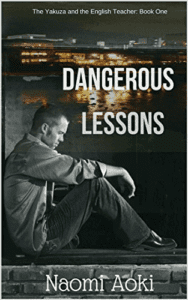 A man who travels to Japan to teach English meets a business man there and falls for him. Except he's no ordinary businessman (the series title suggests he's Japanese mafia), so those are some Dangerous Lessons he's about to teach. Or learn.
---
Easy Does It Twice
Easy Does It Twice looks to be a high angst romance and mind the trigger warnings on this one. A teacher falls for a student's father, but when a video of them goes viral, they encounter a lot of prejudice and hate.
---
Imperfect – AE Ryecart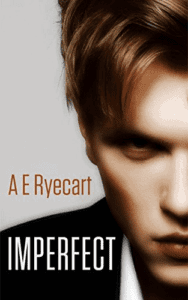 A man who seems to have it all but is hiding a painful truth meets a man who's rebuilding his life after a violent past. Can two broken men find love together? Find out in Imperfect.
---
And Then You – Kim Breyon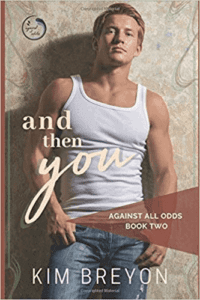 Instant attraction sizzles between a cop who just moved to a new town and a sports star who's a temporary coach (not sure which sport…soccer?) in And Then You. But both have a career that's rather unforgiven, so can they find a compromise?
---
Teaching Tenderness – Brittany Cornoyer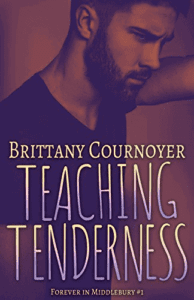 A single dad falls unexpectedly for his son's teacher in Teaching Tenderness. But his son is having issues and the dad always thought he was straight, so he and the teacher have some stuff to figure out before they find their happy end.
---
The Accidental Everything – Amy Bellows
I don't usually list novellas here but I'm gonna make an exception in this case, because The Accidental Everything was a super cute mpreg romance. It's about an omega who goes cruising for hook ups in poetry readings, then falls for the wrong guy and ends up pregnant.
---
Nothing Special – A.E. Via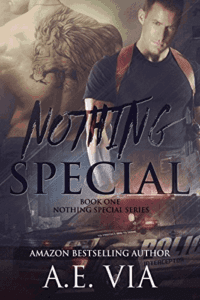 Two detectives, a rookie who trusts no one and an experienced guy who's out and proud, meet and learn how to work and trust each other. Then something more grows from that in Nothing Special. I heard many good things about this series, and this book has been on my TBR for a while now.
---
Prophesy – A.E. Via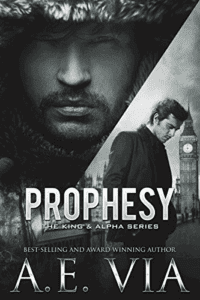 Prophesy is the first book in a series and book two just released. With wolf shifters (no mpreg), vampires, hot men, and a suspense plot, this sounds right up my alley. Ends with a HFN.
---
Human Omega: Trapped in the Alien Jungle – Eileen Glass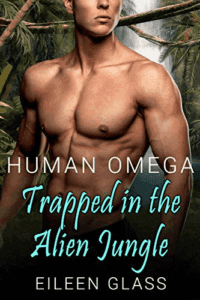 Human guy on alien planet hooks up with two aliens he can't communicate with, and there are tons of bad guys. More depth and world building than you'd expect. Book two, Trapped in the Alien Jungle, is now on sale because the third book just released. The first book in this series, Human Omega: Discovered on the Slave Planet (currently free) was very different from what I had expected (which was alien smut, tbh, haha), but really interesting.
---
When It Rains – Elle Keaton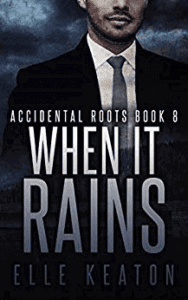 When it Rains picks up where the previous book, His Best Man, left off in a trafficking operation. The cop who investigates is intrigued by the mysterious Carsten, a man who's learned the law cannot be trusted. Romantic suspense.
---
Freebies
---
Let There Be Light – A.M. Johnson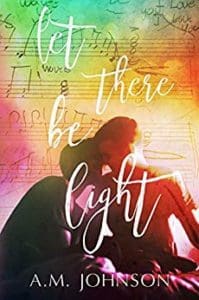 Two men, both focused at being the best in what they do (swimming team and music), meet in Let There Be Light. Sparks fly, but their plans have no room for romance. Can they make it work?
---
What He Left Behind – L.A. Witt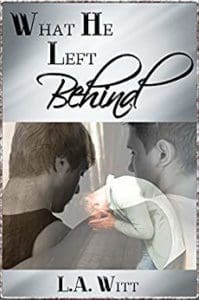 A man who's become afraid of intimacy after escaping from an abusive relationship, experiments again with sex with his best friend…who's married (the guy's husband is on board). But of course, this slowly grows into more and the three men begin something complicated and messy, but ultimately beautiful in What He Left Behind.
---
Omega House Box Set – Aria Grace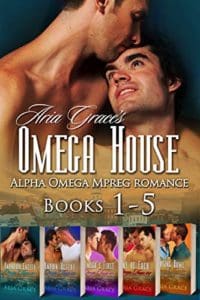 The Omega House box set is a huge box set filled with mpreg romances for hours of reading pleasure. Alphas, omegas, heats, knotting, and babies. What more can you want? Even better: it's free, haha.
---
The Realm of the Impossible – N.J. Lysk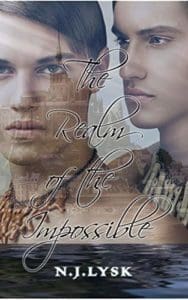 The Realm of the Impossible has a rather mysterious blurb that offers only clues, but from what I gather it's a dark romance about a prince (king?) who must sell his body to his enemy to survive. This one has taboo, non-con, dub-con, and more so make sure this is your cup of tea before you dig in.
---
His Pretend Omega – Harper B. Cole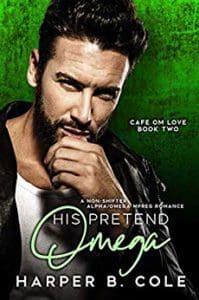 Yay, an mpreg romance with a fake boyfriend trope. I gobble those up like it's nobody's business, haha. An omega who's setting up a business is forced to take on a mate to receive funding from his parents in His Pretend Omega. But of course, his fake boyfriend soon turns into more, because that's the whole point, haha.
---
Embracing His Omega – Harper B. Cole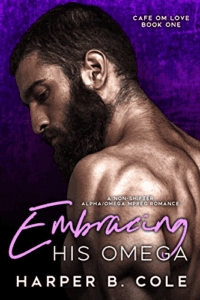 An omega who had expected to be an alpha struggles with accepting himself when he meets an alpha who has his own battles. Can they both learn to accept themselves for who they are? Embracing His Omega is a classic mpreg romance, with a baby, according to the blurb.
---
Remember Me, Omega – Lorelei M. Hart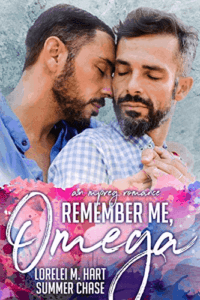 When his son moves out, an omega is ready to rebuild his life and follow his dream. But then he reconnects with his high school sweetheart and he finds himself pregnant. Can they find their happy ever after in Remember Me, Omega?
---
Turbulence – Kyan Christopher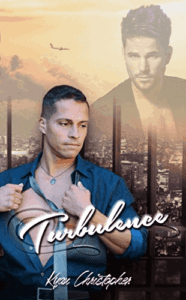 A man who's just been cheated on finds himself in a new relationship with a flight attendant. But can he learn to trust again after being hurt so badly? Turbulence is from a new to me author but has great reviews.
---
Joey – Angelique Jurd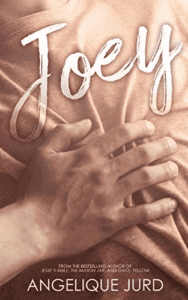 A man who rescues a guy from getting beaten up discovers it's his employee in Joey. But the man is coming out of an abusive relationship, so trusting isn't easy. A sleeping with the boss trope with a heavier background story.
---