I am super excited about my upcoming release, an MMMM romance called Alpha's Sacrifice. It's the first book in a brand new series called Irresistible Omegas, and if the name didn't give it away already, it's an mpreg gay romance. 
First of all, let's show off the gorgeous cover for Alpha's Sacrifice:
All credits for the cover go to Vicki Brostenianc from Vic's Pics who created it for me. Check out her website and portfolio here.
Blurb
Here's the blurb for Alpha's Sacrifice:
Four men, brought together by fate, connected in more powerful ways than they'd ever imagined.
Lidon, the powerful alpha-cop, determined to never trust another partner—until he helps the vulnerable omega through his heat and connects with him in a way that leaves him reeling.
Enar, the alpha-doctor who dedicates his life to serving omegas who need his help. He works himself to the bone, anything to drown out his inner voices that scream at him he's not a real alpha.
Palani, the sassy beta reporter who will do anything to save his omega lover, even if it means watching another man claim him.
Vieno, the omega who suffers from a medical condition that requires an alpha's help. It was supposed to be sex, but his attraction to the alpha goes much deeper. But how can he betray Palani like this?
When Vieno's freedom is endangered, he needs Lidon to save him. The alpha steps up, but the consequences of his choice are more far-reaching than anyone of them had foreseen.
Four men try to figure out what they are to each other amidst political unrest, investigations into corruption and fraud, a medical issue that is far bigger and more sinister than it seemed at first, and old legends that are turning out to be real.
Alpha's Sacrifice is an MMMM mpreg romance and the first book in the Irresistible Omegas series. It is not a stand-alone and ends on a cliffhanger. Please note trigger warnings for mentions of rape, miscarriages, and abortion (all off-page).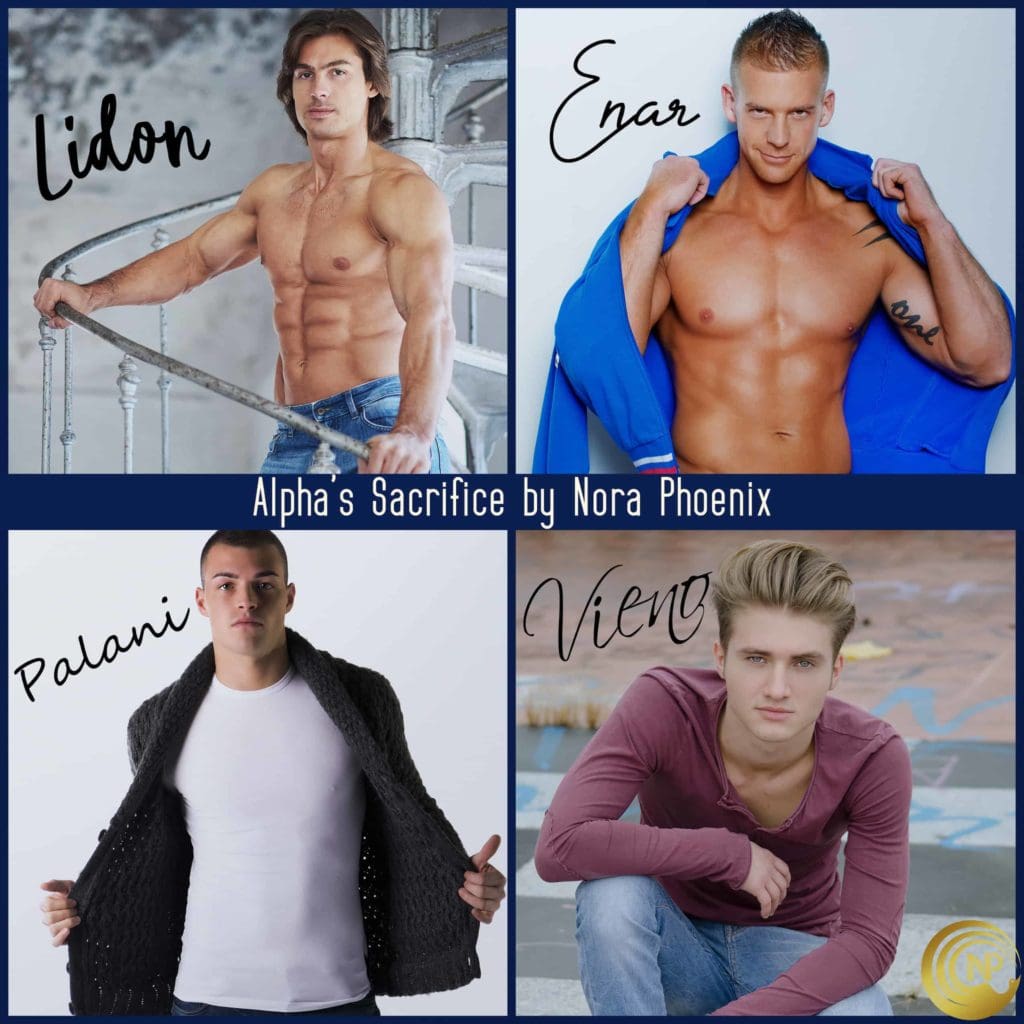 In the pic above you can see my visual inspiration for all four leading men in this MMMM gay romance. I sent it off to my beta readers today, and the plan is to release in mid-April!