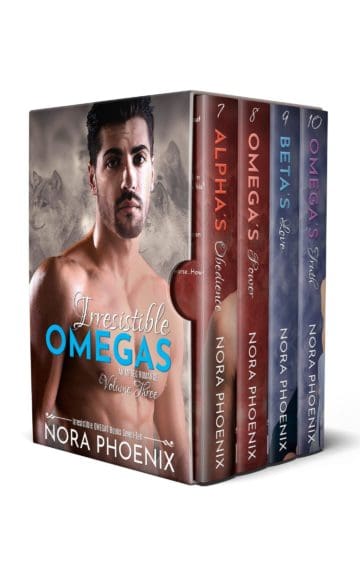 $9.99
buy now
Audible
iTunes
see the series
Narrator:

John Solo

Available in:

Kindle, Audio

Pages:

1172

Duration:

35 hrs 40 min

Published:

February 15, 2022
"This series is emotional, developed and wrenching. I love the characters, the growth, the love. This world pulls you in and makes you root for them all." (Amazon reviewer)
"Absolutely mind blowing." (Amazon reviewer)
"I don't even have words for how much I love this series. Every single book leaves me on the edge of my seat, frantically reading as fast as I can to see what's going to happen next." (Amazon reviewer)
Continue the ride of your life with the bestselling Irresistible Omegas series, an mpreg series that combines amazing characters with world building, suspense, plenty of steam, and all the feels. Warning: once you start reading, you won't want to stop…
Welcome to the Hayes Pack…
It all started with four men, brought together by fate, connected in more powerful ways than they'd ever imagined. Old legends surface and ancient powers awaken, but so do enemies.
In this third and last box set, which contains books seven, eight, nine, and ten plus bonus materials, we see six more men fall in love as events come to an epic conclusion. We'll laugh, cry, and love right along with the men of the Hayes pack.
This is a continuing mpreg gay romance series that needs to be read in order. It ends on a very satisfying happily ever after. All books in the series are poly gay romances, with the first two being MMMM and all others MMM romances.
"Nora ripped my heart out with this one & had me ugly crying, she also had me laughing & smiling." (Amazon reviewer)
"This book held so many feelings. I cried my eyes out. I fell in love with Lev. I rejoiced for Sivney. This book gave me all the feels." (Amazon reviewer)
"Omg this book! Every one in the series is more powerful than the last. My heart was POUNDING! At one point, I just knew I was going to be devastated for a long time. Absolutely amazing and definitely recommend." (Amazon reviewer)