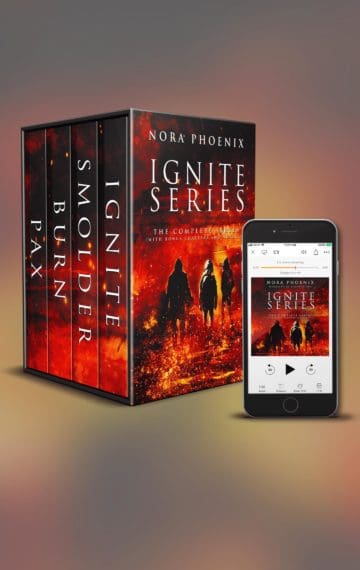 $9.99
EBOOK DIRECT EXCLUSIVE
Audible Audio
iTunes Audio
SEE THE SERIES
Narrator:

Kenneth Obi

Available in:

eBook, Audio

Published:

July 14, 2020
In a world that's burning, where it's every man for himself, all they can do to survive is hold on to each other…
The world has changed. Tan has survived three years in a reintegration camp he was sent to for being gay, but he's at the limit of what he can endure, even with the help of his best friend, Austin.
When a massive meteor shower creates chaos at the camp, Austin and Tan take the chance to escape. They're joined by Mack, a newbie at camp who is an expert in survival but knows nothing about love…or anything else.
But when they discover human-like aliens have landed on Earth with war on their agenda, their escape becomes a hell of a lot more dangerous. They grow close, but without power and food and no safe place to stay, how will they survive?
They find shelter but quickly discover that they can no longer tell who friends are…and who the enemy is. With the world bing destroyed before their eyes and their lives and that of mankind at stake, where can they find safety. freedom…and love?
While the world around them burns, all they have are each other.
The Ignite Trilogy is a slow burn MMM romance set in a dystopian world and offers a thrilling combination of action, romance, and suspense. Now for the first time in one box set: all three books plus exclusive, never before released bonus chapters and a bonus novella called Pax.