I'm super happy and proud to announce that this week, two of my books have been released in foreign languages. It's a massive thrill to see my books in a translated form, and I couldn't be more proud.
L'occasione della Vita: The Time of my Life in Italian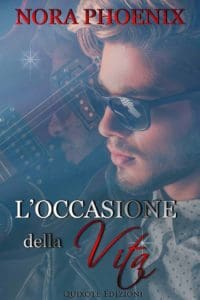 Yesterday, The Time of my Life released in Italian under the title L'occasione Della Vita. It was published by Quixote Editione, a well-known publisher of gay romance translated into Italian. It has a gorgeous cover and the first reviews are amazing, so yay. Here's the blurb in Italian:
Per alcune persone vale la pena uscire allo scoperto, non importa quale sia il prezzo da pagare…
Judah ha toccato il fondo. È al verde, non ha una casa, e ormai ha sfruttato troppo l'ospitalità dei suoi amici. La sua ultima possibilità è partecipare alla gara canora della trasmissione televisiva The Right Note, nella speranza di vincere. Quello che non ha messo in conto di perdere è… il suo cuore. Un altro degli aspiranti concorrenti, Denver, sprizza gioia da tutti i pori, anche se la sua aria così spensierata nasconde l'orrore a cui è sopravvissuto. Judah è attratto da lui come da una calamita, ma non può fare coming out, soprattutto non su una televisione nazionale. Potrebbe costargli tutto.
Tuttavia, quando Denver si troverà di fronte a un problema, Judah dovrà scegliere: Denver… o la vittoria. Fare coming out… o perdere l'uomo che ama. [Read more…] about Two Books in Foreign Languages Released