Click, the third book in the White House Men series, hasn't even been released yet, and here I am, already talking about the next book. It's always a bit of a conundrum for us as authors. We're already focusing on the next book when the previous book isn't even out yet. In this case, I've already written 40k of book four in the White House Men series, and I uploaded the preorder already, so it's time to show off the gorgeous cover.
Cover Reveal
Book four will be called Serve, and it's an MMM romance with D/s play and an age gap, featuring some fascinating characters. But first, let's look at the gorgeous cover! The cover was made by Vicki Brostenianc, and the model is Philippe L. with Paul Henry Serres as photographer. Seriously, isn't that guy super yummy?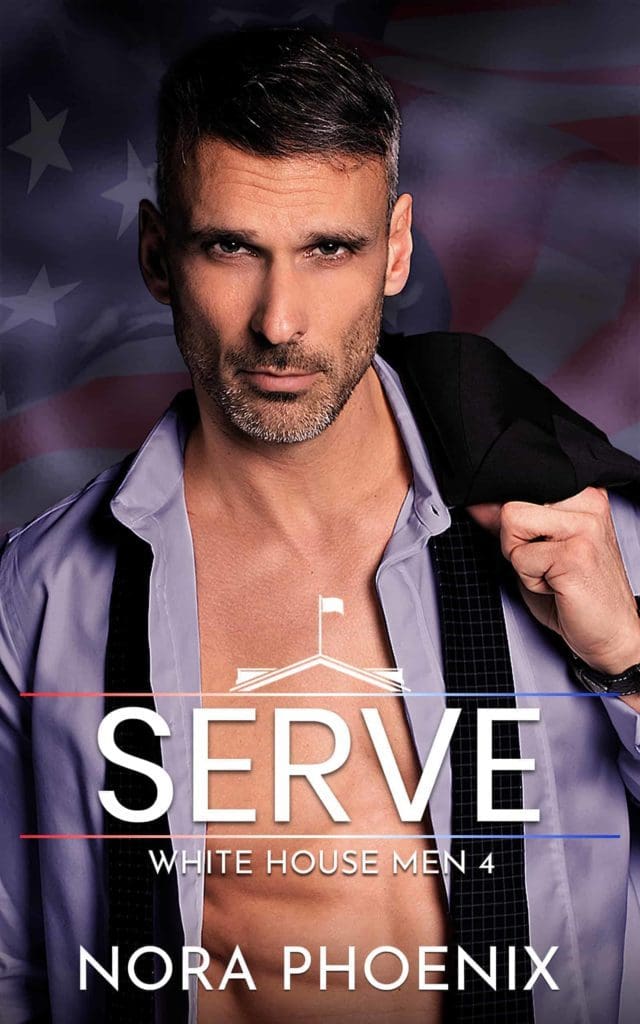 Meet the Characters
First, there's Milan, the first lady's brother (he's the one on the cover). He's a hard ass NYPD detective who's taken a temporary leave of absence to support his sister and nephew. Milan doesn't like labels, and he's a Dom—not that he's had the chance to play recently since he's a little too much in the spotlights. He fucks 'em and leaves 'em, and that's exactly how he likes it.
Then there's Secret Service Agent Asher. He and Milan have a past. One that involved Milan domming Asher, who is a switch. But after years of denying his sexual identity, Asher has come out, and now he's ready for a more serious relationship as well. Clearly, that's not gonna be with Milan, so he's not interested in continuing what they had. But for him, too, playing has become complicated, so he agrees to a mutually beneficially fuck buddies only thing with Milan.
Until Denali. Denali loves his job in the White House, working in the Residence, but what he really craves is to serve. A Dom. Or maybe…two? His connection with Milan and Asher is instant, but Asher warns him not to get his heart involved. Too late. Denali knows no other way than to give himself entirely. But will his heart get broken or is there hope for the three of them?
Of course, the suspense plot has some new developments as well, and the picture that's emerging is a bleak one. How far will these terrorists go to achieve their goal? Serve will be deliciously hot and steamy right from the start, but it will be an emotional rollercoaster, so buckle up for a ride…
How Long Will This Series Be?
I've had multiple readers ask me how many books I've planned to write in this series. The answer is seven. I've plotted seven books and after that, the suspense plot will be wrapped up entirely. I may do some spin off stand alones or novellas with bonus content, but we'll see. The whole series will be wrapped up in 2021, so I'm not dragging releases out over multiple years.
I'm absolutely loving this series. It's super challenging for me because getting the balance right between the developing romance, the suspense plot, sexy scenes, and reconnecting with previous characters is not easy. I'm super proud of how Click turned out, and I'm already having a ball with Serve, so I know you guys will love this one…
Make sure to preorder Click so you can start reading immediately when it releases and preorder Serve, which will release February 28! And if you haven't started reading this series yet, what are you waiting for? It's super romantic, with a cast of wonderful, real characters, a suspense plot that will keep you on the edge of your seat, super hot sexy times, and ALL the feels. Seriously. This series will make you feel all the things, and it will be SO worth it. Start reading Press, book one, now!