Welcome to this week's hot new releases, 99c deals, and freebies in gay romance!  It's a shorter list this week but it has dome wonderful books…so get ready to grow those TBR lists!
I have recommendations for some books that I've read or are enthusiastic about, and others that are lesser or unknown to me, we'll list with just the blurb. Hope this makes everyone happy!
All deals are valid as of posting in the US and most of the time the UK, but they may not be valid later or in all Amazon stores. Please check the price before buying!
This is not a paid list or ads, but simply deals I've found and books I'm excited about reading, so all personal recommendations from me. If you have a book you'd like to see listed, you can submit it, but that's not a guarantee I'll list it.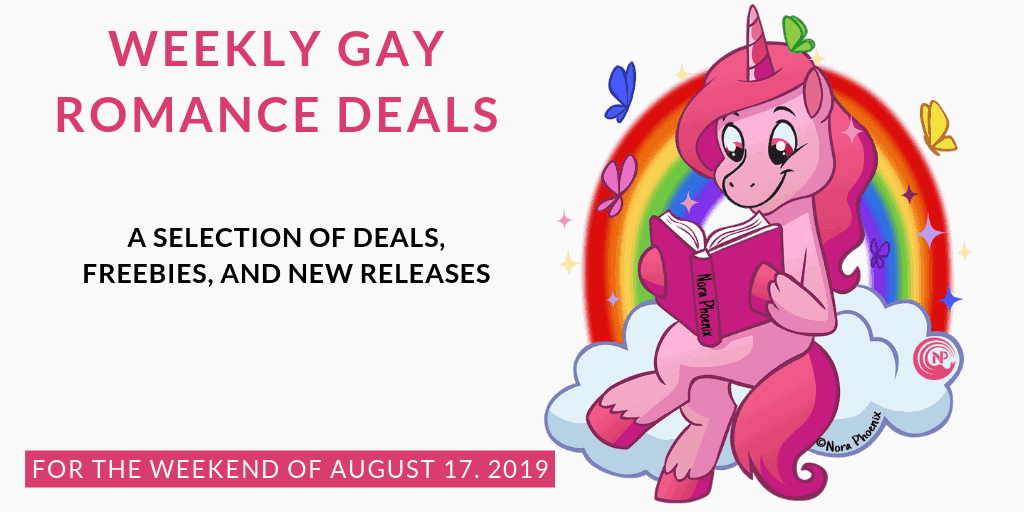 NEW RELEASES
---
The Outcast Chronicles Bundle – Christa Crown and Harper B. Cole
The Outcast Chronicles is an epic mpreg shifter series that takes a small, rag-tag team of bounty hunters and turns them into a tight-knit pack of found family, fighting a war that started centuries ago… but will end with them.
---
Fire in the Heart – Hailey Turner
Nora's Recommendation: I absolutely love this series, so I can't wait to read this!
Surrender to vows.
Staff Sergeant Alexei Dvorkin has come a long way since being turned into a metahuman, and all he wants to do is marry the man he loves. A wedding is easy, but it's the honeymoon where his past unexpectedly catches up with him.
A future together.
All Agent Sean Delaney wanted was a romantic honeymoon with his new husband. When he and Alexei stumble into a fellow operative's mission on the luxury gambling resort island Fortuna-sur-mer, they get more than they bargained for in their newly-minted civilian lives.
Destined to burn.
Forced to choose between staying and joining the mission or leaving to stay safe and postpone their honeymoon, Alexei and Sean make the only decision they can—to fight.
Fire in the Heart is a 28,000 word novella that takes place after New Horizons in the Metahuman Files: Classified series. Reading the prior books is not necessary to enjoy this one.
---
Wanderlust – Quin Perin
Please read the warning inside the book. This bundle includes the second part of the Wanderlust story.
I knew all the regulars. I knew their drinks. Their complaints. I knew everything that went on in this little town. But they didn't know me.
And I didn't know him.
Momma always told me to be kind to others, so I didn't even think twice when I invited him into my house, into my life, my heart.
I was happy being alone, until I wasn't.
Little did I know that once you get a taste of happiness, nothing will ever taste the same. Especially when it is taken away.
***WANDERLUST is a slow burn M/M romance, featuring hurt/comfort and friends-to-lovers elements
---
Ship Work – Jacki James
Falling in love with your boss is never a good idea. Now if someone could just explain that to my heart.
Dane:
When I first started working for Holt Atwood, I respected him. That respect turned to like, and eventually into love.
But Holt is married to his job, and I am not about playing second fiddle to mergers and acquisitions. So it's time to move on.
I can do this one last thing for him though. I can go on this singles cruise with him and help him see that work isn't all there is to life. If I can do that, I will feel better about leaving him with such short notice.
Holt:
Work has been my focus for so long I've forgotten what it's like to just let go and have fun.
At first, when my parents insisted I go on this cruise because I was on the fast track to burn out, I thought I could take my assistant along and make it a work trip.
But Dane has other ideas, and the longer I am around him outside of work, the more I realize maybe everyone is right. Maybe I have been so focused on work I've missed what's really important.
I just hope it's not too late to convince Dane I want him for more than work. I want him forever. Find out what happens in Ship Work.
---
Shipping Orders – Ashe Winters
A happy ever after is not in the cards for me. But a short fling aboard a ship crossing the Atlantic might just be exactly what I need.
When my friends suggest I take a much-needed vacation on their Valentine's Inc. hosted cruise, I leap at the chance. I don't have a lot of expectations for this matchmaking singles cruise—I'm certainly not looking for a future Mr. Chase Kelton.
What I'm not prepared for is walking into my assigned suite to find a man passed out on the first day. I recognized the shy barista immediately. He's been serving me my morning fix for a year and driving me crazy with the hard shell he keeps locked around him. I want to break it. I know there's an entirely different man beneath it that I'm itching to reveal.
Reign is the proverbial fish out of water, and when I learn the real reason he's on this cruise, I see an opportunity I can't resist. He needs a companion to show him the ropes—I can do that and so much more.
An introverted barista with a crush, a wealthy executive afraid to fall in love, and a summer fling with an expiration date neither of them wants to keep. Shipping Orders is a full length, standalone novel in the Valentine's Inc. Cruises multi-author series.
---
99c DEALS
---
Social Sinners Series – TL Travis
The Social Sinners books one through four are on sale right now for 99c each. Book Five is a new release at $1.99. The series is set up to be a continuing story about a rock band. Book 1 is the only book that can be read as a stand alone.
From the author:
Book 1 – Behind the Lights (MM)
Book 2 – In the Shadows (MM)
Book 3 – A Heart Divided (MMM)
Book 4 – Beyond the Curtain (MM)
Book 5 – After the final Curtain (MM/MMM)
---
I've Got You – Becca Seymour
When a single dad and a newly outed veterinarian meet by chance, it takes red-cheeked conversations, a tentative friendship, and the willingness to put their hearts on the line to show these men they're made for each other.
Single dad Davis Jackson is busy balancing his coffee shop and being the best dad he can be. That doesn't mean he's not lonely. After a fumbling encounter with a man who looks as gorgeous as he does unhappy, Davis is left wondering who the mystery man is.
All Davis knows is that he has never felt such an instant attraction to anyone before, but when he discovers the brown-eyed man's identity, it's clear the recently out-of-the-closet veterinarian is lost and quite possibly broken.
I've Got You is book two in Becca Seymour's low-angst, feel-good LGBTQ series, True-blue. In the small town of Kirkby, there are busybodies, dogs who cause chaos, families who have the "best" of timing, and where good men have the opportunity to find their perfect match
---
Blood and Bitcoin – LA Witt
Chris Emmett has a talent for screwing up and landing on his feet. As a SEAL, he managed to evade bullets and court-martials alike. As an FBI agent, he dodged danger and disciplinary action—right up until he didn't.
With his career and freedom hanging in the balance, he'll do whatever it takes to clean the slate… including an off-the-books deep cover solo mission.
The objective: infiltrate the Hive, a complex crime syndicate operating on the dark web, and find out who's trying to kill Piker, the organization's enigmatic and strangely alluring modern day Mob boss.
The moment he's pulled into the Hive, Chris enters a world where no one is what they seem, including the man he's there to protect. Lines blur between moral and wrong, legal and criminal, ally and foe, and—as Piker's seductive magnetism draws Chris in—straight and queer.
Chris is running out of time to stop a killer. He has dangerous feelings for a dangerous man, and the deeper he moves into the realms of organized crime, the less he knows and the fewer people he can trust.
And that's before he learns the truth about Piker's assassin.
Blood and Bitcoin is a 104,000 word book is part of CRIMINAL DELIGHTS. Each novel can be read as a standalone and contains a dark M/M romance.
---
Mating the Omega – Ann-Katrin Byrde
Nora's Recommendation: If you love mpreg, you'll love this series. It's one of my all time favorite mpreg series!
This is book one in the Mercy Hills Pack series.  Book two is free right now and listed below.
Omega wolf Jason and his family have been on the run for six years to keep Jason from being forcefully mated to his pack's cruel Alpha. When a brutal attack leaves his father desperately injured, Jason comes to the conclusion that it's time to call it quits. Terrified as he is to deliver himself into an Alpha's power, he makes a deal to mate with the Alpha of the richest pack in the country. And discovers that he'd rather mate the Alpha's handsome Head of Security.
When Mac captures the feral shifter that climbed the walls surrounding the Mercy Hills Pack enclave, he feels for the young shifter's fear, though he knows his Alpha isn't the sort of shifter Jason believes he is. He'd be happy to see the two mated, except that, as time goes by, it becomes more and more difficult to deny his own feelings for the young, damaged omega.
A sudden turn of events sees Mac and Jason mated and expecting, but Jason's old pack isn't done with them yet, in Mating the Omega.
---
FREEBIES
---
Last-Minute Walk-In – E.M. Lindsey
Nora's Recommendation: This is a novella that's part of the Iron and Works series, which I loved. Read the series first. You'll love it, trust me.
It's three years into the future, and both Derek and Basil have found their happiness with each other. Their lives are content—as complete as they're ever going to be. Basil's still running his florist shop, and Derek's still putting his mark on people through ink and art. Together, they offer what support they can to the teens living at the Ted House shelter that Derek and his brother, Sage, have worked hard to get up and running.
And then, like a last minute-walk in, Derek and Basil get a request that changes the quiet routine of their life. A young, pregnant teen at the shelter has asked Derek and Basil to adopt her baby. Although the idea terrifies Derek, leaving him afraid he'll turn out to be the worthless mess his father always accused him of being, he knows one thing—he wants a family with the man he's going to marry.
However, nothing's ever that easy. Stress and outside forces threaten to come between the two men, and both of them start to question whether or not they're ready for this. Will Derek and Basil ever get the family they want? And more importantly, will their relationship survive the storm?
Last-Minute Walk-In is the first in a short series of novellas featuring the couples from the Irons and Works series. These books are best understood after reading the full novels of Irons and Works. Last Minute Walk-In has a guaranteed HEA.
---
Alpha Barman – Sue Brown
Will Jake and Mitch get a second chance at a happy ever after?
Jake Tyler walked out of Covert Ops two years ago, a devastated, broken man after he discovered his sister brutally murdered by her husband, Riley. Since then he's found a kind of peace running a rural bar. The last thing Jake Tyler expects is his former team to turn up with grim news. Jake's ex-brother-in-law has escaped from prison and is heading Jake's way. The team is here to protect Jake, whether he likes it or not – a decision reluctantly shared by their leader, Jake's ex-lover Mitch Mitchelson.
Mitch is angry and hurting. The man he trusted – the man he adored more than anything – abandoned both his team and Mitch. Jake never gave Mitch a chance to help or come to terms with his desertion. Regardless of mission protocols, Mitch isn't about to open his heart again to that kind of pain.
But the strong attraction between them can't be denied. How are they ever going to work together when Mitch still resents Jake's disappearance, and to Jake, the team represents everything that destroyed him in the first place? And meantime they wait for Riley to find them… and to settle the threat once and for all. Find out in Alpha Barman.
---
Alpha Chef – Sue Brown
When Greg Mitchelson's home is torched and his employer killed, Greg fears it's retribution for his past testimony against a notorious drug gang. Alone, with no money and only the clothes on his back, Greg turns to Colm Riordan, the Deputy US Marshall who's protected Greg for the last 3 years. But Riordan doesn't return Greg's phone calls, and the local Marshal's office refuses to help him.
In desperation, Greg goes on the run to Wyoming to find his brother, Mitch, whom he hasn't seen in over a decade. As he reconnects with his brother, Riordan appears, searching for his missing witness. But Greg needs the answers to a lot of questions before he'll trust Riordan again. Why didn't he return Greg's call? Is Riordan there to help Greg – or kill him? Find out in Alpha Chef.
---
When Skies Have Fallen -Debbie McGowan
Winner of the Lambda Literary Award for Gay Romance.
For many in war-torn 1944, love blossoms in the dance hall, and airman Arty Clarke is no exception. He's a thinker and a dreamer; however, it's not the beautiful, talented dancer in his arms—his best friend Jean—who inspires his dreams. For when his gaze meets that of Technical Sergeant Jim Johnson, Arty dares to imagine a different dance.
Their love is forbidden, by both the armed forces and the law, but with Jean's cunning and support, Arty and Jim try to bridge the distance between them and find true love despite the danger and a life-threatening disaster that could destroy Arty's dreams for good.
Can the pair stand strong together, no matter how many skies have fallen? Find out in When Skies Have Fallen.
---
Abel's Omega – Ann-Katrin Byrde
This is book two in the Mercy Hills Pack series. Book one is 99c and listed above.
Bax is desperate.
Recently widowed, he takes his pups and flees his pack to avoid a new mate who wants him—but not his babies. At Mercy Hills, he finds the help he'd hoped for, but also a man who both attracts and unnerves him. He doesn't want another alpha mate, or even any mate, though he knows that an omega has to have one. But Abel is unlike any other alpha he's ever met, and the hope that had been crushed out of him begins to grow again in the warmth of Abel's kindness and strength.
Bax is a dream come true for Abel—smart, loyal, strong, and loving. Everything Abel's ever looked for in a mate. Except the independent omega has no reason to trust an alpha and Abel's going to have to work his way through layers of hurt if he wants to convince Bax he's safe opening his heart.
But to keep him, he'll have to fight for him.
Abel's Omega is approximately 130,000 words in length, with a happy ending, some questions answered, and some hints about what's coming in the next couple of books.