Welcome to this week's hot new releases, 99c deals, and freebies in gay romance!  We have some wonderful books on the list this week…so get ready to grow those TBR lists!
I have recommendations for some books that I've read or are enthusiastic about, and others that are lesser or unknown to me, we'll list with just the blurb. Hope this makes everyone happy!
All deals are valid today, Saturday, July 20, in the US and most of the time the UK, but they may not be valid tomorrow or in all Amazon stores. Please check the price before buying!
This is not a paid list or ads, but simply deals I've found and books I'm excited about reading, so all personal recommendations from me. If you have a book you'd like to see listed, you can submit it, but that's not a guarantee I'll list it.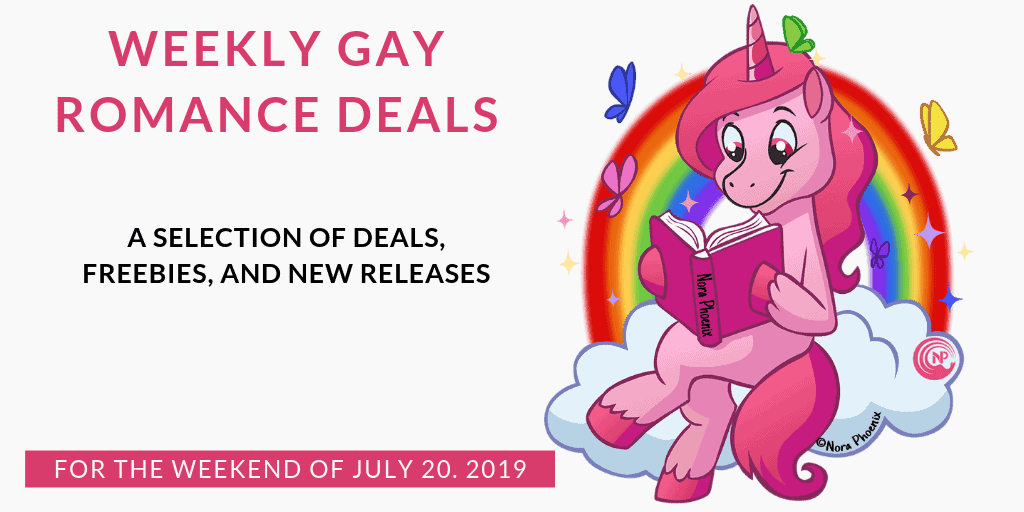 ---
NEW RELEASES
---
Open Water – Sophia Soames
Nora's Recommendation:
Maybe it's because I'm from Europe, but I love books set outside the US. Open Water is set in Stockholm, Sweden and the blurb piqued my interest as well, with a single dad meeting another guy…but his seventeen year old son is gay as well and in love. I need to know more, haha.
Meet Lukas Myrtengren, Mentor Teacher in Biology and Maths at Östra Real Senior School in Stockholm. This isn't how his life is supposed to turn out. In your late thirties you are supposed to have your life figured out, right? Somehow, Lukas has lost his compass, his life spinning aimlessly out of control. He still gets up in the morning and goes to work every day without fail, making sure his students pass his classes and that his schedule is right on track. His love life is a shambles, his head is a mess, but he is trying to sort it all out. Honestly. He can't keep living like this.
Meet Tom Andersson. Emergency room doctor and single dad. He has no idea how he has managed to mess up parenthood this bad. He tries too hard, has no patience and can't even hold a normal conversation with the seventeen-year-old son he loves to the point of insanity. Tom knows that he is drifting out to sea without a paddle, he just doesn't know how to stop it.
Meet me, Max Andersson. Seventeen. Gay AF. An emotional wreck with no future, no skills and no clue. All I know is that I am in love. Helplessly. Desperately. And, unrequited, of course. What else can you expect from a loser like myself? It's not like my life is going to get better. The truth is, I'm just another disaster waiting to happen. A ticking time-bomb full of stupidity. That's just the way it is.
Welcome to Open Water.
---
King Me – Lucy Lennox
Nora's recommendation:
I love heist movies and series, so this story of an art thief and an FBI agent working together is right up my alley. Plus it's Lucy Lennox, so you know this will be awesome!
Falcon: Three years ago I arrived at the scene of an art heist to find Kingston Wilde tied to a radiator, claiming to be an innocent bystander in the wrong place at the wrong time. It was only later I learned he was actually the elusive art thief I'd been tracking for years. And I was the one who'd let him sweet-talk his way out of my grasp. Ever since, I've made it my mission to get my hands on him again, and this time I don't plan on letting go.
Unfortunately, fate has other plans. A priceless artifact has gone missing, and King is the only one who can help recover it. I thought nothing could be worse than being forced to work with the egotistical SOB, but I was wrong. Falling for the charming art thief in the middle of an operation is way, way worse.
King: The key to being a good art thief is knowing when to call it quits. After one close call too many, I decide that time is now and head home to Hobie, Texas, intending to hang up my lock picks for good. Unfortunately, the FBI has other plans. Agent Dirk Falcon approaches me with an offer I can't refuse: full immunity for my past crimes in exchange for helping him with one last job.
The catch? The job involves stealing from the very man who taught me everything I know. The same man who double-crossed me years ago. Pulling this off means trusting Falcon and his team, but how do I trust the sexy agent when he's staked his career on taking me down? Find out in King Me.
---
Rules to Follow – Susan Hawke
Nora's Recommendation:
This promises to be an amazing series featuring Daddy kink and I'm here for it!
Davey's Rule #86: A good Daddy will never lie to his boy… even by omission.
Travis Miller has a pretty solid life in the small California beach town he calls home. He's working his way up in the district attorney's office, he owns a home with an ocean view, and he has close ties with his family. Life is good. If only he could find a sweet boy to call his own, life would be… perfect.
Adam Nichols' life has never been easy. Growing up in foster care taught him to be strong, so finding himself in a violent relationship was a shock. Now that he's finally free of it, he faces new problems. He's jobless, homeless, and terrified of starting from scratch.
With a little help from an old friend, Adam discovers a whole new world. He goes from rock bottom to renting a room from a hot assistant DA and working at Daddy's Lap, a kink club that opens his vanilla eyes to things he'd never imagined. His new roommate is a balm to Adam's damaged soul. The tender way Travis cares for him is almost like the Daddy kink community he's seen at the club. But Travis isn't a Daddy… right? If he were, surely he'd have said so.
What happens when a lie by omission threatens to bring their budding relationship tumbling down around them? Will Travis ever be able to earn Adam's trust again?
Rules to Follow is the first book in a new series about not-so-perfect Daddies, adorable "boys," and one sassy brat with an insane list of rules. Grab your fan and tissues because this series comes with both a high heat advisory and all the squishy feels you'd want from a Susan Hawke book. Possible trigger for references to domestic violence.
---
Heart from Home – CS Joyce
Nora's Recommendation:
An age gap, a little taboo, and a story that has complicated written all over it? Sign me up!
What could be more complicated than being in the closet and sleeping with your sexy, older, Uncle-in-law? Falling in love with him. That's what.
Aidan
I'm a virgin. Okay, not a virgin, but I've never slept with a man. Because I'm not gay. Well, that's not exactly true either, but it doesn't matter. I've made my choice to live this way and I'm not about to change.
A week of sun, sea and good food sounded like a nice distraction from the dreariness of my life, even if it was for my sister's wedding. And it would have been fine if the groom's sexy-as-hell Uncle hadn't shown up and turned my world upside down. Now I'm facing the biggest decision ever: do I keep hiding or give in to temptation…
Robert
Ever see something and think to yourself, 'that needs to be mine'? Well that's what happened the minute I laid eyes on the young, gorgeous Irishman at my nephew's wedding. The only problem is he's in the closet. Oh, and about to be related to me.
Maybe I should just leave Aidan alone, but what if he'd let me help him discover what he's been missing? Surely, there's no harm in that. All I have to do is not get attached to him. That'd be easy, right?
Heart from Home is book #2 in the Individualists series. This series is Age Gap MM, and each book can be read as a standalone.
---
99c DEALS
---
Upside Down – NR Walker
Nora's Recommendation:
Don't expect steamy scenes in this one, since both MCs are asexual, but I promise all the feels of a classic N.R. Walker story.
Jordan O'Neill isn't a fan of labels, considering he has a few. Gay, geek, librarian, socially awkward, a nervous rambler, an introvert, an outsider. The last thing he needs is one more. But when he realises adding the label asexual might explain a lot, it turns his world upside down.
Hennessy Lang moved to Surry Hills after splitting with his boyfriend. His being asexual had seen the end of a lot of his romances, but he's determined to stay true to himself. Leaving his North Shore support group behind, he starts his own in Surry Hills, where he meets first-time-attendee Jordan.
A little bewildered and scared, but completely adorable, Hennessy is struck by this guy who's trying to find where he belongs. Maybe Hennessy can convince Jordan that his world hasn't been turned Upside Down at all, but maybe it's now—for the first time in his life—the right way up.
---
Hawaii Five Uh-Oh – Z.A. Maxfield
A Plummet to Soar Story
Theo Hsu is back—in Hawai'i, that is. Following the death of his father and a brush with disaster in the icy Wisconsin winter, Theo wants to reconnect with his family, work the job he loves, and find a way to get with lifelong secret thirst-trap, HPD Detective Koa Palapiti.
Theo's a beat cop, not a detective. That doesn't stop him from wanting to solve a few mysteries about Koa… like why is he blowing hot and cold? What's going on with him and his partner, Freddie Ortiz? Will investigating a shipping magnate with shady ties to human trafficking and international espionage put Koa and Freddie in over their heads? And does Koa still have some kinkhound howling in his blood?
Theo's halfway around the world, and right back where he started. This time he's gonna get what he came for—unless Koa's latest murder case gets both of them first in Hawaii Five Uh-Oh.
---
Unreal – Rachel Kane
Devin
Samuel McLain is the most vain, self-absorbed man I've ever met.
That's saying something, because I'm an actor.
From the minute we meet at the movie set, he's under my skin.
It's not just his body I'm attracted to.
I know there's something under that perfect exterior.
But there's no time to find it out.
We're temporary, we've both agreed.
This is a one-time thing.
I'm leaving town for my next role soon.
It can't last.
No matter what I feel, it can't.
Samuel
Someday life is going to be as perfect as in my pictures.
Late afternoon on a tropical island, forever.
For now I'm stuck in a small town with small men doing small things.
Until superstar Devin walks into my life.
Suddenly I can dream again, even though I know he's not really mine.
All I have to do is hide my past and let him think I'm perfect.
Hide who I really am.
But when I'm around him I don't want to hide.
When I'm around him I want to be real.
Grab Unreal here!
---
Clouded Hell – JR Gray
Nora's Recommendation:
The second book in this series, Oasis, has just released.
I survive on avoidance. Physical pain to avoid the mental. Disposable flesh to avoid relationships. Work to avoid attachment. My club became my empire of avoidance. Inside the ring millions are won and lost. The fight is confined to breaths, actions and reactions, fists and pain. Rules don't exist. Only my opponent exists.
I'd been avoiding my needs for far too long when Remi stumbles into the Inferno and I'm hungry. The promise of a submissive with no attachment is far too tempting. I can't resist him. He was only supposed to be a distraction, but I know I'll never get over him. There isn't a chance in this Clouded Hell.
---
FREEBIES
---
The Bodyguard: The Artifact Book 1 – X. Aratare
The Artifact is a gay detective romance series from Raythe Reign. The books contain a sexy bodyguard, his determined young client, an ancient golden sarcophagus, and unsolved mysteries in both their pasts…
When former detective Sean Harding is hired as Dane Gareis' bodyguard, he discovers his destiny.
Dane's life in danger from an ancient cult that seeks the return of a golden sarcophagus that houses their god. The cult has already murdered Dane's father and Dane is next unless someone can stand between him and this evil.
Sean discovers that he wants to give more to Dane than just the protection of his gun arm. Yet Sean believes that his feelings can never be returned, because Dane fears a man's touch.
As the danger grows all around them, can Sean save Dane both from the cult and the ghosts of his past? Find out in The Bodyguard: The Artifact Book 1.
Raythe Reign produces escapist, romantic M/M shifter, fantasy, scifi, adventure, and urban fantasy books and graphic novels.
---
Below the Belt – E.M. Lindsey
Noah Avidan has not led a charmed life. His first serious relationship crashed and burned with his boyfriend in the bed of their dog-walker. After achieving his dream job working as a Classics Professor at the University, his life is derailed by a car accident, leaving him blind in one eye and battling to lecture through a stammer. Whatever his luck, though, Noah is bound and determined to pick up the pieces and find his own way to happiness.
The day Noah walks into Baum's Boxing is the day everything changes. Adrian Flores, an ex-Marine boxer with his own story to tell and his own struggles to overcome, is immediately taken with the timid man taking his first kickboxing class. It seems like a fairy tale waiting to happen, until the day it doesn't. A miscommunication between both men leaves them vulnerable for one cruel, obsessed man to take matters into his own hands. Will their relationship survive blackmail, violent attacks, and a promise to destroy their livelihoods? Or will the two be forced to part ways and accept that fate is just not on their side?
Below the Belt is the first in the series, Baum's Boxing. Each book will contain an HEA with no cliffhangers.
---
Tortilla Pie – Rick R. Reed
When Anderson, homeless on the streets of Seattle, first spies Josh, a volunteer at TeenCare, he immediately falls for him, even though TeenCare forbids client/volunteer interaction. Anderson thinks: "And speaking of noticed, I think I was, just a few minutes ago. One of the volunteers was coming by and we locked eyes. You know, the way two guys do. Two gay guys, anyway, who like what they see. It's not like a casual glance—those only last for a second or maybe two at the most—but when two gay dudes notice each other, man, that eye-to-eye lingers. You know what I'm sayin'?
"And that boy? He was fine. Or to roll back to one of my mama's expressions from back in her day—he was fly."
In spite of the youth center's policy of volunteers and clients interacting beyond the most superficial ways, will love discover a way around the policy, so Josh and Anderson can be together? Find out in Tortilla Pie.
---
Painting in the Rain – Dev Bentham
Helping teenagers is tough. They face so many dangers – peer pressure, drugs, pregnancy, STDs. As a trained social worker, Mike knows all about it. He's taken a temporary job on the Oregon coast working with at-risk kids. But when he meets Gabe, the father of one of his charges, he finds himself in another type of danger – that of falling in love and getting stuck in a small, conservative town, not to mention living with an angry teenager. And yet, he's drawn to Gabe in a way he never imagined possible.
Gabe, whose own father left before he was born, stays in a town where he no longer feels welcome. He's living the life of a lonely artist so that he can be a father to his son, a bond that's been threatened by divorce and Gabe's public coming out. When he meets Mike, Gabe is bowled over with a longing so deep that he finds himself willing to risk everything, in Painting in the Rain.
---
Keeping it Kinky Giveaway
And of course, let's not forget the books that are available for FREE right now in the Keeping it Kinky giveaway. If you love kink, you'll be in heaven with this giveaway that features over 25 FREE short stories, novellas, or full novels from different authors with a wide range of kinks. There's daddy kink, cum play, humiliation play, exhibitionism, lingerie, lots of spanking, forced submission, and much, much more.
This includes my full-length novel Gentle Hand. If you've read Firm Hand, you may remember Raf, Rhys's best friend. Raf is a guy who struggles with being an adult and with life in general. He feels so lost and fears he'll never fit in anywhere…until he meets Daddy Brendan. Under Daddy Brendan's sweet care, Raf blossoms…but it also dredges up bad memories from the past. Can he overcome the voice in his head that tells him he's a failure and embrace being a little with his Daddy?
Gentle Hand is a sweet and sexy full-length MM romance with an age gap, age play, and ABDL. After the giveaway has ended, it will go up on Amazon for sale and in KU.
Please read the blurbs of all the books to make sure it's something you're interested in before downloading. The books range from sweet kink into more "extreme" varieties, so not everything may be your style. You can
grab all the books here
.